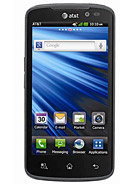 We've all gotten used to the high quality products LG has released in the past few years. It's been mostly successful with its Optimus series, but this phone is also quite strong. Actually, if it would have been released an year ago, it might have even dominated the market. Ladies and gentlemen, the LG Nitro HD.
Processor : 1.5 GHz Scorpion dual-core processor
RAM : 1 GB
Android OS : 2.3 Gingerbread
Camera : 8 MP
Display : 720 x 1280 pixels, 4.5 inches (~326 ppi pixel density)
There is no news as to when this phone will be released, although judging by its specs I'd say it will probably hit the market with a bang.
On the display side, this phone has an AH-IPS LCD capacitive touchscreen with 16 million colors. The screen resolution is 720 x 1280 pixels and the screen itself is 4.5 inches big. That allows for a pixel density of approximately 326 ppi.
On the memory side, this phone has 1 GB of RAM.  That means that this particular phone is capable of quite a bit of multitasking. It has 4 GB of internal storage and if that's not enough for you, the MicroSD card slot is here to help solve your problems. It can use any memory card of up to 32 GB.
On the camera side, it has an 8 MP camera that can photograph at resolutions as high as 3264×2448 pixels and has autofocus and an LED flash. It's also capable of recording video at 1080p and has a secondary camera as well.
On the hardware side, this phone has a 1.5 GHz Scorpion dual-core processor but there is not other information about the rest of the hardware devices.
On the software side, this phone comes equipped with Android OS v2.3 Gingerbread. Usually that would be a bad things, in my opinion, since I strongly disagree with new phones being equipped with older Android versions. That's not the case here since this phone is easily upgrade-able to Android OS v4.0 Ice Cream Sandwich.
All and all, this phone is pretty awesome and well-worth its price. If you're interested in this phone feel free to click HERE for more info.