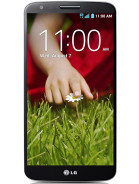 Yet another worthy candidate of the short, but rapidly expanding genre of phones known as phoneblet ( or the combo between a phone and a tablet ), the LG G2 brings a few really interesting concepts to the table and is an altogether great device. This phone is currently one of the stronger phones on the market, especially since it isn't a contender for the 700+ dollars phone category. The LG G2 actually comes for a bit cheaper than your average High-End phone and does just about all the same things. Some argue that such a device is WAY too big, but from the perspective of an individual with rather large hands, I can honestly say that it is just right.
I for one applaud the design of this device. Not only is the size just right for one such phoneblet, but it also looks incredible ( especially in the darker colors – I'm not exactly a big fan of white phones ). Through this article I shall try and answer a few questions you might have about this device and try and point out a few good points and a few of the not-so-good ones.
SUMMARY
First off, the size of the phone WILL be a problem for certain individuals. There will undoubtedly be a rather large number of people who will be bothered by the aspect of it as well. However, it still is one of the stronger phones out there. Its hardware is more than capable of handling any and all games and apps out there and the software of this device is one of the latest and most stable versions available. What sets it apart from the "rabble", so to speak, are all the enhancements and features that this device has on it. If you keep on reading, you will see each and every one of them when the time is right.
GENERAL
The LG G2 is available under many names in many regions. For instance, it is called the LG G2 D802 in the UK, the LG G2 D802TA in Australia and the LG G2 D803 in Canada. Despite it's many names, all versions are the same. Network wise, they all have support for 2G, 3G and 4G networks. Those networks are as following: 2G ( GSM 850, GSM 900, GSM 1800 and GSM 1900 ), 3G ( HSDPA 850, HSDPA 900, HSDPA 1900 and HSDPA 2100 ) and 4G ( LTE 900, LTE 1800, LTE 2100, LTE 2600 and LTE 850 ). The supported SIM card for this device is in Micro-SIM format. The phoneblet is currently available as of September and it was announced somewhere in August.
BODY
Beside looking great, which the LG G2 excels at, by the way, this phone is a pretty large one ( as most phoneblets are ). The exact proportions are as follows; 138.5 x 70.9 x 8.9 mm ( or 5.45 x 2.79 x 0.35 in ) and it weighs somewhere around 143 g ( or around 5.04 oz ). While the phone is massive due to the screen, not much space is wasted with unnecessary plastic extensions or such ( as I have seen done on a few devices ).
DISPLAY
The LG G2 has a really good screen on it. This phone has a True HD-IPS+ LCD capacitive touchscreen with 16 million colors. The screen is exactly 5.2 inches in size and houses a resolution of 1080 x 1920 pixels. While you may think that such wide screens are too far spread and thus their pixel density tends to suffer, that is not the case of the LG G2. This phone has a pixel density of around 424 pixels per inch. The screen also has Multitouch on it, as all smartphones do ( however, it doesn't have anything out of the ordinary relating to this multitouch ). The screen is protected with a Corning Gorilla Glass 3 screen that should ensure nothing happenes in case you accidentally drop it.
SOUND
Apart from the regular Vibration, MP3 and WAV ringtones and Loudspeaker and 3.5 mm jack which can be found on all smartphones around the world, this one has a pretty good sound enhancement as well. The LG G2 comes with a Dolby mobile sound enhancement pre-installed on it.
MEMORY
As far as the memory goes, all of the people that are used with having no care in the world relating to storage space are in for it big time. Sadly, this phone lacks a card slot, so you will have to settle with the provided memory, which varies between 16 and 32 GB, as that is how much each version of the phone provides. Both of them come with 2 GB of RAM, however, so at least they will run fast as fast can get.
DATA CONNECTION
The LG G2 has both GPRS and EDGE. The exact specifications are: Class 12 for EDGE and Class 12 ( 4+1, 3+2, 2+3 and 1+4 slots ) with 32 ~ 48 KB/s for the GPRS. The exact speeds reached by this phone are: HSDPA of 42 MB/s, HSUPA of 21 MB/s, LTE Cat 3 of 50 MB/s Upload and 100 MB/s Download. The WLAN of the LG G2 is a Wi-Fi 802.11 a/b/g/n/ac with Dual-Band, Wi-Fi Direct, DLNA and Wi-Fi hotspot. This phone also has Bluetooth v4.0 with A2DP and LE. It also has an infrared port and is NFC-enabled. The USB of the LG G2 is a Micro-USB v2.0 ( SlimPort ) with USB On-The-Go and USB Host.
CAMERA
The camera of this device is a pretty powerful one. The main camera is a 13 MP one and the phone also has a secondary frontal camera of 2.1 MP capable of recording in 1080p full HD at 30 frames per second. The recording properties of the main camera are pretty unique, it being able to record in 1080p full HD at 60 frames per second, where as most cameras are able to do this at a mere 30. Among the more notable features are: LED Flash, Simultaneous video and image recording, Geo-Tagging, Face Detection, Optical Image Stabilization, HDR, Stereo Sound Recording and Video Stabilization.
BATTERY LIFE
The battery of this device has a small drawback. If you are a fan of classical, remove-able batteries, you will be let down. While it is non-removable, the battery of the LG G2 is still a pretty darn strong one having around 3000 mAh. It can surely ensure a pretty decent life-span provided you manage your resources accordingly.
HARDWARE
The hardware of the LG G2, as I already said, is more than half-decent. The processor of this device is a Quad-Core 2.26 GHz Krait 400 which resides on a Qualcomm MSM8974 Snapdragon 800 chipset which also accomodates an Adreno 330 GPU. This whole configuration put together equals you running ANYTHING you want on this phone without so much as a bit of "lag".
SOFTWARE
While the software version of this phone may not be the LATEST, it still is one of the most recent ones and it's more than strong enough. The LG G2 comes with Android OS v4.2.2 Jellybean. If you REALLY want to install the last version, you may be able to find some unofficial versions compatible, but those are rarely worth the effor or risk taken to install them.
FEATURES
The LG G2 is packed with all sorts of wonderous things. The sensors of this phone are: Accelerometer, Gyroscope, Proximity and Compass. The messaging on this device is done through SMS ( with Threaded View ), MMS, E-Mail, Push Mail, IM and RSS. The browser uses HTML5 instead of flash and the radio has Stereo FM radio support with RDS. The GPS of this device has full support for A-GPS and GLONASS. This phoneblet also has Java through Java MIDP emulation. The colors available for the LG G2 are Black and White, and personally I think it looks WAY better in black than in white, but that's just my opinion.
Here is a short list of what this phone is capable of:
Active noise cancellation with dedicated mic
SNS applications
MP4/DviX/XviD/H.264/H.263/WMV player
MP3/WAV/FLAC/eAAC+/AC3/WMA player
Photo viewer/editor
Document viewer
Organizer
Voice memo/dial/commands
Predictive text input
This concludes our little review of the LG G2. I hope you had as much fun reading it as I had writing it and that it at least answered a few questions you might have had about the device.