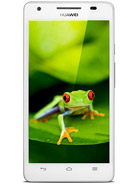 Today we'll be taking a gander at the Huawei Honor 3, a phone which I believe should have received much more attention than it did. I have to agree that, to my shame, I was somewhat skeptical at first regarding the Huawei phones. Now I am ashamed to say I ever though that way. The Huawei phones turned out, despite my bad expectations of 4 years ago, to be one of the best, top-leading device manufacturers that release some over-the-top phones that aren't over-the-top priced, like other manufacturers I may know of tend to do.
Actually, I'd actually go as far as saying, disregarding the poorly thought joke, that it would be an honor to own the Huawei Honor 3. This device is one of the strongest phones out there and has a ton of cool features on it. It can be bought for a price that isn't all that excessive, but it will be somewhat bizzare as it will range from X to Y depending on where you get it from. For instance, I've noticed stores ( most of them ) selling it for around 500 dollars, but you can find stores that sell it for cheaper, some even as low as 300. Heck, provided you are interested in getting a contract from some provider or another, you may even get lower prices for it.
SUMMARY
Let's leave all sort of advertising and unfairness at the door and get down to brass tacks. The bottom line is: the Huawei Honor 3 is a good phone and it can be aquired for a relatively good price, depending on where you get it from. Disadvantages? Well, it has a few here and there, but rare si a device that doesn't have those disadvantages. Hell, even the strongest of the strong out there tend to not run so well once the new device of said series comes out ( not all the cases, but the majority seem to function this way ). So what's important to note from a quick overview of the device is this: is it fast? YES; is it strong? Definitely; can it be further improved? Most definitely, but that won't stop most people from seeing that it has more UPs than DOWNs; and finally: is it worth it's somewhat steep price? Considering the price you pay can be between a pretty wide range, I'd go out on a leap and say YES IT IS, considering that competitor products from bigger manufacturers tend to offer close to the same power but for a much larger price.
GENERAL
There's not much to tell about the general aspects of the Huawei Honor 3. The sort of networking that it uses is the standard type of 2G and 3G networks. It is also available now and forever, having been announced in August 2013 and released the same month.
BODY
The Huawei Honor 3 is pretty standard-issue as far as its size goes. It's large enough to host a 4.7 inch screen and not much space is wasted. The exact size specs are as follows: 133 x 67.2 x 9.9 mm ( or 5.24 x 2.65 x 0.39 in ) and its weight is around 138 g ( or around 4.87 oz ). What's interesting to note about the Huawei Honor 3's body, and I am talking now about its body and not the way it looks, is that it has been IP57 certified to be dust and water resistant. It's supposed to be water-proof for up to 1 meter and to last for 30 minutes submerged. I don't think anyone will actually want to test that theory, but it's a good feature to have in case your phone drops in a puddle or something like that.
DISPLAY
As I've said, the screen is 4.7 inches in size and can hold a resolution of approximately 720 x 1280. The screen is of a capacitive nature and has a standard-issue multitouch ( not the kind that can hold 5 or 10 simulatenous fingers ). The pixel density of the Huawei Honor 3's display is formidable – approximately 312 pixels per inch. Now with a screen this size, it'll mean that pretty much anything that happens on the screen will be as smooth as smooth can be.
SOUND
The Huawei Honor 3 is pretty much stock as far as sound is concerned. There are no obvious audio enhancements to be seen here, be them hardware-based or software-based. It's not to be believed that it is a bad phone in lacking those things, but it could have been better had it been equipped with them.
MEMORY
As far as memory is concerned, you may have to get a Memory Card if you want to have a lot of space. The reason for this is that the phone doesn't have a whole lot of storage space ( not by some people's standards ). In fact, the Huawei Honor 3 has only 8 GB of storage space, but it doess support up to 32 GB sized Micro-SD cards. As far as the RAM goes, it has more than some users would know what to do with – 2 GB. Therefore, memory-wise at th every least, the Honor 3 should ensure that the phone will run quickly and with as little lag and frame-drops as possible ( it doesn't hurt that it has some powerful hardware as well, but we'll get to that in a second ).
DATA CONNECTION
Naturally, being both 2G and 3G enabled, the Huawei Honor 3 has GPRS and EDGE on it, although it doesn't have any NFC. The Bluetooth of the device is v3.0 with A2DP and if you want a more hardware-felt experience, you can always use the MicroUSB v2.0 port. The internet speed of this device is the standard 3G one: HSDPA of 21.1 MB/s and HSUPA of 5.76 MB/s. The WLAN of this device is a Wi-Fi 802.11 b/g/n with DLNA and Wi-Fi hotspot on it.
CAMERA
The camera of the Huawei Honor 3 is a pretty strong one: 13 MP strong, actually. It can record in 1080p full HD at 30 frames per second and is packed full with all sorts of features, features such as: autofocus, LED flash, geo-tagging, touch focus, face detection and even HDR. As if the main camera wasn't enough, the Huawei Honor 3 is also equipped with a secondary 1.3 MP frontal camera that can also record video in 720p HD at 30 frames per second.
BATTERY LIFE
The battery of the Huawei Honor 3 is a Li-Ion 2150 mAh one that can, allegedly sustain battery life for around: 541 hours of stand-by and 13 hours of talk-time. Supposedly that's pretty good, but mark my words that you will burn it out WAY faster than 13 hours if you start multitasking apps on this device ( games, especially ).
HARDWARE
The hardware of the Huawei Honor 3 could have done with a bit of improvements here and there. Don't think that it's weak or what-not, but I just happen to think that a different component could have worked better. Even so, it's not for me to judge as I haven't used this particular setting in comparison with others. Why some may confuse this hardware with something weak is the fact that its branding isn't as well-spread across the world. Even so, the hardware of this phone is good and can withstand some heavy-duty-usage. We're looking at a Huawei K3V2E chipset with a Quad-Core 1.5 GHz processor in, so it's bound to be able to run anything for at least an year and half from now.
SOFTWARE
The software version for this device is a pretty good one: 4.2.2 Jelly Bean, to be precise. It's one of the latest and most stable builds out there. No word as of yet whether you can upgrade to 4.3 or not ( officially anyway, because unofficially you can ALWAYS upgrade, but it voids warranty and can cause side-effects ).
FEATURES
The features of the Huawei Honor 3 are numerous. The phone is packed with sensors ( like Accelerometer, Gyro, Proximity and Compass ), it has support for both Java ( through MIDP emulation ) and radio ( with FM radio ). The browser of this device, like many others, uses HTML5 and the phone's GPS has full support for A-GPS an GLONASS. The messaging for this phone can be done via SMS ( with threaded view ), MMS, E-Mail, Push Mail and IM. What's rather limiting is the color for this phone, as you can only get it in white.
Here's a brief list of what this phone can do:
SNS integration
Active noise cancellation with dedicated mic
Google Search, Maps, Gmail, Talk
MP3/WAV/eAAC+ player
MP4/H.263/H.264 player
Organizer
Document viewer
Photo viewer/editor
Voice memo/dial/commands
Predictive text input
This concludes my tiny review of the Huawei Honor 3. Hope it has helped answer a few questions you might have had about the device and that it offered you a bit of interesting information.