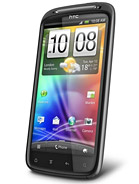 This is a sensational device from H T C (hence the name). It has been brought to my attention that I have reviewed some versions of the HTCSensation, but I've never actually said anything about the original, the one everything started from, the sensational HTCSensation.
Processor : Dual-core 1.2 GHz Scorpion, Adreno 220, Qualcomm MSM8260 Snapdragon
RAM : 768 MB
AndrodOS : 2.3 Gingerbread
Camera : 8 MP
Display : 540 x 960 pixels, 4.3 inches (~256 ppi pixel density)
On the display note, this particular AndroidOS device has an S-LCD capacitive touchscreen with 16 million colors. The screen itself is 4.3 inches big. This device also has a resolution of 540 x 960 pixels. The screen's pixel density is around 256 ppi.
With a device as powerful as this, you spend quite a large sum of money to just acquire it. Not to mention that in the hopes of getting a better deal for it, many people decide to get such a device via a contract deal. It may or may not be the best approach since it may be quite expensive to make calls. That's exactly why I would suggest a pay as you go method that may be more suitable for every buyer available.
On the memory part, this androidphone has an internal storage space of 4 GB out of which only 1 GB is user-available. This device also has 768 MB of RAM and is capable of quite a bit of multi-tasking, just as much as the XE version apparently. If the internal storage is a problem for you, you can use the MicroSD card slot with any of MicroSD card of up to 32 GB. This device also has an included 8 GB card given to you upon purchase.
The camera is capable of photographing at resolutions as high as 3264 x 2448 pixels. It has a great amount of features too. To start with, here's a quick list of what you can expect from this camera : autofocus, dual-LED flash, Geo-tagging, touch-focus, image stabilization, face detection and also instant capture. The video recorder can record at full HD 1080p at a steady 30 fps and is capable of stereo sound recording. If all that power wasn't enough, it also has a secondary VGA camera to top it all off.
Moving on to the software side, this particular device has AndroidOS v2.3 Gingerbread pre-installed on it. Hopefully it will be upgrade-able to 4.0 soon enough since this is a really awesome androidphone. While I generally frown upon the use of old OSes on newer devices, I'll have to let this one slide.
You can get this phone from Amazon.