HTC is really on a streak now. A winning streak … I mean, how could they fail when they say they will have such good products such as this little marvel of modern technology.
The people that appreciate the finer points of style in a phone and consider it to be nicer when it isn't overloaded with all sorts of unnecessary decorations will be really happy with this one. It is quite simple in itself but only with the looks. Its performance makes it really stand out of the crowd.
Processor : 1.5 GHz dual-core processor
RAM : 1 GB RAM
Android OS : 2.3 Gingerbread
Camera : 8 mp
Display : 540 x 960 pixels, 4.5 inches (~245 ppi pixel density)
It has been announced in September but an official date of release hasn't actually been said. We can assume it will come out this year but nothing is for sure.
Now down to the technicalities.
The display is a capacitive touchscreen with 16 million colors. The downfall is there has been no news whatsoever whether it will be an AMOLED one, an LED or a Super AMOLED or an S LED or anything. I guess only time will tell whatever it is. Time often answers most questions. For the moment though, the screen resolution will be 540 x 960 pixels and it will have a pixel density of approximately 245 ppi. That isn't actually something that impressive since the screen in itself is a 4.5 inch screen.
The phone will have 1 gigabyte of RAM, 16 gigabytes of internal memory and
a microSD card slot capable of taking in any card of up to 32 gigabytes. THAT is quite a lot of memory.
The camera will be an 8 mp one capable of capturing images at 3264 x 2448 resolutions and videos at 1080p full HD. There is also a secondary camera that has 1.3 mp. Some of the known features of the camera are the autofocus and Dual-LED flash. Another known feature is the Geo-Tagging. Now that isn't actually that much of a big deal with the features since other phones have even more than that. It will have to do for the moment though.
The processor will be a 1.5 ghz dual core processor. No news about the chipset or GPU though, which actually leaves a guy wondering as to how good this phone actually is. Perhaps not every feature has been announced… who knows.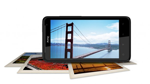 The Android OS version is 2.3. That isn't actually that good since it is kind of out-dated now. Especially since some phones have been announced to come out with 2.3.4 and 2.3.5. The 2.4 version is knocking at the door and a this phone that hasn't even bothered to give a release date is saying it will have quite an old Android OS.
This is a promising Smartphone but not actually an enticing one. There are so many others out there that present a much more complete resume.