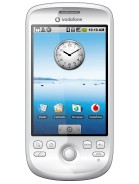 Today we shall be looking at the HTC Magic. This device was taken and re-branded as the T-Mobile myTouch 3G. Either way, few are the differences between the two, one would be the name and the other would be nonexistent. Perhaps the only notable difference between the two is the price. If you're planning on buying from T-Mobile you may get a better contractual deal for this phone. I for one don't have T-Mobile or AT&T in my country. I only have Orange, Vodafone and something called Cosmote. Even they use other re-branded phones which are less than interesting. However they can't afford to rename a phone from a giant such as Samsung, HTC or Nokia or others. They renamed a few Huawei phones and Gigabyte phones, since those were cheaper. However cheap they were when they purchased the right to re-brand them back then, I wouldn't exactly call it cheap anymore. Huawei at least should be much more expensive considering that they experienced a large explosion in popularity and achieved a lot in a very short while. Now returning to the matter at hand. The HTC Magic is a pretty good Android phone. To be sincere, it was actually the first Android phone I actually had the pleasure to work with. This device was the one that introduced me to Android and made me love it when I saw how smooth it could move.
Well, without further ado let us commence with this little review of the HTC Magic.
GENERAL
We shall begin by looking at the more general aspects of the HTC Magic. The networks supported by this device are : GSM 850 / 900 / 1800 / 1900 as 2G networks, HSDPA 900 / 2100 as 3G networks and HSDPA 1700 / 2100 as 3G networks for the American version of this phone. This phone was announced somewhere in February 2009 and came out a bit later in May 2009. Its counterparts from T-Mobile were announced and released at the same time, but in different years. One in 2010 and another in 2011.
BODY
Moving on to looking at the body of this little review of the HTC Magic. The dimensions of this phone aren't too big, the HTC Magic being around : 113 x 55 x 13.7 mm big and it also weighs around 118.5 grams. It has buttons instead of touch sensitive controls, so if you want modern aspects stay away from this phone since this is an old one and demanding modern things from it or trying to compare it with newer ones would be an intense act of hypocrisy.
DISPLAY
Moving on to the display part of this little review of the HTC Magic. The type of display of this device is a TFT capacitive touchscreen with around 65 thousand colors. The size of this display is around 3.2 inches. The resolution reached by this display spins around 320 x 480 pixels. Although this screen has only 65 thousand colors and is relatively small, the pixel density of this device is pretty big : around 180 ppi. Also, this device has a Track Ball, which is something you don't see every day.
SOUND
Moving on to the sound part of this little review of this device. The sound part of this device is pretty okay. The alert types supported by the HTC Magic are : vibration, downloadable polyphonic sounds, MP3 and WAV ringtones. The HTC Magic also has a loudspeaker, but it doesn't have a 3.5 mm jack.
MEMORY
Moving on to the memory part of this little review of the HTC Magic. The internal storage space of this device is 512 MB of ROM memory. If you require more storage space you are welcome to use the MicroSD card slot. The RAM of this Android Phone is around 288 MB.
DATA CONNECTION
Moving on to the data connection part The HTC Magic has GPRS with Class 10 ( 4+1/3+2 slots ) which can run at around 32~48 KB/s. The HTC Magic also has EDGE Class 10 which can run at around 236.8 KB/s. The speeds of this phone are as following : HSDPA at around 7.2 MB/s and HSUPA at around 2 MB/s. The WLAN of this device is a Wi-Fi 802.11 b/g. This device also has Bluetooth v2.0 with A2DP and headset support only. The connection between this device and the PC can be done via it miniUSB port.
CAMERA
Moving on to the camera part of this little review. The main camera is a 3.15 MP snapper capable of photographing at resolutions as big as 2048 x 1536. The features of this device aren't that many, actually they are only limited to : autofocus. The HTC Magic is also capable of recording video at QVGA quality and at a frequency of around 15 frames per second. The HTC Magic has no secondary camera.
BATTERY LIFE
We shall now look at the battery of the HTC Magic. The battery of the HTC Magic is a Standard Li-Ion 1340 mAh battery. The time in which this battery is capable of functioning normally is as follows : up to 420 hours of stand-by time and up to 7 hours and 30 minutes of talking time.
HARDWARE
Moving on to the hardware of the HTC Magic's review. Although weak, the hardware of this device is a full set. The HTC Magic has all of the three necessary parts : CPU, GPU and Chipset. The CPU is a 512 MHz ARM 11. The GPU of the HTC Magic is an Adreno 130. Also, the chipset of the HTC Magic is a Qualcomm MSM7200A. All and all, this isn't a very strong configuration, but for 2009 it was more than powerful enough.
SOFTWARE
Moving on to the software part of this little review of the HTC Magic. The Android OS version of this device is Android OS v1.6 Donut. However, it is fully upgradable. Who knows to what end however, as I have mentioned that many phones are upgradable up to a really huge version, even up to 4.0 Ice Cream Sandwich. Possibilities are endless.
FEATURES
Moving on to the more general features part of this little review of the HTC Magic. The sensors of the HTC Magic are as follows : accelerometer and compass. The messaging on this phone can be done through a variety of methods; some of which include : SMS ( with threaded view ), MMS, E-Mail and even Instant Messaging. The browser of this device supports and uses HTML, but has no integrated support for flash ( which isn't such a problem since most downloaded browsers have support for Adobe Flash ). This device doesn't have a radio, however. But that in itself isn't such a big problem considering that there are so many apps capable of playing radio and you can listen to any live podcast from the website of the radio station. This device also has GPS and Java via Java MIDP emulation. The colors available for the HTC Magic are as following : white and black.
Here is a brief list of what the HTC Magic can do :
Voice memo
MP3 player
MP4/3gp player
This concludes our little review of the HTC Magic. I hope you had as much fun reading it as I had writing it. If you feel that anything is lacking from this little review feel free to leave your suggestion for things which should be added in the comments section below and I shall be sure to take them into consideration when writing my future projects. You can also leave suggestions for future devices to be reviewed if you wish.
In the mean time, if this little review has inspired you to want this device, I can provide you with a few links to this device at very reasonable prices :
HTC Magic : click HERE.
HTC MyTouch or T-Mobile MyTouch ( pretty much the same phone but with a bit of modifications to the hardware to make it seem better, depends on the version of the phone since it comes in 3G, 4G and so on ) : click HERE.