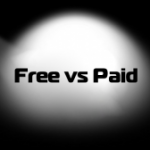 Through this article I shall try to discuss the advantages and disadvantages of the existence of FREE and PAID stuff. Although this article is mainly about Applications, especially the ones from the Android Market, there shall be mentioned some very practical examples of how this difference between FREE and PREMIUM can be applied to your everyday life.
If ever you've went to the Android Market you'd notice there are two great categories in which you can view the existing applications or games. Those two are Free and Paid. It's impossible to say which one is dominant since they are both constantly updated and have items added to them as you are reading this. There are many individuals that say things such as "The free stuff should include everything" and similar stuff. Well, in a perfect world where one would not require any form of currency to sustain one's life, that could be possible. But we live in a flawed world where such things are merely dreams and hopes and aspirations.
I for one hate Apple products and generally state my feelings towards them. Even though I hate those products, if someone came to me and offered me a "no-strings-attached" iPhone or MAC or something, I would not turn them down. Perhaps it's just me and my character that thinks like that, but were you in the same position, you would not turn it down. Such is the hypocrisy of our existence. Basically, that's a direct comparison to all of the people complaining about the "Paid" stuff from the App Markets being too expensive and saying that they don't like them, but wouldn't mind getting them for Free.
Put yourself in the position of an Application creator and developer. Actually, not necessarily an App developer, but any creative mind that has managed to create something of significant importance. You have spent hours, perhaps days or weeks or even months in developing it. Naturally, you will expect some sort of compensation for all of your hard work. Take for example, the creation of a certain game. Those are created by whole teams of people and are in development for months, or even years. When they come out, they are released  for a price up to 75 dollars. That price is kind of under priced, in my opinion. One thing to consider when paying for ANYTHING is the production value and all of the currency used to create that certain something. After that, if you actually put a price on all the work put in by the people that created that certain something, you shall reach the single greatest conclusion that you are being favored – which isn't necessarily a bad thing.
I've often heard many people say a human being goes through two phases in their life : the first, when the person has more time than money and starts trying for as many opportunities to profit without putting any effort into it as possible; and the second one, in which the individual has more money than time. Most people that reach that second phase of their life have no second thoughts whatsoever about forking up a bit of money for something you truly like and desire.
Some of the advantages of the paid apps would be the fact that they are more reliable and more secure, in certain ways. Most of the free ones are just cheap pirated copies of the original ones, which are paid for.
That is the exact same case with apps, games and any other thing. One can say they hate paid stuff and are reluctant to purchase these said paid software products and love the free ones, but one is pushed by all the factors of his life towards this purchasing direction and sooner or later, that one person will forget there even are free items around.