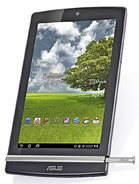 This time we shall be looking at Asus Memo or Asus Eee Pad Memo depending on how you prefer to call it. This phone is quite similar to the Galaxy Note in ways that it is also made for the same purpose, which is ease of writing. They both have large screens and they both have capacitive screens with capacitive styluses. There are many differences however, some of the major ones are in performance and some of the more subtle ones in the aspect. I for one think that this phone looks much better than the Galaxy Note for the simple fact that it has that obvious little sheathe for the stylus. It's small details like this one that make our like interesting.
Also, something that amazes me still is the creation of a stylus for capacitive screens. As you may very well know by now, there are major differences in the way a capacitive and a rezistive screen work. While the rezistive one can be touched with any object whatsoever, the capacitive one can only be used by touching it with your fingers, or something with body heat or finger prints or whatever, I'm not that sure myself. Creating a stylus for a rezistive screen is easy : any object will do. But what kind of substances are needed to lace the stylus with in order for it to work with a capacitive screen, that is what I want to know. Still, I know it can't be that impossible. I once saw a video with someone creating a method to use the iPhone's screen while wearing gloves ( since the iPhone also has a capacitive screen ). Apparently, the person came up with a way for the phone to be used without a stylus during cold winters and stuff like that when you are required to wear gloves. By adding thermic gel to the tip of the finger of the glove and rubbing it in ( the gel you buy for the Processor of your PC so it doesn't over-heat … just go to any store and ask for thermic gel and you'll get it ) to the glove, he successfully managed to send bodily heat through the glove to be able to use the screen. Do a good job and you won't leave marks on the screen either.
But enough dilly-dallying and let's commence with our little review / preview of the  Asus Memo.
Processor : Dual-core 1.2 GHz Cortex-A9
RAM : 1 GB
Android OS : 4.0 Ice Cream Sandwich
Camera : 5 MP
Display : 800 x 1280 pixels, 7.0 inches (~216 ppi pixel density)
We shall start by looking at the size of the Asus Memo. The body of this device is about 199 x 177 x 12 mm large. Also, it weighs about 389 grams. Not the smallest of phones, but then again it's quite powerful and often power comes in a bulky shell. And before making assumptions about the phone, look at it, it isn't that big anyway. It's, as one may say, quite decent.
Moving on to the display of the Asus Memo. The Type of screen this device has is an IPS LCD with a capacitive touchscreen and about 16 million colors. The resolution reached by this phone is about 800 x 1280 pixels. The screen size is around 7.0 inches. The pixel density of this screen is somewhere around 216 ppi. Also, this device has Multitouch but with who knows how many fingers that can run  simultaneously on it since there isn't that much solid data available.
Let us move on now to the sound part of this phone. The alert types of this phone are somewhat non-available since there isn't that much info available about this part. The Asus Memo also has a Loudspeaker and a 3.5 mm jack.
Moving on to the memory part of the Asus Memo. This phone comes out in two  versions : the 16 GB one and the 32 GB one. This phone isn't weak on the RAM as well, considering that it has 1 GB of RAM. The downfall of the Asus Memo is that it doesn't really have a MicroSD card slot so you have to stick with the given memory.
Moving on to the data connectivity part of this little review / preview. This phone doesn't have GPRS or EDGE or even data connectivity speed. The WLAN of this phone is a Wi-Fi 802.11 b/g/n which has Wi-Fi hotspot. The Asus Memo has Bluetooth v2.1 with A2DP and EDR. The USB connection of this phone is done via USB v2.0.
Moving on to the camera of the Asus Memo. The main camera of this phone is a 5 MP camera capable of taking photographs at resolutions as big as 2592 x 1944 pixels. This phone also has many features such as : autofocus and geo-tagging and others ( if you can find them ). The camera is somehow, surprisingly capable of recording at full HD 1080p. But, the again, I have seen 3.15 MP cameras capable of recording at 1080p. Heck, 5 MP cameras are usually able to record at 720p HD, so going one step further to 1080p full HD shouldn't be that big of a deal. The Asus Memo also has a secondary 1.2 MP frontal camera, but with no further information about it or the video recorder.
Moving on to evaluating the hardware performance of the Asus Memo. The processor of this phone is a Dual-Core 1.2 GHz Cortex-A9, the chipset of this phone is a Qualcomm MSM8260 Snapdragon and the GPU is an Adreno 220. As you can see, this phone has a more than decent hardware configuration.
Moving on to the operating system of this phone. The Asus Memo has Android OS v4.0.1 Ice Cream Sandwich. I'm happy to see that this new phone will come out with the latest version of the Android OS since so few of them manage to come out with Android OS v4.0 and even fewer of them get the update to Ice Cream Sandwich after their release.
Now moving on to the final part of this review / preview – the features. The sensors of the Asus Memo are as follows : accelerometer, gyroscope, proximity and compass. The messaging on this phone can only be done via : E-Mail, Push Mail and IM. It's only fitting considering that the Asus Memo isn't actually a GSM device and the only network that you can use it in are networks such as Skype or other things like that. That's the downside of a non-gsm device. Still, it was made for a purpose and that purpose it serves. Moving on … the browser : it supports HTML5 and Adobe Flash. This device has no Radio, but that isn't a big of a problem considering that there are many apps that can play radio and that you can also listen to every radio station on their websites. This device has a GPS with A-GPS support. This phone also has Java through Java MIDP emulation. The only color that this phone will come out is : black.
Here is a short list of some of the things this device can do :
HDMI port
SNS integration
MP3/WAV/WMA/AAC player
MP4/H.264/H.263 player
Document viewer
Organizer
Predictive text input
Well this concludes our little review / preview of the Asus Memo or Asus Eee Pad Memo, depending on how you choose to call it. I hope you enjoyed reading this review / preview as much as I enjoyed writing it. If you feel that anything important or any important detail has been left out of this review / preview feel free to leave your suggestion for things to be added in the comment section below and I shall be sure to take them into consideration when writing my future projects.