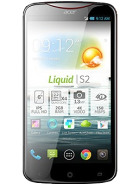 Today we'll be taking a brief look at the Acer Liquid S2. This phone isn't officially out just yet, but I assume it will be by the end of this month. Also, this phone will most likely NOT be a cheap one when it comes out, considering there are quite a few features that seem to be relatively new to the market, and there are even a few features here and there that seem to be game-changing.
The Acer Liquid S2 has quite a bunch of neat features on it, and with the size this phone has, I'm not really sure it's proper to call it a PHONE ( since it's 1 inch away from being considered a full-fledged 7.0 inch tablet ). Even so, this phone is bound to bring some large amount of attention to Acer, as it's quite easy to compare it to some of the strongest phones out there. Unfortunately, it's not officially available EVERYWHERE, so I've had problems locating it in stores, and thus being able to relay to you the price of this device, but rest assured that it's a pretty safe bet you'll find it for a relatively top-grade price.
SUMMARY
It's a safe bet that this phone will cost an arm and a leg ( probably close to the price of the Note 3 ). The question is: is the device worth such a high price? I'd like to state here and now, with my honest opinion, that despite being bothered by the height of the price, i can say hands-down that they are worth it. Also, this is a situation in which it's hard to be judgmental, as you can't really blame Acer for demanding a higher price for this phone. They are a bit to blame, but not entirely, as they did not dictate the individual pricing for each component. Take their drastic increase into consideration, the assembly costs and the fact that Acer, as a manufacturer, needs to be able to cut a profit as well ( in order to keep operating ), and you'll come to see that the Acer Liquid S2 is a pretty good-buy, especially if you're interested in acquiring a strong high-end smartphone.
GENERAL
This device is pretty damn good as far as connectivity goes. It can take standard GSM networks as far as 2G and 3G connections go, and it also has 4G LTE on it as well. The type of SIM card that goes in this device is of a Micro-SIM format. I'm not sure what I should say about the availability of this device: it should come out this month, in November, but it has been announced for quite some time ( since August, actually ), so I'm not really sure how much longer they'll make people wait – here's hoping that not so much, since the Acer Liquid S2 is offering some really promising things.
BODY
Not much is known about certain features regarding the weight of the device. However, all the rest is pretty much common knowledge. As I mentioned before, it has a 6.0 inch screen. It's good to know that there's not much space wasted with unnecessary plastic margins or anything like that. The exact dimensions of this device are: 166 x 86 x 9 mm ( or, if you like this system better: 6.54 x 3.39 x 0.35 in ).
DISPLAY
The screen of this phone is truly something else. It's of an IPS LCD type and it can use a resolution of 1080 x 1920 pixels. The pixel density of this phone is also quite fabulous, ranging it at around 367 pixels per inch ( which is 67 more than the eye can perceive, and thus will look as smooth as ever ). In case you're worried about the safety of the screen, it's also worth mentioning that the device is covered with a sheet of Corning Gorilla Glass 3, which should defend the phone pretty well ( I still wouldn't recommend dropping it on purpose, but you do what you will with it ). Also, while on the topic of the Display, the Acer Liquid S2 seems to be equipped with the Float UI on it as well.
SOUND
Audio-wise, the Acer Liquid S2 is doing real good. It has enhancements both on the hardware and the software side. Firstly, it's equipped with a pair of Stereo Speakers, instead of the common single and large loudspeaker. Also, the phone seems to be equipped with a DTS sound enhancement as well.
MEMORY
Memory-wise, this device is bringing a few things to the table that can well be considered game-changing. The internal storage space and RAM are pretty standard for high-end phones, with 16 GB of storage and 2 GB of RAM, respectively. The thing that seems to be a real game-changer is its card slots. Rarely have I found phones with MicroSD cards that took cards of up to 64 GB, but this device is actually better than that, being able to use cards of even 128 GB. Just between you and me, however, if I REALLY wanted TONS of storage, I'd just get a USB 3.0 external-HDD ( it's faster and more price-effective ).
DATA CONNECTION
The Acer Liquid S2 seems to be well equipped as far as connectivity goes. It has both GPRS and EDGE on it, Bluetooth v4.0 with A2DP, it's NFC-ready and it even has great internet speeds ( with the LTE on or without it ). The WLAN of this device is also quite exceptional: Wi-Fi 802.11 a/b/g/n/ac with Dual-Band, Wi-Fi Direct, DLNA and Wi-Fi Hotspot. This device also has a MicroUSB v2.0 port on it as well, however, this port doesn't support MHL or anything out of the ordinary.
CAMERA
Both cameras of the Acer Liquid S2 are really something else. The phone has a main 13 MP camera and a secondary 2 MP one. The features of the main one aren't that numerous, but they're fabulous nonetheless. First off, both of these cameras can record video in 1080p HD at 30 frames per second ( for the frontal one ) and at 60 frames per second ( for the main one ). One top of that, the main camera can record in 2160p HD quality, but this time only at 24 frames per second. As for the previously mentioned features, they are as follows: autofocus, geo-tagging, LED ring flash ( this is a rare one ) and 27 MP panorama photos ( this is an even rarer one ).
BATTERY LIFE
Not all that much is known about the battery of this phone. We know so far that it's a standard, remove-able Li-Po 3300 mAh battery, but as far as life-time goes, nobody has yet to provide me with any concrete answers.
HARDWARE
The hardware of the Acer Liquid S2 is great. This phone comes with some of the strongest components on the market: a Qualcomm MSM8974 Snapdragon 800 chipset, a Quad-Core 2.2 GHz Krait 400 processor and an Adreno 330 graphics card. This hardware configuration is enough to run just about any app on the market or to come for the next 2 or so years.
SOFTWARE
Unfortunately, this phone doesn't have the latest version of Android on it, but it is equipped with a pretty good version nonetheless – Android OS v4.2.2 Jelly Bean. As to when it will be receiving an update to v4.4 KitKat, nobody has yet to say.
FEATURES
This phone has quite a bunch of features on it. It has a few sensors on it ( accelerometer, gyro, proximity and compass ), it uses HTML5 for the browser, it's equipped with a Stereo FM radio with RDS and its GPS has built-in support for both A-GPS and GLONASS. This phone is somewhat limited in the colors in which it's available, as there are only two of them: Black and Red.
Here's a somewhat brief list of the things this phone is capable of:
SNS integration
MP3/WAV/WMA/AAC player
MP4/H.264/H.263 player
Organizer
Document viewer/editor
Photo viewer/editor
Voice memo/dial
Predictive text input
This concludes our little review of the Acer Liquid S2. I tried touching the most important parts here and talking about everything as briefly as I could, without going into too many technical or boring details. I do hope it has proven somewhat enlightening to you all and that at the very least it offered you a bit of extra info about the device.