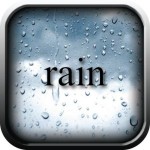 Today we'll be reviewing this nifty little app called Rain. It isn't much and it does relatively little. It is only a screen saver which imitates the sounds of rain and sprinkles rain drops on the screen. Now, this app really depends on your phone, since I've heard quite a few individual saying that it doesn't sound like rain at all, more of like static. Now I strongly believe that it depends on the audio out your device, but I guess you, the reader, will be the judge of that.
Now I am a bit skeptical about this app since I've heard quite a lot of negative feedback on the grape vine. Many claim that it is a mediocre screen saver at best and that it's riddled with ads. More so even, it has all of its good ratings since it usually gets down on its knees and begs you to grant it a five-star review. Now I guess only the users of this app can say for sure, but then again, what more do you want from a small $0.99 app? I've learned a long time ago that the really good apps cost at the very least 5 dollars, and they usually do so much that they justify their price.
FEATURES
What this app does is cause rain to fall and splatter on the screen
Clouds have a gentle drifting animation to them
You can set the timer for this app ranging from : 15 minutes, 30 minutes, 1 hour, 2 hours or even 3 hours
It also has the ability to loop without end
You also have the ability to pause and play the rain
It has a rain intensity control as well on it
Speaking of control, it also has a rain droplet size control
Also on the control notion, this app has a sky speed and direction control as well
It can also display the current time and date
This app has a gorgeous minimalist style interface
This application also has full screen rain visuals
It also has an instructions page, if you desire to know how to use it
The creator of this app suggests that there is more to come
DESCRIPTION :
For some reasons, this app has also been ranked. It is ranked No.1 in Health & Fitness Apps and No.6 on the Amazon Appstore.
This application, better put, turns your device into a skylight on a rainy day. Clouds will gently glide as rain drops are falling and splattering on the screen of your device. The effect is relaxing, tranquil and makes you feel like you're holding a real window in your hands ( and also gives you a really bad need of going to the bathroom ).
For those of you that finding sleeping when it's raining comfortable, this is the app for you. Also,for those of you who focus better when working when it is raining, same thing, this is the app for you. And also, the creator seems to believe that this app will make your reading experience when you're cuddled in your couch more pleasurable.
You can get this app from Amazon.