Shoelace Wireless, a start-up based in Southern California, just launched a Kickstarter campaign for an innovative app called Netup. Netup is the first Android app that combines Wi-Fi and cellular connections (3G/4G) to provide faster and more reliable Internet for your devices. It can also help to you to save on your data plan.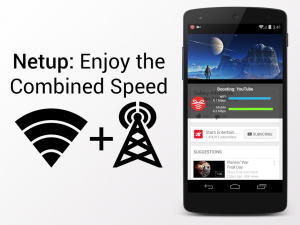 Netup is compatible with Android devices running from 4.0 Ice-Cream Sandwich to the latest 5.0 Lollipop. It runs seamlessly in the background, and intelligently combines Wi-Fi and cellular when needed to boost the speed of your favorite apps. Netup is meant to be used when your WiFi is slow and unstable, which happens at many public places today, like coffee shops and train stations, on even at home during busy hours.  With Netup, users can stream videos faster, browse the web smoother, etc.
Shoelace Wireless is a spin-off from a research project at the University of California, Irvine, and has received funding from the US National Science Foundation. "Mobile users nowadays are surrounded with multiple networks and they only use one at a time. Netup will empower the users to utilize all networks around them to get a superior Internet experience," said Anh Le, co-founder of Shoelace Wireless.  Below is a demo video of Netup.
Their Kickstarter campaign already raised more than $5,000 and looks for more support to reach their goal of $20,000 by Jan 29. By supporting them now, you can get early access to the Beta phase (expected April 2015). Here is the link to their Kickstarter campaign: http://bit.ly/get-netup