I am using Android for almost 4 years. During this year I was experienced a lot of interrupted downloads. When dealing with large file downloads, it happened for me to forget that there is something there and go outside of the wireless range. This meant interrupted download and I had to start over. Now, I found Download Manager for Android to be a real saver for me. The most important advantage of this download manager is the speed. It is up to 3 times faster than the default download manager on Android.  What is so great is that it is not just a simple download manager, it is also a browser.
What you will love immediately after you enter the application, is the new improved design and interface. The browser is better looking than any other web browsers available on Android. More, there is a bottom navigation for tabs, back, forward, menu and switch to download status button.
SPEED
Compared to any other browser or download manager, you will be impressed by the speed of downloading and browsing, I have experienced 3 times faster download speed using Download Manager for Android compared to the default Android system download manager.  The high speed is achieved by splitting the downloaded file into smaller parts.
Download Manager
This application has all the features needed for a download manager an many more. One of the most important is the possibility to resume interrupted downloads, so you won't have to worry anymore if you get out of your wireless or network coverage. Even if you don't use the integrated web browser and you are using default android browser, chrome, firefox or any prefered browser, whenever you stumble to a download link, download manager will start to download the requested file.
Another problem I have experienced with the default download manager in android is that sometimes it didn't allowed me to download certain files because it was considered of "unknown file type". Well, if it was a file that android didn't know how to handle, it didn't allowed me to download. Using Download Manager for Android you can now download any file tipe without worries. For example if you just want to download a file so you can move to PC or any other device later, now it is possible.
Another interesting feature is that I am able to set notification sounds for finished downloads. More, if you download ringtones or wallpapers, they will be downloaded and activated directly into your Android system, so you won't have to browse for them again.
The download manager have support for md5 checksum files, very big files ( over 2 GB ), and also supports wifi only downloads. If you activate this function, file download will start only when you are on wifi so it will not eat up your limited data plan.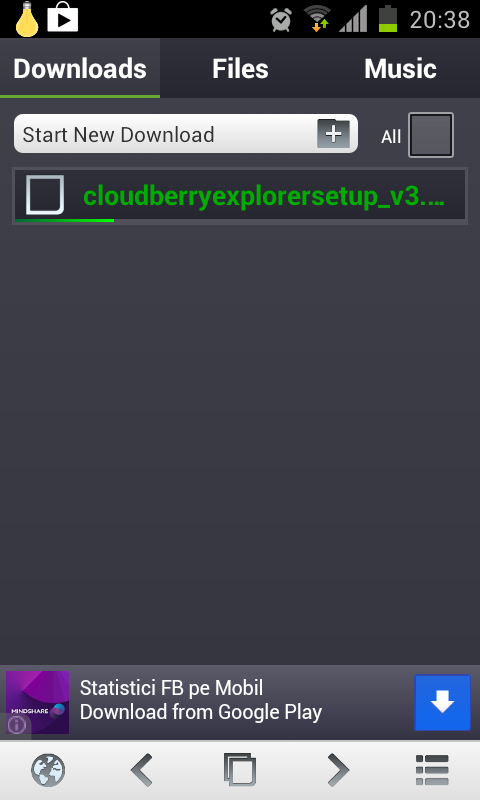 Web Browser
The download manager have a web browser integrated for a faster browsing experience. Unlike default Android browser, you will have back and forward buttons, so you won't have to guess what pressing the hardware "back" button will do. Tabbed browsing is also supported and there is a fast switch to download page, where you can see all finished and active downloads.
The default ( home ) page of the web browser will bring you to a page where you can download music, wallpapers, videos, apps, games, pictures, etc, all  separated into categories, for your convenience.
Media player
The download manager have a media player integrated, which allows you to play audio and video files. The supported formats are: aac, mp3 and m4a for music and m4v, mp4 and mov for video playback.
Options.
There are many options that you can set for  the download mnager, web browser and media player. including: disabling downloads when on mobile data, completed download notifications, animations, swipe gestures, playlist options, browser history, enable or disable javascript or change the user agent of the browser.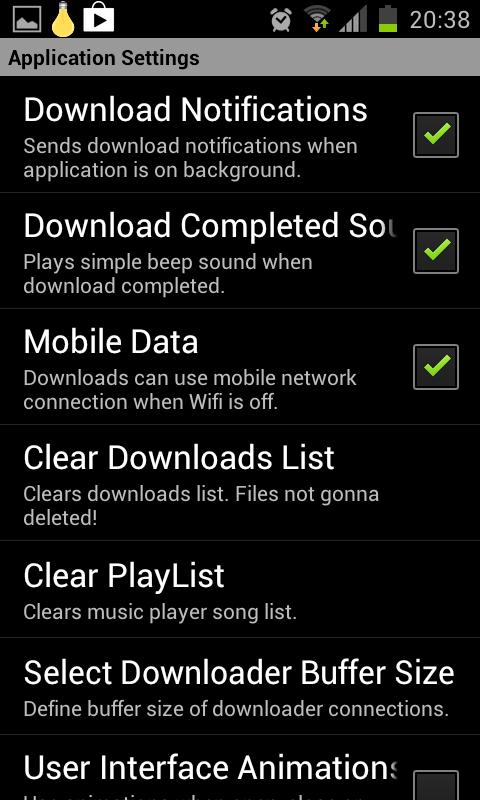 You can get Download Manager for Android from Google Play Store.