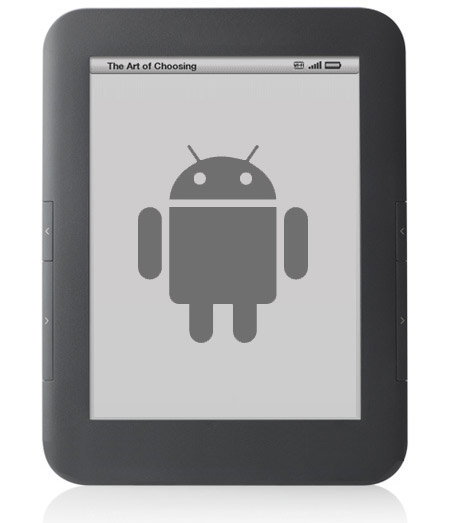 Latest rumors say that Amazon has some Android developer jobs open, and they are hiring these developers to help them build an Android based Kindle. I don't think they are hiring these developers specifically to start building an Android Kindle, because I believe they are almost close to release such a Kindle.
Amazon is a pretty forward thinking company in general, and if a company like B&N could foresee the rise of tablets as "mainstream readers", I'm sure Amazon saw this coming, too. Plus, Amazon has been working for quite a while on their Amazon Appstore, and I'm sure that it didn't only cross their minds that they should build a tablet reader, but they actually started building one soon after iPad first launched.
Amazon was one of the first to be affected by the launch of iPad, even before most people started realizing its potential, because with the power of iPad, Steve Jobs managed to pursuade most big publishers to come on board, and they also made it so these publishers can force Amazon to accept the agency pricing model.
But, still, why would Amazon build their own tablets, when they already have their Kindle application on many platforms? Will it help at all if they have a tablet themselves?
I think that e-ink readers will continue to be very important for Amazon, especially as they drop prices even further. The next Kindle reader might be only $99, so even more heavy book readers will buy them, but I think this is still mainly for the heavy readers. Most people will want a "tablet" that can do many things, like browsing, playing games, e-mail and even reading books. These people won't buy a device for the sole purpose of reading books, so Amazon can serve both their target audiences with different types of devices, an e-ink reader, and an LCD tablet.
Of course, this tablet should be as cheap as possible, but still be usable. It should be under $250-$300, with a high quality display and high resolution (1280×800 on 7″ screen). High resolution makes reading more enjoyable on an LCD, and they should definitely focus on stuff that lessens the drawbacks of an LCD.
I think they should make it as good of a reading experience as possible, so it should be centered around their Kindle store and books, but I don't think they should close it down like B&N did with Nook Color.
The fact that is open won't affect Amazon in the same way it would affect B&N, because Amazon is the market leader here, so most people would choose their reader app anyway. Even if they get less than 100% of the users to use Kindle, they'll still make it up in total numbers of tablets sold, because a lot more people would be interested in getting a high quality Android tablet for $250-$300.
Kindle refreshes usually happen in early summer, so we should expect an Android based Kindle and also a cheaper e-ink reader, no later than that.