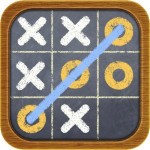 Today we'll be taking a look at another really interesting Android Game. Do you remember the days in which you were bored and started playing Tic Tac Toe with your friends on a sheet of paper? You can now relive those days. Since today's technology is as it is, you can now do so without the use of paper nor pen.
Still, it is a somewhat of a sad day in which the games you used to play as a child have been turned into Android games, or any kind of game. Personally, I have no particular problem with that, but it indicates that we are changing our society ( or more likely, the people ) into being more inclined towards technological advancements, which in retrospect, may not actually be the best possible choice. We are too quick to replace things. But, as in all activities: this also has its advantages and disadvantages.
Judging from the reception this game had, I'd say it is more than a little good. Actually, I have yet to find a person saying that it is not worth the effort. Also, its price isn't too great, so one can easily say that it isn't a bad investment. For less than a dollar you get a game that can help you pass the time in a less-than-ideal situation.
FEATURES:
This game has some great graphics and really awesome sound effects
The game also features configurable player names and score tracking
The game has an outstanding AI engine which comes in 3 different difficulty levels
The game has an auto-save feature which will come in handy if you exit the app or receive a phone call
This game also has a very interesting smart move randomizer which ensures the device will not keep making the same moves in a row.
DESCRIPTION:
You can choose to take on a friend or play against the computer in this game, also known as a chalkboard classic. Tic Tac Toe Pro is a fun way to pass the time, whether you are standing in line or spending time with your kids. The best part of it all: you won't have to waste any paper to play it.
The manufacturer of this game, Optime, has laid its print on this game. With the sound turned on, you will hear each move as it's made on the board. You'll also hear a sympathetic crowd groan your losses and cheer at your wins.
This game supports both one-player games and two-player games. You can play either against a human, or against the PC. Choose the PC and 3 different difficulty levels will appear. Warning however, some of the harder difficulties are close to impossible to beat. You'll be lucky if you just cut even with it. Also, if you're really bored you can set it to play by itself. Its randomizer will ensure that no move is repeated.
You can get this most interesting game from Amazon.