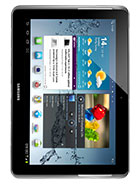 Today we'll be reviewing the Samsung Galaxy Tab 2 10.1 P5100. This is one of the few tablets that is actually worth its high price. Not only that but it also is one of those rare tablets that has included support for GSM voice communication, SMS and MMS. What is even rarer even is that this is a 10.1 inch tablet with voice communication. Sure you see many 7.0 inch ones with that feature, especially nowadays since the manufacturers have gone with the flow and realized they can increase their profit exponentially with these tablets, but it is a rare sighting to see one with a 10.1 inch screen.
What is even more interesting to notice is that the Samsung Galaxy Tab 2 10.1 P5100 is a tablet which is packed with all sorts of features and capabilities. Hell, it should come as no surprise to anyone that while this tablet may not have the strongest hardware available, it still has more than enough features, a good screen and is voice communication able. Hell, nobody should be surprised when they see that this device costs somewhere around 480 euros. Sure, you'll probably find it for a much bigger price at your local vendor, but now at least you have an estimate price to which you should tend. Anything that exceeds $500 by too much should be avoided.
SUMMARY
As I said I would do a while back, I would start off my review with a brief sighting of the good points and the bad of this device, the Samsung Galaxy Tab 2 10.1 P5100. While this tablet may not be the best tablet out there in certain spots, know that it doesn't have any "serious" flaws that may interfere with its performance and its functioning. The only serious problems of this tablet are the ones you choose to make serious. Other than that, even its worst possible points are still at the least bit decent.
At the risk of not revealing too much useful information in this part, I'll try to make this as short as possible as to not waste too much of your time. All of the parts of the Samsung Galaxy Tab 2 10.1 P5100 are at the very least good. One can't really say that this tablet has any bad parts considering that even its weakest features are still better than most devices out there. But you shall see that for yourself in just a moment.
I apologize in advance if you have read this little summary and thought it not good at all, but in order to promote reading I added this little summary as a sort of "trailer" if you will. It reveals nothing important, but instead it offers a general guide-line. If you truly want to find out more I strongly advise you to keep on reading as you will find all of the necessary information structured in its own neat little part.
GENERAL
As I already said in the introduction, this is one of those rare tablets that actually has included support for both voice communication and messaging. Now, in order to support GSM voice communication, one needs to be able to use a GSM network. This tablet, the Samsung Galaxy Tab 2 10.1 P5100, uses the following networks : 2G ones ( GSM 850, GSM 900, GSM 1800 and GSM 1900 ) and 3G ones ( HSDPA 850, HSDPA 900, HSDPA 1900 and HSDPA 2100 ).
This is a tablet that came out somewhere around the beginning of 2012, so you can't really expect it to be as powerful as, let's say, a tablet that came out after Q2. Let us remember that mobile technology has experienced a very notable boom these last months when a whole lot of Quad-Core devices were announced. The Samsung Galaxy Tab 2 10.1 P5100 was announced in February 2012 and is now currently available worldwide as of May 2012.
BODY
The Samsung Galaxy Tab 2 10.1 P5100 is a really massive tablet, and who could blame it. After all, you need a big tablet if you're going to add a 10.1 inches wide screen. This device is around 256.6 x 175.3 x 9.7 mm big and it weighs somewhere around 588 grams. All and all the size of it isn't all that big for a 10.1 inches tablet. Keep in mind, it would have been much bigger if Samsung had decided to make the margins a lot thicker. Even so, they aren't the smallest margins, but they're still in the acceptable part of the measurements.
DISPLAY
The screen of the Samsung Galaxy Tab 2 10.1 P5100 isn't its finest point, but it still is better than most would hope for. At the least bit, for all of you more critic people out there, it can be called "decent". We're talking here about a PLS TFT capacitive touchscreen with 16 million colors. If you do not know what PLS is, let me enlighten you :
Plane Line Switching ( PLS )

A new technology developed by Samsung is Super PLS, which bears similarities to IPS panels and touts improved viewing angles and image quality, increased brightness and lower production costs. PLS technology first debuted in the PC display market with the release of the Samsung S27A850 and S24A850 monitors in September 2011.
The screen, as I said before, is around 10.1 inches big and can house a resolution of approximately 800 x 1280 pixels ( not that much considering I've seen 10.1 inch screens with full HD 1080p resolutions ). The pixel density of this device is also not that great. The screen being this big it is pretty notice-able if the pixel density is low. It may or may not cause a few problems such as screen stuttering when you use it. Even so, this device's screen is still a good one.
This tablet also has Multitouch on it, however, not the advanced sorts which supports more than two simultaneous fingers on it ( never understood the use for one of those ). Also, the Samsung Galaxy Tab 2 10.1 P5100 has TouchWiz UX UI installed on it, should you choose to use it ( it may be already on when you get it, but with most UIs you can turn it off at your leisure ). This tablet also has a very effective screen protection method on it – Corning Gorilla Glass display.
SOUND
Normally I wouldn't discuss things such as Alert Types for the reviewed devices, but it is such a rare feat to see a tablet with Alert Types. The Samsung Galaxy Tab 2 10.1 P5100 has the following alerts : Vibration and MP3 Ringtones. In case you were wondering whether or not this device has any sound enhancement whatsoever on it, let me illuminate you. While the Samsung Galaxy Tab 2 10.1 P5100 has no software-based sound enhancement, it does have a hardware-based one. Instead of the classic default Loudspeaker that most tablets have, this one has a very effective pair of Stereo Speakers. There's not much point in talking about the 3.5 mm jack as well as those never have any particularities of their own.
MEMORY
The Samsung Galaxy Tab 2 10.1 P5100 is a very diverse tablet and it is available in two different versions : a 16 GB one and a 32 GB one. There may be a serious price difference between the two, but at least you have a choice. In the eventuality that neither of those two versions are good enough for you, this tab also has a Micro SD card slot which can use any card of up to 32 GB. The RAM of the Samsung Galaxy Tab 2 10.1 P5100 is around 1 GB, and before you say that this isn't the maximum, remember that when this tablet was announced that amount of RAM was barely even in its theoretical form. It was little more than an idea, actually, at the time this device was announced.
DATA CONNECTION
The connectivity of this tablet is pretty good. It has a ton of features on it and it is as fast as it gets. My only disappointment with it is regarding the GPRS and EDGE. While the Samsung Galaxy Tab 2 10.1 P5100 does have both of them, I would have liked to know what Class they both are and what speed they can both reach. Even so, the internal speed of this tablet is as following : HSDPA at 21 MB/s and HSUPA at 5.76 MB/s. The WLAN of this tab isWi-Fi 802.11 a/b/g/n with Wi-Fi Direct, Dual-Band and Wi-Fi hotspot. Also, the Bluetooth of this tablet is of a v3.0 style with A2DP. The Samsung Galaxy Tab 2 10.1 P5100 also has a USB v2.0 port on it with USB host support.
CAMERA
The camera of the Samsung Galaxy Tab 2 10.1 P5100 isn't a very strong one, however, I strongly believe that tablets should have little to no cameras at all in the first place. Think of how ridiculous you look when you are recording with a wide square in your hands. The camera is a 3.15 MP one which can photograph at the resolution of 2048 x 1536 pixels and for some ungodly reason record video in 720p HD format. At what frequency, I can't tell. The only feature of this camera is Geo-Tagging. Also, the Samsung Galaxy Tab 2 10.1 P5100 has a secondary camera on it as well, a VGA frontal camera.
BATTERY LIFE
The battery of this device is a really huge one and it is as powerful as it is enormous. The Samsung Galaxy Tab 2 10.1 P5100 has a Standard Li-Ion 7000 mAh battery on it that can survive for a whole amount of time. It can keep your device up and running for around 2000 hours of stand-by mode ( which is a bit irrelevant considering that you'll almost ALWAYS have an app or two in the background ) and for up to 10 hours of talk-time. As you can see, the battery is great.
HARDWARE
As I already mentioned, this may not be the best hardware set available. You certainly can't compare it with any Tegra 3 device. However, why on earth would you need all of that hardware for anything other than playing high-end games. The hardware of the Samsung Galaxy Tab 2 10.1 P5100 is more than enough to get the job done and run pretty much any program you may put on it. This tab has a Dual-Core 1 GHz Cortex-A9 CPU, a TI OMAP 4430 chipset and a PowerVR SGX540 GPU. As you can obviously see for yourself, it's powerful enough to handle almost anything you throw at it. Just avoid high video-demanding games and you should be fine ( mainly the "HD" games ).
SOFTWARE
The Android OS of the Samsung Galaxy Tab 2 10.1 P5100 is a pretty good one. This device has Android OS v4.0.3 Ice Cream Sandwich on it. While I'm not sure whether or not it can be upgraded to v4.1 Jelly Bean, Ice Cream Sandwich is still more than competent enough to carefully handle your tablet. Also, since Android OS v4.1 Jelly Bean is still relatively new, so new that we don't even know what devices will be able to handle it, it seems a tad pointless to even talk about it at the current time.
FEATURES
As I said in the intro / summary, the Samsung Galaxy Tab 2 10.1 P5100 is packed with a whole bunch of features and capabilities. The sensors of this device are : Accelerometer, Gyroscope and Compass. Also, the messaging on this tab can be done via : SMS ( with Threaded View ), MMS, E-Mail, Push E-Mail and IM. The browser of this tablet use HTML and also has built-in support for Adobe Flash. While this tablet may not have a radio on it, know that you can always get an app for that off of the internet for a cost ranging from low to nothing. The GPS of this tablet has built-in support for both A-GPS and GLONASS. Also, the Samsung Galaxy Tab 2 10.1 P5100 has Java on it through a very efficient Java MIDP emulator. The only available colors for this tablet are Black and White ( both look stunning, might I say ).
Here is a brief list of what the Samsung Galaxy Tab 2 10.1 P5100 can do :
SNS integration
TV-out
MP4/DivX/Xvid/FLV/MKV/H.264/H.263 player
MP3/WAV/eAAC+/Flac player
Organizer
Image/video editor
Document editor/viewer
Google Search, Maps, Gmail, YouTube, Calendar, Google Talk, Picasa integration
Voice memo/dial
Predictive text input (Swype)
This concludes our little review of the Samsung Galaxy Tab 2 10.1 P5100. If you feel that anything is lacking from this review feel free to leave your suggestions in the comment section below for things which should be added and I will be sure to take them into consideration when writing my future projects. In the meantime, I sincerely hope you had as much fun reading my little review as I had writing it.