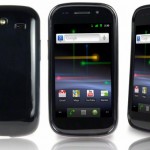 So far Samsung hasn't failed to impress with all of their products. Now to be honest, I'm not sure whether or not to call the Nexus a Samsung Phone.
It's clearly a Google Phone, and sometimes it bears the mark of Samsung, but who can say for certain. So, to be all political correct and stuff, I'm going to go ahead and say : the Nexus is the bastard child of Samsung and Google, and then everybody's satisfied.
Well, being a descendant of both those giants I have just named, this phone has most certainly inherited every good part of both Samsung and Google. The high-tech powers of Samsung combined with the ever-efficient Google. A lethal combination that is bound to wreak a bit of havoc (in the good way).
Processor : 1 GHz ARM Cortex-A8 processor, PowerVR SGX540 GPU, Hummingbird chipset
RAM : 512 MB
Android OS : 2.3 Gingerbread
Camera : 5 mp
Display : 480 x 800 pixels, 4.0 inches (~233 ppi pixel density)
The display of this phone is a Super AMOLED capacitive touchscreen with 16 million colors. The Super AMOLED is one of the best displays out there, if not the best. It renders colors in such a beautiful way it tickles your eyes. The screen is 4.0 inches big and reaches a resolution of 480 x 800 pixels. That implies that the screens pixel density is somewhere around 233 ppi. That makes the display of this Android Phone quite formidable.
On the memory note, this phone has an internal storage space space of approximately 16 GB, but on the downside, there is no card slot, which means you stick to the given limitation.
Now, I'm not the one to complain since I think 2 GB is plenty enough of storage space, but there might be other people that use the phone for more than its intended purpose. The RAM memory consists of 512 MB of RAM. That allows the phone to run smoothly with all apps/programs/games/whatever and lag as little as possible. Not, running as good as it would have been with 768 or 1 GB, but acceptable nonetheless.
The camera is a 5 MP camera that can photograph at resolutions as high as 2560 x 1920 pixels. Some of the many features of the camera include : autofocus, LED flash, geo-tagging and touch focus. The video recorder is quite weak though, only being able to film at WVGA quality at a steady 15 fps. I know for a fact there are 5 MP cameras out there that can record in 720p… this one however, isn't among those cameras. The phone also has a secondary camera, but that one is a VGA.
On to the hardware side we go. The smartphone we're looking at now has a 1 GHz ARM Cortex-A8 processor. Now that is a helluva powerful processor. Also, this phone has a powerful yet powerconscious GPU as well. I'm referring to the PowerVR SGX540 GPU. Also, let us not forget about the chipset, which is a Hummingbird chipset. I don't know much about that chipset so
I won't talk that much about it. Suffice to say, this hardware configuration is quite powerful.
The Android OS version is 2.3 Gingerbread. I will spare this contender my talk about the 2.3.4 and 2.3.5 since it isn't actually an UP&COMING phone. At the time it was released, this version was the latest one available.
All and all, this smartphone, the Nexus S 4G is  quite a good one and, if I dare say so myself, is probably well worth its price.