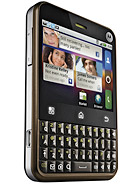 Today we shall be looking at the Motorola CHARM. Some of you may be wondering why I have begun writing about older phones released in years other than 2012. Since I believe that I've done enough "NEW" phones for the time being, I've decided to start writing about the most practical and useful ones I know of. If you're willing to look past certain lacks in certain areas of the Motorola CHARM, you'll most surely enjoy this phone. The price for it isn't all that big either, the phone being valued at roughly 150 euros. Well, that's the official price but now most stores will add to that price in order to suit their profit demands or fill in their quotas or whatever. I was just putting it out there for you to know after which price to orient yourself if you are planning on purchasing this device. We live in a world that's bad enough, if I can help you to prevent making a mistake when purchasing a device I consider myself a model citizen. Now back to the matter at hand, the Motorola CHARM. This is a pretty decent device with a decent hardware configuration. Just as the Motorola Flip Out, its hardware and software were good in the year they came out, but to the untrained eye it won't really matter. Most girls, for example, that I know only buy phones such as this one because of the QWERTY keyboard. Heck, half of them barely know what Android is. But the fact that this phone has both AND a touchscreen makes it sort of like a BlackBerry but with Android, and most people enjoy that.
Well without further ado let us begin this little review of the Motorola CHARM.
GENERAL
The networks supported by this device are as follows : GSM 850 / 900 / 1800 / 1900 as 2G Networks and HSDPA 1700 / 2100 as 3G Networks. The Motorola CHARM was announced in July 2010 and became available a month later in August 2010.
BODY
The dimensions of the Motorola CHARM are as follows : 98.4 x 67.2 x 11.4 mm. The Motorola CHARM also weighs around 110 grams. In conclusion this is a relatively small device. Also,  I don't know whether or not it's worth mentioning since I've already said this before, the Motorola CHARM has a QWERTY keyboard ( as I'm sure you've noticed for yourself just by looking at the image ).
DISPLAY
The type of screen that the Motorola CHARM has is a TFT capacitive touchscreen with around 256 thousand colors. The size of the screen per say is 2.8 inches and the resolution reached by this screen is 320 x 240 pixels. The pixel density is around 143 ppi. It also has multitouch, but judging by the age of the phone you'd be a fool to ask for the "advanced" multitouch. Surprisingly enough, the Motorola CHARM also has a very effective means of screen protection : Corning Gorilla Glass. Also, this device has a few features tied closely to the display part : BACKTRACK touch panel and MOTOBLUR UI v1.5 with Live Widgets.
SOUND
The Motorola CHARM is relatively basic as far as sound goes since it has no means of sound enhancement or any advanced sound enhancing features installed on it. The alert types supported by the Motorola CHARM are : vibration and MP3 rigntones. This Android Phone also has Loudspeaker and a 3.5 mm jack.
MEMORY
Moving on to the memory of the Motorola CHARM. The internal storage space is around 512 MB. Should that be of some concern to you, know that you can also expand your internal memory by the use of the MicroSD card which can be up to 32 GB. An advantage of purchasing this phone is that you get an included 2 GB MicroSD card. The RAM of this phone is 512 MB which at the time in which this phone came out was around the maximum amount of RAM available. Which reminds me, pretty soon we shall be seeing phones with 2 GB of RAM instead of 1. I believe Huawei has announced one or two of those already.
DATA CONNECTION
The Motorola CHARM has GPRS Class 12 ( 4+1/3+2/2+3/1+4 slots ) which runs at around 32 ~ 48 KB/s and also it has EDGE Class 12. The speed reached by the Motorola CHARM is as follows : HSDPA at 3.6 MB/s and HSUPA at around 2 MB/s. The WLAN of this device is a Wi-Fi 802.11 b/g/n. The Motorola CHARM has Bluetooth v2.0 with A2DP on it. If you want to connect this device to your computer you can do so through the MicroUSB v2.0 port of this phone.
CAMERA
The main camera of the Motorola CHARM is a 3.15 MB snapper capable of photographing at resolutions as big as 2048 x 1536 pixels. The only feature of the camera is : geo-tagging. The main camera is also capable of recording video at approximately 24 frames per second. Unfortunately, the Motorola CHARM doesn't have a secondary camera, but people lived without cameras for more than 3 thousand years, so that isn't a problem.
BATTERY LIFE
The battery of the Motorola CHARM is a Standard Li-Ion 1130 mAh battery. The time in which this battery can operate is as follows : approximately 267 hours in stand-by in 2G mode and around 334 hours in stand-by in 3G mode. The talk time in which this battery can operate is as follows : up to 6 hours and 45 minutes in 2G and around 5 hours in 3G. A decent battery, but in the end, apps don't forgive and don't forget.
HARDWARE
Now we shall be looking at the hardware of this device. The processor is a 600 MHz Cortex-A8, pretty good of a processor capable of doing quite a bit of work. Of course you can't compare it to the processors of today, but remember that a few years ago you would have killed for a phone with a processor. Well, let us take a look at the other hardware capabilities of this device. The Motorola CHARM also has a chipset, a TI OMAP 3410, to be more exact. Also, this device is quite good and a cut above the rest considering that it has a GPU, which other devices seem to lack. The GPU is a PowerVR SGX530 ( which I am told is pretty good ).
SOFTWARE
The Android OS version of this device is Android OS v2.1 Eclair. Eclair back then was a very popular version. Quite a few phones were equipped with Eclair. Mine was from 2010, a Galaxy Mini, but it had 2.2 Froyo with the ability of updating to 2.3 Gingerbread. You can also do that on this phone, although it doesn't officially support them neither do I encourage you to do it. But just laying it out there, this phone can have Ice Cream Sandwich on it if you wanted but then I believe you would void certain warranties or such.
FEATURES
The sensors of this device are as follows : accelerometer, proximity and even compass. The messaging on the Motorola CHARM is done via : SMS ( with Threaded View ), MMS, E-Mail, Push Mail, IM and RSS. The browser of this device supports HTML. The Motorola CHARM also has Stereo FM radio with RDS. The Motorola CHARM also has GPS with A-GPS support and has Java via Java MIDP emulation. Also, the colors in which this device is available in are : Golden Bronze and Cabernet.
Here is a short list of the things that the Motorola CHARM can do :
Active noise cancellation with dedicated mic.
Social networking integration with live updates
Google Maps with Street View
MP3/eAAC+/WAV/WMA player
MP4/WMV/H.264/H.263 player
Facebook, MySpace, Twitter apps
Organizer
Document viewer
Voice memo/dial
Predictive text input
This concludes the review of the Motorola CHARM. I hope you enjoyed reading it as much as I enjoyed writing it. If you feel that anything is lacking from this little review feel free to leave your suggestion for things which should be added or other devices to be reviewed in the comments below and I shall be sure to take them into consideration when writing my future projects.
In the meantime, if you would like to purchase this device I happen to know that Amazon has a pretty good and decent deal on, the price being close to the retail one of the phone. You can check it out : HERE.