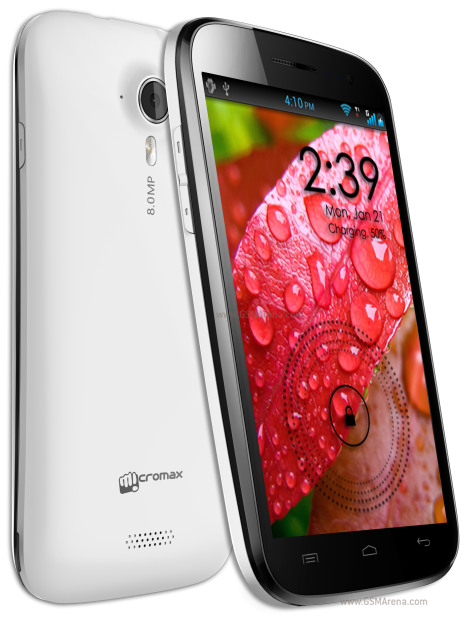 Due to certain circumstances that I could not control, I couldn't really review the Micromax Canvas. I ended up regretting that decision as it received quite a lot of good feedback from the users. However, all of them said that the screen of the device had a slight problem. Truth be told, it wasn't the finest of screens. For a large 5.0 inch screen, to have a resolution of 480 x 854 pixels and a pixel density of 196 pixels per inch is quite notice-able, even to the untrained eye. However, all of that was rectified by the Micromax Canvas HD, which not only improves the screen, but certain hardware aspects as well, all without changing the beautiful look of the phone. Some may argue that the battery life of the device is sort of bad, but I cannot really confirm or deny that, and neither could those naysayers.
OVERVIEW
The Micromax Canvas HD isn't exactly the strongest of phones. It's way stronger than it's Non-HD counterpart, but not as powerful as the flagships of the big manufacturers. Still, for the mere price of 200 euros that this phone has, I sincerely doubt you will find a better deal. It provides with quite a lot of strength, in both hardware and software. The phone comes with Android OS v4.1 Jelly Bean ( and it is upgrade-able to 4.2 ) and it also has a Quad-Core processor ( not as strong as the Quad-Core processors of certain other flagships, but still better than your average phone and capable of handling most tasks, apps and games ). You will come to see exactly the kind of features that this phone has when it is their turn. Until then, trust that this is a really smart purchase and that it's reliable enough as to solve most of your problems.
GENERAL
First off, not only is this a really great phone, but it also supports 2 SIM cards ( that's right, it's a Dual-SIM phone ). The SIM networks however, are standard ones. There are no CDMA ones and no LTE ones. This is a regular phone on the networking department. The 2G networks are GSM 900 and GSM 1800 on both SIM cards and the 3G network is only HSDPA 2100. The Micromax Canvas HD was announced in January 2013 and it is set to come out next month, in February.
BODY
First off, this isn't a small phone. The Micromax Canvas HD is quite a sturdy piece of work, even for a 5.0 inch screen device. If you're looking for something thin and easy to maneuver around as you please, this may not be the wisest of answers. The device is around 147 x 76.5 x 9.7 mm big ( or 5.79 x 3.01 x 0.38 in, if you can't use the regular system that EVERYBODY understands ). As for the weight, I'm afraid I can't say anything about that.
DISPLAY
The screen type of the Micromax Canvas HD is an IPCS LCD capacitive touchscreen with 16 million colors. The screen size is the same as the regular Canvas – 5.0 inches. The resoltuion and pixel density, that's where the improvements have been made. The resolution of this device is 720 x 1280 pixels ( or 720p HD, if you prefer ) and the pixel density of the Micromax Canvas HD's screen is approximately 294 pixels per inch. This device also has Multitouch on it and a Screen Protection method. While it isn't mentioned what kind of screen protection this device has, it is good to know that there is one there. As I have learned from my long history of playing video games – even Cloth Armor is better than no armor at all.
SOUND
The audio output of this phone is pretty standard. It doesn't really have any sort of aspect that would set it apart on the audio side of things. The Alert Types are the standard ones you could find on any phone and so are the Loudspeaker and Audio Jack.
MEMORY
The memory of this device is pretty decent. It isn't anything revolutionary or ground breaking, but it's more than strong enough as to handle even the more complex tasks you might have for it. Plus, putting it into the same pot as  the hardware of this device will show you that it can pack more than a little punch. The internal storage space of this phone is 4 GB, If that's not enough, know that the Micromax Canvas HD also has a Micro SD card slot that allows it to upgrade its memory via Micro SD card, which can be up to 32 GB. Now the RAM of the Micromax Canvas HD may be the only aspect that disappoints a bit. This device only has 1 GB of RAM, and while that would have been GREAT in 2011 and decent in 2012, now it is sort of slow when you try and compare it with the many devices out there that have 2 GB. However, for this low price, I doubt you will find anything much better than the Micromax Canvas HD.
DATA CONNECTION
This phone has both GPRS and EDGE on it, however, it is failed to mention how fast each one goes or what Class they each are. The Speed per say of the phone is: HSDPA at 21 MB/s and HSUPA at 5.76 MB/s. This device also has Wi-Fi 802.11 b/g/n with Wi-Fi hotspot on it. The Bluetooth of this phone is one of the fastest out there – Bluetooth v3.0 with A2DP. The phone also has a Micro-USB v2.0 port on it, however, this one has no MHL. Also, due to the lack of an HDMI port on this phone, I guess you can safely assume that you cannot really connect it to your TV – not through the traditional means, anyway.
CAMERA
The camera of the Micromax Canvas HD is a pretty fine one. This phone has an 8 MP main camera that can photograph at resolutions of approximately 3264 x 2448 and record video in full HD 1080p at 30 frames per second ( while it's not really mentioned, all 8 MP cameras are known to do that ). The features of this camera are: autofocus, LED flash, Geo-Tagging, Touch Focus and Face Detection. Also, this phone has a Secondary VGA camera on the front, however, that one has no true features that are worth discussing.
BATTERY LIFE
Not much is truly known about the battery of the Micromax Canvas HD. All that is known for sure about this phone's battery is that it is a Standard Li-Ion 2000 mAh battery. It may be safe to assume that it can grant a battery life of approximately 180 hours of stand-by time and 5 hours of talk-time.
HARDWARE
The hardware of this device is pretty impressive and improved over the previous Micromax Canvas. The Micromax Canvas HD has a Quad-Core 1.2 GHz Cortex-A7 processor on it which is accompanied by an MTK MT6589 chipset and a PowerVR Series5XT GPU. All taken into consideration, this hardware may just be strong enough to run even the most demanding of apps. Don't take my name for it, however. Get the phone and try it out for yourself to see what I'm talking about.
SOFTWARE
While this device does come with a relatively older version of Android ( that being Android OS v4.1 Jelly Bean ), there is a planned upgrade to Android OS v4.2 Jelly Bean in the near future, when this phone comes out. Therefore, there's no need to worry about the software becoming obsolete anytime soon.
FEATURES
The Micromax Canvas HD is literally packed with all sorts of features. First off, the sensors of this device are: Accelerometer and Proximity. The Messaging on this phone can be done via: SMS ( with Threaded View ), MMS, E-Mail, Push E-Mail and IM. The browser of this phone uses HTML5 but sadly has no integrated support for Adobe Flash, fact which may prove rather problematic at some point. The Radio of this device is an FM one. Also, the Micromax Canvas HD has an integrated GPS with built-in A-GPS support. This phone also has Java through Java MIDP emulation. This phone is available in 2 colors: Black and White.
Here is a list of what the Micromax Canvas HD is capable of:
SNS integration
MP3/AAC/WMA/WAV player
MP4/WMV/H.264/H.263 player
Organizer
Document viewer
Google Search, Maps, Gmail, Youtube, Calendar, Google Talk
Voice memo/dial
Predictive text input
This concludes our little review of the Micromax Canvas HD.  Thank you for reading this review. I hope it has been as helpful as possible. If you feel that anything is lacking from this review feel free to leave your suggestions in the comment section below for things which should be added and I will be sure to take them into consideration when writing my future projects. In the meantime, I sincerely hope you had as much fun reading my little review as I had writing it.