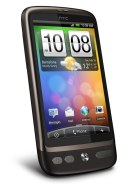 In simple words: a great phone. What makes this phone so great ? Everything: Top Operating System, Android provided by Google. A great user interface developed internally by HTC, called Sense UI and a great hardware inside.
With Android Operating System you have hundred of thousands applications available to use, from simple compass or shopping list to apps that let you effectively manage your bills, your facebook or twitter account.
The main specifications of this awesome phones are:
Android Operating System with Sense UI
119x60x12 size
1GHz Proccessing speed
3G and HDSPA
802.11 Wireless
5MP camera with flash
up to 300 hours stand by time
Android comes with a great community of developers and you can find apps for anything you want. The phone comes with pre-installed applications for main tasks but you can install more apps with one click.
The phone is fast and offers you a great user experience. The Sense UI comes with some predefined plugins that you cann add to your Phone Home Screen. Sense UI have by default 7 home screens and comes with a great feature: helicopter view where you can see all screen and select the one you desire. If you wondered where the name comes from now you have the answer.
On the Home Screens you can add shortcuts or widgets. Widgets are part from apps that let you, for example, to see all your friends from facebook on one of your home screens.
The hardware is awesome, with 1Ghz of power you may think that your phone is faster than your PC. 5 MP camera is great for all kind of pictures and the SD card support to 16GB let you take as many photos as you want.
On average use, the Phone will not stay up for more than 3 days but i don't think it is such a big issue.
You can buy HTC Desire from Amazon

.