Android was famous for its high growth. Truth be told, it had a period where it absolutely BOOMED and grew quite a lot in quite a short time. Apparently, as of the last quarter, that ravenous increase started getting slower and slower. The analysts at Canalys, after some long and hard deliberation, have finally finished crunching the numbers and released their report on the state of mobile phones in Q4 of 2012. The phone shipments ( in total of 438.1 million units ) were constant year on year. However, smartphones in particular did pretty well as their sales went up to 37% and made up half of all handsets sold. There were 216.5 million Android phones in the mix ( 69% of smartphones and 37% of all phones in general ). That is a small decline compared to the Q4 of 2011, when Android commanded 74% of smartphone shipments. iOS, however, or the biggest competition for Android at the moment, went up from 15% to 22% share of smartphone shipments for the quarter ( 11% of all phones in general ). Blackberry and Windows phones are at the bottom of the food chain with a mere 4% and 2% shares.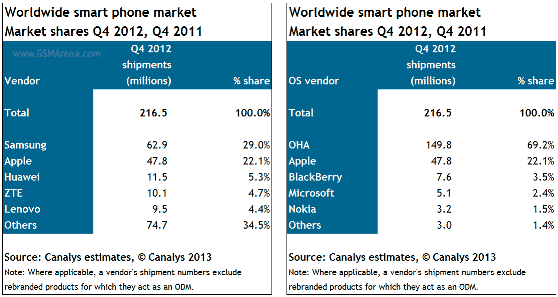 There were also a few changes in Q4 of 2012 in terms of ranking. Samsung and Apple are still in their two-horse-race, but Huawei managed to get 3rd place ( which is a first time for the company ) while ZTE took the 4th and Lenovo took the 5th away from Sony. Lenovo's shipments grew 216% year on year to 9.5 million units, almost all of which / 98% ended up in China. As for the whole year, Samsung ended up on top in terms of shipments with 74 million unites more than Apple ( which got second, again ). Nokia held on tight to the 3rd place, however, with around 35 million units in total.
China is biggest phone market if you consider them all world-wide. With people preferring smartphone, the number of units shipped more than doubled. Samsung took the top place with Lenovo, Yulong, Huawei and ZTE following closely behind. Apple is having a tough time in China, mostly due to the higher price of its smartphone and lack of support from China Mobile, according to Nicole Peng, the China Research Director at Canalys.