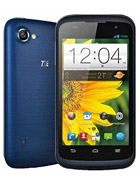 Today we'll be taking a look at the upcoming ZTE Blade V, an interesting smartphone for an affordable price. I use the word "upcoming" loosely here, as this is a phone that is available in some countries, while it is only rumored or announced in others. I personally believe that this is one of those few devices worth the wait, even in the case of those countries that don't already have it. This smartphone offers a lot of neat things for a really good value.
In the few countries where you CAN get the ZTE Blade V at this time, you'll find it has an acceptable price ranging at around 200 and something dollars ( 220 tops, if my currency convertor is working well ). When you stop and think that there are smartphones which offer more or less the same thing ( well, that's rather improper said but this phone does have a few neat features that can be found on some high-end devices as well ) that can set you back almost 1000 dollars in certain countries, you end up seeing that this is in fact a pretty good deal.
SUMMARY
This is a good phone, no matter how you look at it. It offers you the best of both worlds and for a relatively affordable price. The disadvantage? – well, when striding to serve all categories, you will inevitably end up making a few people mad. In other words, while this phone is good, it is not without its fair share of flaws. Thankfully, these aren't overly large or bad enough as to diminish its strength. Also, logic dictates that if those flaws hadn't been there, you would probably have paid WAY more for the device than you would in normal circumstances.
GENERAL
As far as networking goes, this is a standard phone using the standard 2G and 3G networks available at all the providers. The ZTE Blade V isn't yet released EVERYWHERE, but certain countries can still get it ( call it Early Access and leave it at that ).
BODY
As far as size goes, the ZTE Blade V is a pretty small-to-medium phone ( used to be an average phone, but considering there are so many more 5.0 inch screened phones out there, the average has increased by a bit ). As it stands, the ZTE Blade V, a 4.0 inch screened phone, is quite well made. It has no unnecessary plastic prolonged surfaces on its body and it looks quite well composed. In shape, it's relatively similar to some of the older Galaxy phones ( not the Galaxy S phones ). The exact dimensions of this device are at: 126 x 64 x 10.9 mm ( or 4.96 x 2.52 x 0.43 in ) and it weighs around 130 g ( or 4.59 oz ).
DISPLAY
Considering the screen of the ZTE Blade V is 4.0 inches in size, the resolution is somewhat appropriate: 480 x 800 pixels. Even so, the screen is quite smooth, despite being a regular TFT one. It has a really nice pixel density of approximately 233 pixels per inch ( which is pretty close to the highest amount – so in other words, you won't be experiencing too many screen troubles – maybe none at all ).
SOUND
There's nothing to be said about the sound of this phone, apart that it's lacking any audio enhancements, be them on the hardware-side or the software-side.
MEMORY
When talking about the memory of this phone, it's sort of like you're referring to a double-edged sword. On one side, it's decent, on the other hand, it will leave more than a handful of people wanting. The internal storage isn't that great, but I still find that 4 GB of space is plenty enough for what you might have. If you require more, don't fret as the  ZTE Blade V also has a Micro SD card slot which can use any card of up to 32 GB. As far as the RAM is concerned, though, you may be somewhat disappointed to find out that this phone only has 1 GB of RAM. While it may not be all that little, it will certainly be felt in some of the stronger apps out there.
DATA CONNECTION
The connectivity of the ZTE Blade V is pretty standard-issue. It has regular Internet speeds, GPRS and EDGE as well. The WLAN of this phone is: Wi-Fi 802.11 b/g/n with Wi-Fi Direct, Wi-Fi hotspot and DLNA. The Bluetooth version that can be found on this device is v4.0 and it also has A2DP. The ZTE Blade V also has a Micro-USB v2.0 port on it, but that one doesn't have any MHL, so you can kiss using it as an HDMI cable goodbye.
CAMERA
The ZTE Blade V has two cameras: a main 5 MP one on the back, and a secondary frontal VGA camera. The main camera isn't the 5 MP kind that can also record video in HD, so I'll just go and chalk that up as a loss. The features of this camera aren't that numerous either, as the phone only has: autofocus, LED flash and geo-tagging.
BATTERY LIFE
The battery of this device is a pretty strong Li-Ion 1800 mAh battery, yet considering the phone hasn't officially been released world-wide, tests have yet to be made to determine how long this battery can sustain the life of the ZTE Blade V. Thankfully, it isn't the kind isn't remove-able ( personally, I hate that type of battery ).
HARDWARE
As far as hardware is concerned, the ZTE Blade V has a pretty good configuration: not all components are strong enough to be worthy of mention, but together it's more than capable in my opinion to handle most tasks. The hardware configuration is as following ( so you can judge for yourself ): Qualcomm MSM 8225Q Snapdragon chipset and a Quad-Core 1.2 GHz processor as well. Not strong enough to run ALL the games out there, but more than strong enough to run all the apps and programs.
SOFTWARE
As far as software is concerned, the ZTE Blade V has a fairly good version on it: Android OS v4.1 Jelly Bean. Sure, a newer and better version would have come in handy and been appreciated, but we do what we can with what we have.
FEATURES
The ZTE Blade V has a lot of features, features such as: FM Radio, Java ( through MIDP Emulation ), HTML5 as far as the browser is concerned and so forth. The GPS of this device has support for A-GPS and the phone has the following sensors working on it: Accelerometer, Proximity and Compass. Messaging on the ZTE Blade V can be done via: SMS ( with Threaded View ), MMS, E-Mail, Push Mail, IM and so forth. This phone is available in two colors: Black and Blue ( I much prefer the blue one myself, but they're both beautiful ).
Here's a brief list of what this phone can do:
SNS integration
Active noise cancellation with dedicated mic
MP4/H.264/H.263 player
MP3/WAV/eAAC+ player
Google Search, Maps, Gmail
YouTube, Google Talk
Organizer
Photo viewer/editor
Voice memo/dial
Predictive text input
This concludes our little review / preview of the ZTE Blade V. I hope it has helped answer a few of the questions you might have had about the device and offered you a bit of extra information about what it is and what it can do.