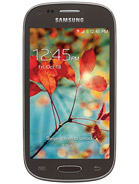 Today we'll be taking a brief look at the Samsung Galaxy Light, a relatively average yet very interesting smartphone. First off, this phone is rather limited as far as its availability goes. You can only get it from T-Mobile, so if you live in a country which doesn't have T-Mobile, it's better to just stop reading now. You can keep on reading if you're still interested and curious about the phone, but I just thought to put it out there for all to see.
This is a very interesting phone, the Samsung Galaxy Light. Perhaps I was a bit hasty in calling it "average". As far as its features go, it's anything BUT average, but it does have somewhere around 50% +1 of features that can be found on almost all new smartphones nowadays ( which isn't necessarily a bad thing ).
SUMMARY
As far as pricing goes, I can't really say anything YET as the device isn't available at the moment. Undoubtedly you'll find it for a pretty low-to-average price, though. However, you may be asking yourself: is it worth that price? Take my word for it and believe me: with the amount of hardware in it and the other minor details ( such as its 4G compatibility ), all thing sort of add up and the device ends up being worth the price. Personally, I like how the Samsung Galaxy Light is looking: it's small ( compared to all massive 5.0 inch phones that seem to be on the market nowadays ), it's fast and it's good – what more can you ask from a Smartphone?
GENERAL
As far as networking goes, the Samsung Galaxy Light uses the standard types of networks for 2G, 3G and LTE for 4G. If you really MUST know what those networks are, feel free to browse this website for an older article and you will undoubtedly find them there.
BODY
As far as size goes, considering that this phone has a 4.0 inch screen, it's understandable that it's pretty small, especially when you compare it to how massive other phones are nowadays. The exact dimensions and weight are: 121.4 x 63 x 10.4 mm ( or 4.78 x 2.48 x 0.41 in ) and it weighs exactly 122.8 g ( or 4.34 oz ).
DISPLAY
The screen of the Samsung Galaxy Light is a pretty good one, even if you compare it to some of the stronger smartphones out there. It can handle a resolution of around 480 x 800 pixels and has a pixel density of approximately 233 pixels per inch. The screen is also pretty well protected, being covered with a sheet of scratch-resistant glass ( which means it will survive the occasional shared pocket with keys or such, but I wouldn't really force my hand if I were you ).
SOUND
As far as sound is concerned, the Samsung Galaxy Light is pretty much as basic as it gets: no audio enhancements whatsoever – be them hardware based or software based – can be found on this device. The sound of it is okay, but a little something extra never hurt anyone.
MEMORY
The storage of this device is limited at 8 GB, but it can be expanded upon via the Micro-SD card slot, which can use any card of up to and including 64 GB. The amount of RAM on the Samsung Galaxy Light is limited to 1 GB, though, so there might be individuals here and there who are angered with it or disappointed by it. The hardware strength should prove sufficient to handle it, however, but a bit of extra RAM wouldn't have hurt.
DATA CONNECTION
As far as connectivity is concerned, the Samsung Galaxy Light has both GRPS and EDGE, and it has a standard internet speed on it ( no need to go into specifics, as they're pretty much as stock as they get ). The WLAN of this device is Wi-Fi 802.11 a/b/g/n with Dual-Band, DLNA and Wi-Fi hotspot. The Bluetooth connection n this phone is v2.1 with A2DP and EDR. This phone also comes equipped with NFC, so that's another plus. A minus, however, would be the fact that the USB port ( which is in Micro-USB v2.0 format ) doesn't have any MHL on it, and will thus not be usable as an HDMI cable.
CAMERA
The camera of the Samsung Galaxy Light is pretty decent: this phone has a 5 MP main camera and a VGA secondary frontal camera. The main one can record video in 720p HD at 30 frames per second ( which is acceptable, by my standards, as this is afterall a PHONE and not a Professional Video Camera ). The features of this camera include: autofocus, LED flash, Geo-Tagging, Touch Focus and Face Detection.
BATTERY LIFE
There isn't much known about the battery of the Samsung Galaxy Light. All that can be said for sure is that it is the remove-able kind and that it has an amperage of 1800 mAh. Also, it's a Li-Ion battery, if that counts for anything. However, there are yet no details about how long this battery can maintain the life of this device.
HARDWARE
As far as the hardware of the Samsung Galaxy Light, the only note-able component that we can talk about right now is the processor: this phone uses a Quad-Core 1.4 GHz processor. Is it enough to run most apps out there: certainly. Is it strong enough to run all games? I'm afraid not – it can run SOME games, but not all of them.
SOFTWARE
As far as software is concerned, the Samsung Galaxy Light has Android OS v4.2.2 Jelly Bean installed on it, so I have no quarrels with it. It would have been even nicer had it been equipped with 4.3, but that's the way the cookie crumbles.
FEATURES
The Samsung Galaxy Light has quite a bunch of features installed on it. Some of the sensors of this device are: Accelerometer, Proximity and Compass. The messaging on this device is done via: SMS ( with Threaded View ), MMS, E-Mail, Push Mail, IM and RSS. The browser of this phone also has HRML and the GPS has built-in support for A-GPS. This phone also has Java through Java MIDP emulation. The only available color for the Samsung Galaxy Light is Dark Brown.
Below I'll offer you a brief list of what this phone is capable of:
SNS integration
MP4/DivX/XviD/WMV/H.264/H.263 player
MP3/WAV/eAAC+/AC3/FLAC player
Organizer
Image/video editor
Document viewer
Google Search, Maps, Gmail, YouTube, Calendar, Google Talk, Picasa
Voice memo/dial/commands
Predictive text input (Swype)
This concludes our little review / preview of the Samsung Galaxy Light. Hope that it has helped you see the phone in a different light and that it has offered you a few new pieces of information about it.