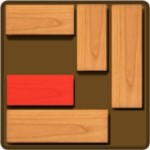 Today we'll be reviewing a nice little game that should be played by many kids. This game is one of those few that helps develop your logic sense pretty darn well. It sure helped put some logic in my mind as a young lad. Not referring to this game, of course, but after all, all of the Android games are more or less adaptations of older games that were a hit back then.
This is the kind of game that a parent should make his child play until hs / her child loves it. This is one of those games that teaches children a priceless thing – logic thinking. In an illogical world such as the one we live in, a logic thinker may be frowned upon, but in the end, the logical person wins and prevails over the mass of fools.
The premise of the game isn't altogether that large. All you must do is move an object from point A to point B. Simple enough as it may sound, it may prove more challenging than you think. You objective in this game is to move the red block to its place by dragging the obstacles out of its path. It may provide a challenge for even the greatest of self proclaimed geniuses.
FEATURES :
The game has more than 4000 positions through which you have to prevail
There are around 6 levels in the game, but few as they may be, it is very hard to get through them
There are 2 possible backgrounds to choose from, but in game such as this one the background is the least of your interests
Believe it or not, the game has solutions for all of the positions available.
The game also features tracking progress of all solved positions
DESCRIPTION :
This is a classic Unblock game. The goal of the game is to move the Red Block out of the box. Choose from six levels ( Beginner, Intermediate, Advanced, Expert, Master and Fire Bumps ). With more than 400 total positions to solve, you will always have a challenge to test your skills.
You can get this game from Amazon.