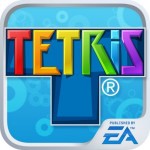 Today we'll be reviewing this awesome little game that I'm sure all of us have played once or twice in our long but fulfilling lifetime. If you have never actually played Tetris in your life ( you have lacked a childhood, but that's not relevant to our current plight ), then here is your chance to do it now.
Tetris, if you don't know what it is, is that game in which you move certain blocks formed from 4 cubes in order to fill the space and create lines. For those of you who have actually played this game in the past, this is an adaptation for Android of the game in which you just couldn't help but pray for a straight line piece which you needed to complete 4 lines at a time.
This game is one of those games you used to play as a tiny child at arcades and then, after they went extinct, you started playing it on tiny portable gaming consoles ( if you could call them that name back then ). Why not relive those simpler times through this little app that you can install on any device in the most convenient way possible.
FEATURES :
Slide, Rotate and Drop the Tetriminos ( apparently that's what these shapes are called – I don't think any sane human being knew that ) into their place with the ease the touchscreen offers you.
Clear the lines as fast as you can
Keep track of all your stats and try to improve your high scores
The soundtrack is a catchy remix of the famous TETRIS theme
DESCRIPTION :
TETRIS – the puzzler that started it all. Hunderds of millions of people around the world have enjoyed Tetris along the decades. Its simple and addictive gameplay gave provided entertainment for generations, spawned an entire category of video games and trained generations of ultra efficient packers.
Slide, rotate and then drop the pieces into place with ease using the intuitive touchscreen interface. Just pray your screen won't freeze up ( if you have an older phone ) or it could ruin your perfect high score ( it happened to me once ). Feel the exhilarating rush of endorphins into your brain's central nostalgic region when you fit a piece into just the right spot.
You ever hear the phrase "Oldies but Goldies"? Well, this game is defined by it. Tetris is the grandfather of puzzlers. Play the classic game you knew and loved in Marathon Mode and clear your way through 150 lines which span across 15 pulse-pounding levels. You can always keep a piece on Hold if you don't need it then. It's always good to keep an ace in the whole, or in the case of this game – a line piece.
Something new you should look after is the gameplay in Magic Mode. Achieve each level's unique goal to complete it and employ an arsenal of tools to clear away blocks. Those tools are : Minimizer, Bubble Wrap, Magic Crayon, Wrecking Ball, Smashdown etc.
Never played it before and can't wrap your brain around the mechanics of the game? No problem. You have a tutorial at your disposal for both the Classic Tetris and the Magic Mode. You can track your detailed statistics and scores in both modes. Also, the soundtrack is a remixed and Brought up to speed version of the old catchy theme.
You can get this awesome little game from Amazon.