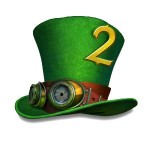 Today we'll be taking a brief look at a pretty interesting Hidden Object game. Now I know some of you may not enjoy the genre of Hidden Object games, but in the end that is what most Android Games are about. These are the kind of games that are guaranteed to reach the largest mass of people, as they do not demand as much hardware strength as others. Therefore, this genre of games is by statistics the most played, as it can reach even the people with weaker Android devices.
Judging from the reception this game received, it is a pretty large hit. Many people seem to praise the story of the game, its graphics, and most of all its price. All of those things put together say the same thing "It was well worth the 99 cents". It may very well be so, as the game offers a few hours of entertainment and a bit of a workout for your cognition and perception. Psychologically speaking, you get a small sense of achievement when you manage to locate something that others have deemed "hidden". I urge you to try out this game, as it may be more fun than you actually think.
FEATURES:
The game has around 6 chapters
There are about 31 animated locations for you to explore
This game features 21 other mini-games for your enjoyment
If you find it too hard, know that it has unlimited amounts of hints and tips
The story of the game is bound to captivate the lot of you
The graphics of the game are bright, colorful and in a few words: a real pleasure to the eye.
DESCRIPTION:
You didn't manage to catch the Snark in Snark Busters; Welcome to the Club? Fret not, dear friend. The Snark is back, and in his good will he is offering you another chance to reach fame and glory. This all-new hidden object adventure game lets you play as Jack Blair, whose story is also featured in the game. Jack Black is a world famous race car driver who decides to put his career on hold in order to capture a most elusive creature.
Join Jack as he leaps between the real world and the inverted realms inside of mirrors in his attempt to capture his prey. You are to solve dozens of whimsical puzzles in order to open the doors that lead to a bizarre fair, a steam punk airship and even a dinosaur museum. The world is full of exquisite details and it is ripe for exploring. Also, keep your eyes peeled for hundreds of cleverly hidden objects. Full to the brim with mini-games, animated cinematics and other surprises, Snark Busters: All Revved Up offers you the ride you won't soon forget.
You can get this little game from Amazon.