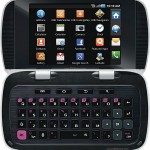 We all got used to Samsung releasing nothing but high quality, powerful smartphones. This isn't one of them. It's not actually that strong of a phone, but it looks good and has a fully functional QWERTY keyboard.
It's not even a slide-able QWERTY keyboard, which means someone has actually learned their lesson about sliders being defective and thought of a new design.
All's good and well, but let us take a closer look at the phone.
Processor : 600 MHz processor
RAM : Nope
Android OS : 2.2 Froyo
Camera : 3.15 mp
Display : 320 x 480 pixels, 3.2 inches (~180 ppi pixel density)
The display is a TFT capacitive touchscreen with no idea how many colors because not enough information was leaked about this phone. What I want to know is how exactly they managed the deal with 2 displays. There is one on each side, since the phone opens up kind of like a laptop in order to reveal the QWERTY keyboard. The screen resolution is 320 x 480 pixels and the screen itself is 3.2 inches big. That allows for a pixel density of approximately 180 ppi. Also, the second screen has the same resolution as the main one.
The phone has no RAM whatsoever, fact that raises a few questions such as HOW FAST CAN IT RUN ? That's what I was wondering too, but perhaps it wasn't built for stress-testing. Well, back on topic, this Android Phone has an internal storage space of 260 MB and a card slot as well. The card slot uses microSD cards of up to 32 GB.
Moving on to the camera, it's not actually that strong. This phone doesn't have that much performance but perhaps it is more accessible to the common man than any of the Galaxy series phones. The camera is a 3.15 MP that can capture images a resolutions as high as 2048 x 1536 pixels. The camera has no features whatsoever except geo-tagging. It can also capture video but we don't have enough solid data on the video recorder to say something good about it.
The processor is quite a low one, a 600 MHz processor. Now, this may have been acceptable in 2010 or 2009, but when the phone was announced in October 2011, that just doesn't seem right. No other notable hardware to talk about here.
The Android OS version is 2.2 Froyo and it can't be updated to 2.3 Gingerbread, or at least, that's what we have gathered.
A nice looking phone, but not nice enough to be worth buying, in my opinion. Not unless it's really cheap.