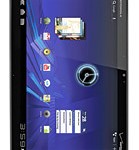 Motorola XOOM is Motorola's crowning achievement when it comes to Tablets. Motorola XOOM is the best thing Motorola has done with its products when it comes to Tabs. The XOOM also has a XOOM 2 version, and this particular version we're looking at is MZ604, which is the most advanced version of the Motorola XOOM.
Processor : Dual-core 1GHz ARM Cortex-A9 processor, ULP GeForce GPU, Tegra 2 T20 chipset
RAM : 1 GB
Android OS : 3.0 Honeycomb
Camera : 5 MP
Display : 800 x 1280 pixels, 10.1 inches (~149 ppi pixel density)
What sets this particular Tablet apart from the others, it's the fact that it has a wide screen. Wider than most tabs, actually. Its shape and format make it particularly difficult for the normal apps to run smoothly on it due to the fact that a really big re-do of the app look. This tab's screen is 10.1 inches big and has a resolution of 800 x 1280 pixels. That implies that this tab's pixel density is somewhere around 149 ppi.
On the memory side, it has 1 GB of RAM and the internal storage space varies between the model you purchase. It can either be equipped with 16, 32 or 64 GB of internal storage space. And if that wasn't enough, it can also use a microSD card of up to 32 GB.
On the camera side, this tablet has a 5 MP camera that can photograph pictures  at resolutions as high as 2592 х 1944 pixels. Some of the few features of the camera include : autofocus, dual-LED flash and geo-tagging. The video recorder can record video at 720p HD at a steady 30 fps. It also has a secondary 2 MP camera.
On the hardware side, it has a Dual-core 1GHz ARM Cortex-A9 processor, an ULP GeForce GPU and a Tegra 2 T20 chipset. That configuration makes it perfect for all the games and higher resolution apps out there.
On the software side, it has Android OS v3.0 Honeycomb. Fortunately, it can easily be upgraded to 3.2 Honeycomb.
This is the Motorola XOOM, and I do say : it may be pretty much worth its buck. If you're interested in this tab, feel free to click HERE.