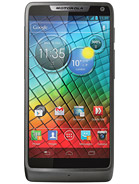 Today we'll be reviewing the Motorola RAZR i XT890. This phone isn't the most powerful of Android devices, but if ever you found yourself on a budget and wanted to try out an Android Phone that looks great, works great and even has the latest version of the Android OS installed on it, then have you hit the jackpot with this phone. Well, perhaps calling it a budget device is a bit much as it is worth at least around 450 dollars, but it is indeed way cheaper than the 600+ dollars you'd pay for a Galaxy S III or even more for, say, an iPhone.
I have always been of the opinion that the world needs more budget phones with a decent configuration and a good software version on it as well. Granted, the Android phones have expanded quite a lot. However, this expansion can be increased even further. However, many people find it hard to move on from a regular phone to a smartphone. This difficulty is represented mainly by the great price gap between the smartphones and the regular phones. However, many people are trying to offer an alternative. For instance, a few network providers in my country have started an initiative called "A smartphone for everybody" or something similar, where they provide each person with a cheap 1 euro smartphone for a 1 year contract. Of course, that device is relatively weak, but it does have Android 2.2 or 2.3 on it and you get a taste of what it's like.
This phone also partially fits that description. It has an average price, it has a very good ( the best at the current moment ) Android OS version and a more than decent enough hardware. Actually, the hardware is quite strong, but I don't know how well it can be compared to the more powerful Android devices' hardware configuration. The Motorola RAZR i XT890 has an Intel Atom processor, so I can't really tell how well it compares to Tegra 3. I am aware, however, that the Intel Atom series contains only Dual-Core processors and the best of them is 2.0 GHz ( the most common being 1.6 GHz ). The Intel Atom processors are usually put into Netbooks ( or those mini-laptops that you easily hold in one hand, if you prefer this name ). Then again, netbooks usually have Tegra 2 hardware in them as well, so I'll let you decide for yourself which is better.
SUMMARY
As I said I would do a while ago, I'd list a few of the good and bad points of the device without actually giving too much away. Well, then what is the point of this summary, you may ask? Well, it is made so that the people who want to know a bit about the device and don't want to bother to read on can get a bit of an idea about it. It is intended as more of a general guideline, rather than a summary per say.
The Motorola RAZR i XT890, same as the rest of the RAZR phones, looks and works incredibly well. If I'm not mistaken, it is also built from some very powerful materials, so that should come as a plus. The back, which looks like a weave of gray and black materials, is actually a Kevlar weave ( kevlar being that incredibly bouncy / resistant material from which bullet proof vests are made of ). As if the incredibly resistant and sturdy design wasn't enough, it's also just as powerful as a mini-laptop. Granted, there are phones out there that are stronger than an average laptop, but that's besides the point.
Of course, if you are to compare it to strong Quad-Core smartphones, it will fail terribly. However, even with its lack of strength, it still has more than enough power to manage and more than enough features to make up for it. Just wait and you will see for yourself.
GENERAL
This is not a 4G phone and it isn't a CDMA one either. Therefore, you do not have to worry about the SIM you already have not working. Those supported networks are as following: 2G ( GSM 850, GSM 900, GSM 1800 and GSM 1900 ) and 3G ones ( HSDPA 850, HSDPA 900, HSDPA 1900 and HSDPA 2100 ). This device was announced in September 2012 and will come out somewhere around October 2012.
BODY
The body of the Motorola RAZR i XT890 seems pretty standards at first sight. The size and weight are ideal but that it is due to the fact that it has the ideal screen size : 4.3 inches. This phone is around 122.5 x 60.9 x 8.3 mm big. It also weighs somewhere around 126 grams. While it may seem like apart from the beautiful and unique design employed in the RAZR phones it has nothing else that makes it special, that is incorrect. This device is also splash resistant, so you can easily use it outside even when it's raining ( depending on the quantity of rain ). However, just because you can do something doesn't necessarily mean you must actually do it.
DISPLAY
The screen of this device is one of exquisite quality as the Motorola RAZR i XT890 has a Super AMOLED Advanced capacitive touchscreen with 16 million colors. Super AMOLED Advanced is a term marketed by Motorola to describe a brighter display than Super AMOLED screens, but also a higher resolution – qHD or 960 × 540 for Super AMOLED Advanced compared to WVGA or 800 × 480 for Super AMOLED. This display equips the Motorola Droid RAZR, and other RAZR phones.
The screen, as I've already mentioned, is a 4.3 inch one, which by my opinion is the best size for a screen. I for one have really large hands, so I need a really large screen else texting and other activities are really stressful for me. The resolution of this screen is around 540 x 960 pixels. This device also has a pretty darn good pixel density of around 256 ppi. While most experts will claim that the human eye can perceive no pixel density of above 300, thus 300 is the best, I dare to disagree. For a screen so big, this pixel density is more than enough.
This device also has Multitouch on it, however, it isn't the advanced sorts of multitouch that can support more than two simultaneous fingers. However, I've noticed that that is a feature only seen in some Xperia features. The Motorola RAZR i XT890 also has a pretty efficient means of screen protection : Corning Gorilla Glass. Under normal circumstances, it should hold up. But bash it once with a hammer …
SOUND
I am pretty sorry to say that the Motorola RAZR i XT890 has no notice-able audio enhancements installed on it. As far as the manufacturer's information goes, this device has no hardware-based and software-based features installed on it. I suppose you could count the Active noise cancellation and dedicated mic an audio-related feature, but it's more related to the call quality rather than the sound per say. Still, that feature works wonders. I've tried it once or twice and the quality is incredible. It's like you're talking to someone in a sound studio.
MEMORY
The memory of this device is a tad disturbing. I am saying that since it has a feature that I detest in any device. That feature is the fact that you can't use all the storage space given. While the Motorola RAZR i XT890 has an internal storage space of around 8 GB, only 5 of those GB are user-available. I detest phones that employ this method. I get that the system has its storage needs, but why not simply say the phone has 5 GB of storage space, instead of 8 out of which only 5 can be used. For me that's plenty space, but if you require more, the device also has a Micro SD card slot which can use any card of up to 32 GB. The RAM of the Motorola RAZR i XT890 is pretty good, however, it's not the best. Should the phone have come out an year ago, its configuration and RAM would have been top notch. But now, this configuration is a tad overpriced. The device has only 1 GB of RAM, so that's pretty good, but the current maximum is 2 GB.
DATA CONNECTION
This device has both GPRS and EDGE on it. That is good, but it is also disappointing as I do not know what  Class either of them is or what Speed either of them can reach. What's worse even, I was given no information whatsoever about the connection speed of this device. I know nothing about its connection types or speed. The WLAN of the Motorola RAZR i XT890 is a Wi-Fi 802.11 a/b/g/n with Dual-Band, DLNA and Wi-Fi Hotspot. The Bluetooth of this device is a v2.1 one with A2DP and EDR. This phone also has a Micro USB v2.0 port on it, however, it has neither MHL or an HDMI port. Therefore, if you require something with HDMI on it, this may not be your wisest choice.
This phone also has NFC on it ( or Near Field Communication, if you prefer it that way ). NFC is something that's been around for years, but has recently been put into phones. What it does is basically file transfer. It works as the old Infrared phones used to : the closer the proximity, the better the speed. However, this NFC only supports a proximity of around 5 mm, so you have to keep the phones glued together.
CAMERA
The main camera of the Motorola RAZR i XT890 is an 8 MP one that can photograph at resolutions of around 3264 x 2448 pixels and record video in 1080p full HD at around 30 frames per second. The many features of this camera are as following : autofocus, LED flash, touch-focus, geo-tagging, face detection, image stabilization and HDR. This device also has a secondary VGA frontal camera, however, that one has no particular features of its own for me to talk about.
BATTERY LIFE
The battery of this device is a Standard Li-Ion 2000 mAh battery. I do not know how much it can survive for in stand-by mode, as the manufacturers have failed to mention. However, I do know that it's good for around 20 hours of talk-time. In the end, the stand-by time is sort of irrelevant. You will almost NEVER have your phone running on stand-by alone. You will always have one or two background applications acting out and consuming power. However, even with those background apps, you can still manage as you can keep them under control with apps such as Advanced Task Killer.
HARDWARE
Little is known about the hardware of the Motorola RAZR i XT890. All that can be said for sure about its hardware is the type of processor that it has. The motherboard and graphics card are relatively mysterious. They are either so weak that they aren't worth mentioning ( let us hope not ), or they are yet to be announced. The processor of this phone is a 2 GHz Intel Atom one ( as I've already mentioned in the beginning ). While Intel GMA graphics cards are usually associated with Intel Atom processors, I can't actually say for sure what graphics card this particular phone has.
SOFTWARE
The Android OS version of this device is Android OS v4.0.4 Ice Cream Sandwich. While it may not be the latest version available, it's still pretty good. Still, even if it isn't the latest version, you can easily upgrade the phone to Android OS v4.1 as the update is available and ready to use.
FEATURES
This phone has a lot of features, but not as many as I would have liked. This device has the following sensors : Accelerometer, Proximity and Compass. The messaging of this device is done via : SMS ( with Threaded View ), MMS, E-Mail, Push E-Mail and IM. The browser of this device uses HTML5 but has no integrated support for Adobe Flash, fact which could prove problematic. This phone also has no radio, but you can always get an app for that. Also, this device has a GPS with A-GPS support and Java through Java MIDP emulation. This phone is available in two colors : White and Black.
Here is a list of what the Motorola RAZR i XT890 can do :
Active noise cancellation with dedicated mic
SNS integration
Google Search, Maps, Gmail
YouTube, Google Talk
MP3/AAC+/WAV/WMA player
MP4/H.263/H.264/WMV player
Organizer
Document viewer
Voice memo/dial/commands
Predictive text input
This concludes our little review of the Motorola RAZR i XT890. Thank you for reading this review. I hope it has been as helpful as possible. If you feel that anything is lacking from this review feel free to leave your suggestions in the comment section below for things which should be added and I will be sure to take them into consideration when writing my future projects. In the meantime, I sincerely hope you had as much fun reading my little review as I had writing it.