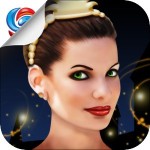 Today we'll be reviewing an interesting little puzzle game. This, as you may have guessed, is yet another hidden object / puzzle game. Granted, this may have more puzzles than the rest. However, unlike other games which are intended to draw your attention through their sheer gameplay and potential to relax with it, this one is trying way too hard to absorb you into its story – which frankly isn't that interesting to begin with.
As far as I care, this game is just a knock-off of Harry Potter, as all "Magic School" based games tend to be. Perhaps it could be foolishness on my part, but I strongly doubt that this game will offer anything new. As to the genre of this game – it is more or less a platformer. What I dislike about it is that it is trying way too hard to enforce its story upon you. If the game has an interesting story, you yourself will be interested in finding it out, digging and rooting for it. However, when the game comes to you and says: "Look at how interesting my story is. It is so original you've never seen anything like it", it sort of kills the mood for me.
FEATURES :
The game has a mysterious storyline filled with magic
The game has a lot of hidden object tasks given by the masters of the Academy
You also have spell lessons to learn and receipts for ancient potions
Bright and colorful characters will guide you through all the secrets of this game
Charmed locations will immerse you into the game world
DESCRIPTION :
The world of wizards has been shaken up by recent mysterious events. A young student wizard named Annie has disappeared from the Higher Academy of Arwindale. Her little sister Irene decided to enroll at the Magic Academy and promised that she would find her sister no matter what. At the first glance, it appeared that the friendly masters of the academy had something to hide. However, eventually she realized that only real magicians could uncover the secrets held by said school. All sorts of puzzles can be encountered in this little game. However, one must act quickly as confusion is not tolerated in the world of magic.
You can get this nifty little game from Amazon.