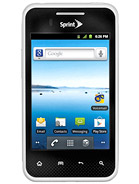 There has been some time since I last reviewed an LG phone. Reason to that is mostly that LG, more often than naught, releases highly powerful phones that don't necessarily come for cheap. In many cases, one can barely afford one of their flagships ( don't get me wrong, they are worth every penny, but not every person can buy one ). Therefore, I've decided I will present to you the LG Optimus Elite. The Optimus Elite may not be the strongest of phones, but it is extremely well-valued. The only true disadvantage of this phone is that it doesn't support regular GSM network, itself being a CDMA phone. I think you can only get it through Sprint, so that may not be such a big problem as I believe they deliver on the CDMA end of the deal. Mind you, this is a pretty interesting device. It has just enough strength as to make it a good phone, it looks great ( at least, that's how I find it ) and it comes for a very cheap price. Now one should not expect high things of this phone, or overall power in whatever it does. Let me remind you that this is a phone you can get your hands on for a mere 200 dollars, therefore it seems pretty much logical that it would lack certain features.
OVERVIEW
This is not a strong phone, and while that is rarely something good to open with, it makes sense in this situation. This phone was not designed to be a strong phone, it was designed to be a good phone and a reliable one at that. Therefore, it pretty much does what it was designed for. The LG Optimus Elite was built as a budget phone. It will cost you quite little to buy as the phone can be found for 200 dollars ( depending on where you look, but if it costs more than that you're probably being ripped off ). This phone is great if you want something cheap, yet durable. It may not come with the latest version of Android on it, but unless you want something to play all sorts of games on ( in which case, you'd have to dish out at least 400 more dollars than this ), then this device will do. Trust me, most users won't even notice the difference. I myself have a similar phone ( which I'm thinking of upgrading soon ) and I can say from personal experience that it's not that bad. Sure, it will lag from time to time, but only if you load it with all sorts of useless apps and games.
GENERAL
The networks supported by the LG Optimus Elite are pretty standard, in the non-standard way. Since that sounds pretty vague, let me enlighten you: it uses normal 2G and 3G ( not a 4G phone – you'd need more money for a 4G phone ), but those networks it uses are not your standard GSM ones. The 2G networks used by this device are CDMA 800 and CDMA 1900 and the 3G networks are CDMA 2000 1xEV-DO. The SIM card of the LG Optimus Elite is a standard Mini-SIM, so you won't have to overly complicate yourself with getting any Micro-SIM cards or anything like that. As for the release date of this phone, the LG Optimus Elite isn't exactly the youngest of phones, but it's still potent. It was announced in May 2012 and released shortly after during the same month.
BODY
The size of this device is pretty small. The phone is around 117 x 63 x 10 mm in size ( or 4.61 x 2.48 x 0.39 in, if you prefer this weirder measuring system ) and it weighs around 120 g ( or 4.23 oz, if you can't abide the metric system ). All and all, the phone is pretty petite and it's big enough as to house a 3.5 inch screen.
DISPLAY
The display of the LG Optimus Elite isn't the finest out there, but then again, in 200 dollars you aren't exactly paying for the finest phone out there now are you? The screen type of the device is a TFT capacitive touchscreen with 16 million colors. The screen in itself is 3.5 inches big ( so pretty small ) which can house a resolution of 320 x 480 pixels. The pixel density of this device is around 165 pixels per inch, which isn't a whole lot if you compare it to others, but it's barely notice-able when you're looking at such a small screen.  The LG Optimus Elite also has Multitouch on it ( same as any smartphone ). What it doesn't have regarding the screen is any form of Screen Protection. Therefore, lack of protection considered, I strongly advize against rough-handling of the device.
SOUND
As far as the audio output is considered, the LG Optimus Elite is pretty much stock, basic and default, all at once. There is no form of audio enhancement installed on it. As for the rest, you know: vibration and MP3 as alerts, default Loudspeaker and standard 3.5mm audio jack.
MEMORY
As far as memory goes, this phone has quite a bit considering its budget-aspect. The internal storage space is 1 GB ( and the phone also has 4 GB of ROM memory, but that's not user-available ). In case the storage space is not enough for you ( and it rarely is for most ), the phone also has a Micro SD card slot that uses any and all card of up to 32 GB. The RAM of the device is around 512 MB.
DATA CONNECTION
Since this is a CDMA phone, it lacks both GPRS and EDGE. The speed it reaches is EV-DO Rev.A of up to 3.1 MB/s. The WLAN of this device is a Wi-Fi 802.11 b/g/n with Wi-Fi hotspot. This device also has Bluetooth v3.0 with A2DP on it. Also, to everyone's surprise, this is a phone that has NFC on it. If you don't know about NFC and don't know what it is, I can only advise you to check out some of the older phone reviews on this website or use the almighty Google. The LG Optimus Elite has a Micro-USB v2.0 port on it as well, however, since it has no MHL and no HDMI port, I guess you can say goodbye to the idea of hooking up the phone ot the TV ( why you'd do this is beyond me, but apparently there are those who like to do that ).
CAMERA
The camera of this device is pretty interesting. While it is a 5 MP camera ( and a 5 MP camera is pretty darn strong ), it is not one of those 5 MP cameras that can record in 720p HD. The resolution at which it takes photos is 2560 x 1920 pixels. The few features that this camera has are: autofocus, LED flash and geo-tagging. Unfortunately, the LG Optimus Elite has no secondary frontal camera.
BATTERY LIFE
The battery of this device is a Li-Ion 1520 mAh battery that can keep the phone powered for up to 7 hours and 20 minutes of talk-time. I didn't easily find the time it can keep it alive in stand-by, but then again I find the stand-by time quite irrelevant as you will most certainly NEVER have it perfectly idle. You will, at most times, have some background stuff that will consume power continuously.
HARDWARE
The hardware configuration of this device isn't much to look at, but it's more than enough, in my opinion. The processor of this device is a Single-Core 800 MHz one that is accompanied by a Qualcomm MSM8655 Snapdragon chipset and an Adreno 205 GPU. In the end, the hardware of the LG Optimus Elite is pretty decent, yet don't expect it to run all sorts of high-end games and apps.
SOFTWARE
If you want something to run the latest version of Android, this most certainly isn't the answer for  you. The Android OS version that the LG Optimus Elite runs is Android OS v2.3.7 Gingerbread. In the end, it's a relatively good version of Android, yet it is relatively old as well. It all depends on how you view things, I guess.
FEATURES
Even though this phone is a budget one, it still is packed with its fair share of features. The sensors of this device are: Accelerometer, Proximity and Compass. The messaging on this phone is done via: SMS ( with Threaded View ), MMS, E-Mail, Push Mail and IM. The browser of this phone uses HTML and has built in support for Adobe Flash. The LG Optimus Elite has no radio, yet that's not really a problem since you can always get a radio app. The GPS of this phone also has built-in support for A-GPS and the phone itself has Java through Java MIDP emulator. The LG Optimus Elite is available in two colors: White and Silver.
Here is a brief list of what the LG Optimus Elite can do:
SNS integration
Google Search, Maps, Gmail
YouTube, Google Talk
MP4/H.264/H.263/WMV player
MP3/WAV/WMA/eAAC+ player
Document viewer
Organizer
Voice memo/dial
Predictive text input
This concludes our little review of the LG Optimus Elite. I hope it has been as helpful as possible. If you feel that anything is lacking from this review feel free to leave your suggestions in the comment section below for things which should be added and I will be sure to take them into consideration when writing my future projects. In the meantime, I sincerely hope you had as much fun reading my little review as I had writing it.