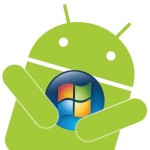 There is something that Android users are most afraid of: thinking that Android is the Windows of mobile phones. Despite the bad way I feel when I hear this, it is just the phase of negation. I know that there will be a moment when hackers will turn their attention to Android and big security issues will be found.
It is just a matter of  time until Android will hit the popularity level when bad things will start to happen. The difference between Android and Windows are concept differences, but that does not mean that nothing will ever happen.
The problem is that while the Android grows, i'm more unsure that he will be able to cope with the security challenges that will come. Any popular software will attract the interest of hackers and then there is only one step to mass viruses that will try to infect all the phones around.  Let's hope that it will finish with minimal damage.