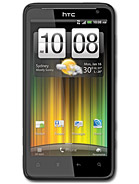 HTC has a reputation of releasing really high quality and really powerful phones. It has created that reputation for itself and has proven time and time again that it is worth every kind word that it was given. The HTC Velocity 4G is no exception from that general rule. Actually, on a side note, HTC also has a great reputation if releasing awesome 4G phones. Ever since the iPhone 4 came out, the HTC phone producers released the best of phones, managing to overtake the phones which were considered the best of the best. And the best part of it all, not only are their phones extremely powerful, but they are also 4G ( which frankly only impresses those that actually know what 4G is and most importantly, have use of the 4G option ).
That's enough of an introduction, let's get this preview / review on the road, shall we ?
Processor : Dual-core 1.5 GHz, Adreno 220, Qualcomm MSM8260 Snapdragon
RAM : 1 GB
AndrodOS : 2.3 Gingerbread
Camera : 8 MP
Display : 540 x 960 pixels, 4.5 inches (~245 ppi pixel density)
Just by glancing over those brief system specs you can deduce that this phone is far from weak. It may even be one of the really strong ones of 2012. But that can never be certain, since the technology market keeps evolving at an alarming rate ( which isn't at all a bad thing ). Still, the fact remains : was this phone to come out a few months ago, it would have ruled the market. Still, better late than never.
On the display note, this phone has an S-LCD capacitive touchscreen with 16 million colors. The screen resolution reaches 540 x 960 pixels and the phone has a screen which is 4.5 inches big. The screen's pixel density revolves around 245 ppi. The screen of the HTC Velocity 4G also has multitouch and the HTC Sense UI v3.5. There is no information about any relevant screen protection such as any type of scratch-resistant surface or Gorilla Glass Display. Still, even without those, it's a pretty good display. The only downfall would be that the users will have to be extra careful not to drop it or else they might regret it.
On the memory side, the phone has an internal storage space of approximately 16 GB, but out of which only 13 GB are user-available. That's more memory than I would have required, but if you somehow require even more storage space, the MicroSD card slot is there to help you. It can take any MicroSD card of up to 32 GB in order to turn your phone into a small mobile hard-drive. The HTC Velocity 4G also has a 1 GB of RAM allowing for quite a bit of multitasking. The RAM is currently the maximum amount of RAM available, but it may not be for long. After all, with all the advancements of technology nowadays one can never be certain. Seeing as how each and every new piece of technology is smaller and yet stronger, in the future we can imagine that there will be enough room on the phone's chipset as to add another RAM slot in order to make it more powerful.
Moving on to the camera of the Velocity 4G, we're looking at an 8 MP camera which can photograph at resolutions as high as 3264 x 2448 pixels and has a whole lot of features. Some of there features may include : autofocus, dual-LED flash, geo-tagging, image stabilization, face detection and last but not least, instant capture. That's more than enough features than I myself would require, but I suppose they could be useful for the aspiring photograph on the go who prefers to use their smartphone, rather than buying a really expensive professional camera. The video recorder is capable of recording in full HD at 1080p and with a power of precision so great that it can easily run at 60 fps. Either way, that's more than good enough, considering that the human eye can only perceive up to 65 fps. For those of you that have actually played computer games before, you probably noticed that the better your gaming unit, the more frames per second you will have. People tend to believe that 60 is low. That's wrong considering that anything above 65 is perceived as 65 by the human eye, no matter how high it may be. The HTC Velocity 4G also has a secondary 1.3 MP camera which is capable of recording at 720p. I keep seeing this more and more and can't actually understand how a 1.3 MP camera is capable of recording in HD ( even the 720p one ), but then I remember what hardware specs it has and I realize that it is probably boosted by the hardware in order to reach such performance.
As far as hardware is concerned, this phone is a regular powerhouse, being able to overtake even some of the older PCs. The processor of the HTC Velocity 4G is a wonderful Dual-Core of 1.5 GHz power called Scorpion. Since Scorpion processors usually keep a distinct company, you can expect to see a Qualcomm chipset and an Adreno GPU ( no matter where you look, whenever you see Scorpion processors you can expect those two to follow ). And it seems I am right since the chipset of this phone is a Qualcomm MSM8260 Snapdragon and the GPU is an Adreno 220. See, as I said before, a regular powerhouse.
Moving on to the Operating System of this Android Phone, the Android version it comes equipped with is Android OS v2.3.7 Gingerbread and there is a planned update in the nearby future to v4.0. Normally I'd comment something against newer phones coming out with older OS version, but since the 4.0 Ice Cream Sandwich is coming soon to this phone as well, I will just shut up and move on.
Now this concludes my little preview / review of the the HTC Velocity 4G. I hope it has covered the points which you were looking for and if you have any suggestions for any other phones I should review next, feel free to leave them in the comments below. If you feel there are any other things I should include in my reviews feel free to leave your suggestions below and I shall include them in my future projects. As for the release date of this phone, nothing is certain. There were expectations for January 2012 but since it's not out yet, the most we could say is Q1 of 2012. Time will tell …