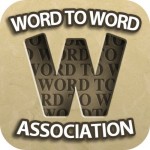 Today we'll be taking a look at something you might call an interesting Android game. This game doesn't imply much, but yet ends up being harder than some can cope with. As the title suggests, you have to simply match words.
This game may seem similar in more than one way to that older Word Stack game I reviewed a while ago. Well, they are sort of alike, since both of them imply the same thing: using two similar words to create another one. However, this game is slightly different in terms of aspect. While with the other one you placed them in stacks, here you associate them through columns.
All and all this game may not seem all that exciting to the average Android gamer, but if you have a desire to test your wits and apprehension of the English language, this game will suit you quite well.
FEATURES :
Enjoy this game as it contains hours of word associating fun
This game allows you to challenge the limitations of your brain
You can play this game with your family and your friends as well
The game contains 11 packs with 440 levels in total.
DESCRIPTION :
As I already pointed out, this game is for those who'd like to challenge themselves with this fun and addictive free word association game. Choices such as: Hot & Cold, Smart & Intelligent, Fire & Truck, Dog & Cat, Sugar & Free is what's going to help you finish this game successfully.
The words you use / create can be opposite, they can mean the same thing or they can be compound words. The only thing you have to keep in mind is that they must be related.
However, do be careful. As the puzzles get harder, a word can have multiple matches. All of them are correct, but you must choose the Perfect one if you want to clear the puzzle. In other words, only the right combination of words will complete each puzzle and solve all of the pairs.
With the 11 packs and 440 levels, you can choose to either play it for a few minutes or for a few hours. The game offers a lot of challenge and a lot of content.
If you'd like to try this app, you can get it from Amazon.