While it was something suspected by a lot of people, IDC has recently confirmed it – tablet sales worldwide are going sluggishly. Compared to the last year, the tablet sales have barely grown with a minor 3.9%, fact which suggests that the whole tablet market may be reaching a point of stagnation.
"The rise of large-screen phones and consumers who are holding on to their existing tablets for ever longer periods of time were both contributing factors to a weaker-than-anticipated quarter for tablets and 2-in-1s," said Tom Mainelli, IDC Program Vice President, Devices and Displays. "In addition, commercial growth has not been robust enough to offset the slowing of consumer shipments."
As we stand, Apple is currently the largest tablet-seller, with 16.4 million tablets shipped in Q1 of 2014 ( a 9.6 million decrease from Q3 of 2013 and a 3.1 million decrease from Q1 of 2013 ). In spite of the decrease, Apple's market share only subsided to 32.5%, which would mean only a 0.7% decrease from the previous quarter.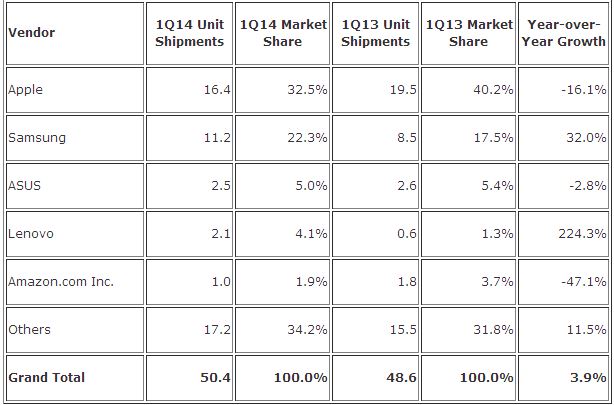 Personally, I blame the severe lack of innovation in the tablet-game for allowing things to go where they are now. Had tablets improved more and kept improving, they would not have fallen so far behind. Nowadays, who would even consider a tablet anymore – especially with how they are now. The primary reason why you even bought one was because it had a larger screen than a phone – if it also had a SIM card, it was a bonus. Now there are phones that are nearly as big ( some the same size ) as tablets, phones that have a superior hardware settings on them, a better Android version and always have SIM cards on them abound. The trend has been to INCREASE the size of the phones, and thus add larger and larger screens, to such a degree that now you actually see no more reasons to buy tablets ( at least that's how I see things ).
Without a clear re-do of the whole thing, I doubt tablets will have much longer to live in this market – not that they will disappear, but in a market that's ever-fluid and always chancing, stagnation is a bane worse than death.