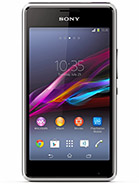 The Sony Xperia E1 – one of the newest low-budget phones from Sony. Off-the-bat, I think I should mention that this device is also available with a Dual-SIM – that version being called the Sony Xperia E1 Dual – but from a technical point of view, they have the same features. For that exact reason, I deem it enough to tell you about this one and therefore you'll know what to expect from the other. Also, most people don't necessarily require two SIM cards, thus making the regular version somewhat more popular.
If you'll ask me what to expect from the Xperia E1, I'd say it's pretty much what you'd expect from any low-budget phone with a few unique assets to it ( although not all of them are entirely good ). First off, if you're expecting exceptional quality and overall strength, I'm afraid you'll be in for a disappointment. In certain cases you get what you pay for, and usually if you find a few good features on a budget phone, you'll find an almost equal amount of bad features in order to reduce the over-all price of the device.
SUMMARY
For those who lack the patience and / or the time to read the full version, here's a short one ( although if you want specifics, you'll probably skip this part ). If you're into taking pictures with the mobile device, you'll be disappointed here as its camera lacks flash and has very few mega-pixels. What's interesting about this device is its loudspeaker – while the quality may not be so great, the loudspeaker puts out at least 100 decibels, and that's pretty loud for my standards. Also, if you like listening to music on the device, you'll be glad to know that it has its own "WalkMan" button and a pretty neat Music Player with a lot of awesome features. Now overall, it does have drawbacks here and there, but most of them are manage-able and they are ( by a pretty small margin, mind you ) fewer than the advantages, so that makes the demanded price of circa 300 dollars be somewhat reasonable for this phone. Also, keep in mind that usually Sony makes things with a bit of an upped cost.
GENERAL
As far as general connectivity goes, the Sony Xperia E1 uses standard 2G and 3G networks. There's absolutely nothing special here – even the Dual-SIM version of the phone uses the same standard 2G and 3G networks. The phone is also available and ready-for-purchase ever since March.
BODY
This phone is of a pretty regular size ( or used to be, but considering the average has risen with all the large phones around, I guess you could call it a relatively small one ). It has a 4.0 inch screen and the specifics about its size and weight are 118 x 62.4 x 122 mm ( or 4.65 x 2.46 x 0.47 in ) and 120 g ( or 4.23 oz )  respectively.  There's not really much else to be said about the body of this phone as it's pretty standard in all shapes and sizes and keeps faithfully to the beautiful design of all Xperia devices.
DISPLAY
The type of screen of this phone isn't very fancy, but it's potent nonetheless. The Sony Xperia E1 has a TFT capacitive screen with 16 million colors. As you already know, it's a 4.0 inch screen that has a resolution of approximately 480 x 800 pixels and a pixel density of circa 233 pixels per inch. The screen is covered by a sheen of scratch-resistant glass for extra protection. Also, the Sony Xperia E1 has the Timescape UI installed on it. What's interesting about this phone is that it also has Multitouch on it, however it's limited to up to 2 fingers. While that may not seem such a big problem to some, for those who like to play games using emulators ( I'm sure I'm not the only one ) it will prove a major inconvenience at times.
SOUND
Aside from the loud volume of the loudspeaker and the previously mentioned music buttons, there's not really anything to set it apart from the others as far as audio quality goes. All things are standard here ( vibration and MP3 ringtones and a 3.5 mm jack ). As I've said before, this phone has a few neat features for music, but as expected of a low-budget phone, with something awesome comes a drawback as well. Here we have a neat music player with a lot of features and a walkman button, but no particular audio enhancements installed.
MEMORY
The memory is particularly disappointing, to me at least. I find that releasing in 2014 a phone with only 512 MB of RAM is a VERY bad marketing move. And it's not like I'm the only one thinking this – when all phones tend to get stronger and faster, apps tend to become better and demand more resources. Coming out with something that was considered strong 3 years ago isn't going to cut it nowadays, I fear. The internal memory isn't that much, either – the phone has 4 GB of storage space and support for a MicroSD card.
DATA CONNECTION
The connectivity on this device is pretty decent, although it's not nearly as fast as a phone with LTE can go. There's both GPRS and EDGE on it and the speed is decent ( 21 MB/s download and 5.76 MB/s upload ). The Sony Xperia E1 also has Wi-Fi 802.11 b/g/n with Wi-Fi Direct and Wi-Fi Hotspot. Also, you can find Bluetooth v4.0 with A2DP on this phone and a Micro-USB v2.0 port ( although it doesn't have any MHL and the phone doesn't have an HDMI port either ).
CAMERA
There's only a main camera on this device and no secondary frontal one. The main camera is a 3.15 MP one that doesn't have any flash or any of the fancy stuff – it only photographs at 2048 x 1536 pixels resolutions and records video in WVGA quality at 30 frames per second. The features of this main camera include: Geo-Tagging, Face and Smile Detection, HDR, Image Stabilization and Panorama.
BATTERY
Allegedly, the battery life promised is pretty okay. The battery isn't really that big – the phone has a Li-Ion 1700 mAh battery on it. The promised energy-time of the Sony Xperia E1 is up to 498 hours or 454 hours in stand-by on 2G and 3G, respectively; and up to 8 hours and 41 minutes or 8 hours and 3 minutes in 2G or 3G, respectively. However, owners of the phone have complained that the battery drains almost instantly when playing music or when using the internet. While that was to be expected, I find it somewhat unlikely that a phone of this caliber can only survive for 3 hours of music-play ( as some people insisted ).
HARDWARE
The hardware on the Sony Xperia E1 is decent enough, but not as strong as other phones. Even still, it's well worth its asked price. To be exact, this device has a Qualcomm MSM8210 Snapdragon 200 chipset acompanied by a Dual-Core 1.2 GHz Cortex-A7 processor and an Adreno 302 GPU. While this hardware is seems pretty good in itself, it may not be sufficient for some of the more demanding apps out there. Even still, it's quite alright for a Low-Budget Device.
SOFTWARE
The Android OS version on the Sony Xperia E1 is v4.3 Jelly Bean, but it's confirmed that there is a planned upgrade to v4.4.2 KitKat somewhere in the nearby future. We'll wait and see, but other than that there's nothing in particular to reproach here.
FEATURES
Now the Sony Xperia E1 has quite a bunch of features installed on it. Firstly, there's a GPS with support for A-GPS and GLONASS alike; the phone also has Java through MIDP emulation and even FM radio with RDS. The sensors on the Xperia E1 are few – Accelerometer, Proximity and Compass – but that doesn't mean they aren't useful. The device uses HTML5 in its internet browsing, and also messaging is done via the standard ways – SMS ( with Threaded View ), MMS, E-Mail, IM and Push E-Mail. The Sony Xperia E1 is available in 3 colors: Black, Purple and White.
Here's a brief list of the other things this phone is capable of:
SNS integration
Active noise cancellation with dedicated mic
Box (50 GB lifetime cloud storage)
XviD/MP4/H.263/H.264 player
MP3/eAAC+/WMA/WAV player
Document viewer
Photo viewer/editor
Voice memo/dial
Predictive text input
Well, that's about all there is to the Sony Xperia E1. If you liked the phone and would like to buy one for yourself, you can simply click HERE and see for yourself how the phone is. I tried touching the most important parts here and talking about everything as briefly as I could, without going into too many technical or boring details. I do hope it has proven somewhat enlightening to you all and that at the very least it offered you a bit of extra info about the device.