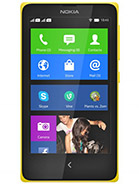 Today I'll be telling you a thing or two about the Nokia X, or the Nokia Normandy, depending on how you want to look at it ( both names apply, but stores in my area sell it under the Nokia X name, so that's how I'll be referring to it ). Off the bat I need to mention that this phone is an optional Dual-SIM device ( the optional part being that you get to select when you buy it whether you want the phone to have one SIM card or two ), however, the same name applies.
This phone caused quite a fuss when it was first announced. There were many that considered it to be a rumor ( myself included, and with good cause for it, mind you ) and there are many who still wonder to this day why this phone came to be ( again, myself included ). You see I have no qualms against Nokia or their device – heck my first phone was a Nokia 3310 – but I do have to ask myself: why would a legend of the phone industry, one that has mainly released Microsoft devices ever since they were purchased by them, release an Android device. Now there were rumors suggesting that Microsoft wanted to branch out and pay more companies to release Microsoft Phones ( because, as you may imagine, being the best in a market controlled by you and with you alone in it doesn't count for too much ), but had someone told me in the past that Nokia would release Android phones I would have considered it a bad joke.
Frankly, after seeing the phone, I'm pretty conflicted about it – on one hand it's got Android on it ( even though it doesn't look or feel like it ), but on the other hand this is 2014 and this kind of tech was mainly present 2 years ago. Frankly I was disappointed to say the least, especially considering how much hype was surrounding this phone. If you consider it as a "market experiment" used only in the purpose of trying out the Android pool and seeing whether they fancy it or not, I guess you could say it was good thinking, but I'm against making such statements since I may at times be wrong and offer undeserved praise.
SUMMARY
For those of you who lack the time or patience to read through the whole thing, I'll try to make it short and simple here without going into specific details. The Nokia X is best classified as a budget smartphone, however for this day and age I find it somewhat discouraging to see it come out with the specs that it has. If we're to give the whispers floating around the internet any truth, that the Normandy was in fact a project in the works since BEFORE Nokia belonged to Microsoft, it may seem revolutionary for that time, but now it's less than acceptable. At the very least, the pricing for it is quite affordable ( I've been able to find it for around 160 dollars for both the regular and dual-sim versions ). While the phone is pretty much worth that price, in some individual cases I've been able to find "local" not-so-famous brands that offer MUCH better devices than this one. The Nokia X has a fair share of good features on it too, but it comes with an equal number of drawbacks too. One of the main drawbacks with it is that, despite being an Android, it doesn't look or feel like it – it just looks like just another Lumia phone ( and Lumia phones, let's be honest, were never very strong – not as strong as Android flagships or mid-level Android phones, at the very least ). Whatever Nokia were trying to do with this phone, I hope it succeeded, although I have my doubts that they were deliberately trying to make a low-end and low-budget device.
GENERAL
As far as networking goes, the Nokia X has the standard 2G and 3G networks for both SIM cards ( if you choose the Dual-SIM version ) or for the ONE SIM card ( if you go with the default version ). Nothing else is worth mentioning here, aside for the Optional Dual-SIM version ( in case you've missed that ). Also, since the phone is pretty petite, the type of SIM card that goes in it is of Micro-SIM format.
BODY
The size of the phone isn't very large, nor is its weight, but the design is somewhat boring. It looks exactly like the older Lumia devices – one square hunk of matter plastic with rounded edges and a touchscreen on the front. As for the specifics, the Nokia X is as large as 115.5 x 63 x 10.4 mm ( or 4.55 x 2.48 x 0.41 in ) and weighs as little as 128.7 g ( or 4.52 oz ).
DISPLAY
The type of screen present on the Nokia X is IPS LCD with 4.0 inches in size. The display of this device has a 480 x 800 pixels resolution and a pixel density of approximately 233 pixels per inch. As far as looks go, the Nokia Normandy has a prototype Nokia X Platform 1.0 UI ( which might indicate they are going to make a series or mini-series out of the Nokia X phone and might reuse this user interface on other phones ). The display of this phone also has Multitouch, however that is limited to only 2 fingers. While for most users that may not be a problem, if you're into playing games using emulators or something a little more demanding ( although this phone might not handle very demanding apps ), you may have some slight complications or limitations there.
SOUND
As far as audio output goes, everything seems to be pretty standard here. There are no audio enhancements whatsoever installed on the Nokia X, be them on the hardware side or the software side. As far as music-play goes, the phone may be a bit more capable than your average device, but I have yet to investigate that claim so don't take it for granted. In conclusion, there's nothing really out-of-the-ordinary here, but that's not necessarily a bad thing.
MEMORY
As far as memory goes, this phone is only fast if you don't overload it with apps and games. Otherwise, things will get pretty slow for you at a relatively large speed. Having only 512 MB of RAM on your device with the current demands has a tendency of doing that to you. The storage space isn't that enticing either, especially since it's limited to only 4 GB of space ( granted, the phone has, at the very least, a MicroSD card slot that can use cards of up to 32 GB ).
DATA CONNECTION
The internet speed on this phone isn't that great ( actually, it's disappointingly low ). At the very best, you'll get 7.2 MB/s Down and 5.76 MB/s Up with the 3G on and at full throttle. The WLAN of this phone is Wi-Fi 802.11 b/g/n that is only capable of Wi-Fi Hotspot. The Bluetooth of the Nokia X is also v3.0 with A2DP and HS. The USB port found on this phone is of Micro-USB v2.0 format without any MHL or an HDMI port, so if you were planning on using them, you'll be disappointed.
CAMERA
The camera of the Nokia X, while it does have a few interesting features, is still relatively weak. This phone has a 3.15 MP camera that is barely capable of recording video at 480p quality in 30 frames per seconds and snapping photographs at 2048 x 1536 pixels resolutions. The only 3 features available on this camera are: a 1/5″ Sensor Size, Panorama and Face Detection. In other words, if you were expecting something good here, you'll be quite let down.
BATTERY LIFE
The battery of this phone is a Li-Ion 1500 mAh battery. It can allegedly hold battery life for up to 408 hours in stand-by and around 10 hours and 30 minutes of talk-time. Also, it appears the creators of this phone are promising somewhere around 26 hours of music play with this battery – whether or not that is true, it remains to be seen.
HARDWARE
The hardware present on the Nokia X isn't all that impressive, either, but it's pretty decent for a low-end device ( granted, not a low-end device from 2014 ). What you can find on this device is a Qualcomm MSM8225 Snapdragon S4 Play chipset, a Dual-Core 1 GHz Cortex-A5 processor and an Adreno 203 GPU. Altogether, it's pretty decent, just don't expect "ground-breaking performance". If you load it with unnecessary apps, you will come to regret it.
SOFTWARE
I'm afraid this part is no different from the others. First of all, the Android version isn't a very new one – this phone has v4.1.2 Jelly Bean on it. Secondly, and while I mentioned this before, I can't state this enough: it LOOKS and FEELS nothing like any Android I've ever used. The software is so overly skinned and customized, you'd have a hard time differentiating the Nokia X from a Windows Mobile equipped Lumia.
FEATURES
As far as features go, they're pretty limited on this phone. Sensor-wise, it only has two ( Accelerometer and Proximity ) and the browser uses regular HTML. The messaging on it is done through your standard methods that everyone knows ( SMS, MMS, E-Mail, Push E-Mail and IM ). There's also a Stereo FM radio on this phone and a GPS with A-GPS support. The Nokia X is also available in a great array of colors: Bright Green, Bright Red, Cyan, Yellow, Black and White.
Here's a very brief list of the few things this device is capable of:
SNS integration
MP3/WAV/eAAC+/Flac player
MP4/H.264/H.263 player
Photo editor
Voice memo/dial
Predictive text input
That's about it for the Nokia X. If you'd like to purchase the phone, I'll be more than happy to show you where I found the best pricing. Simply click HERE if you're interested in giving it a shot.  I tried touching the most important parts here and talking about everything as briefly as I could, without going into too many technical or boring details. I do hope it has proven somewhat enlightening to you all and that at the very least it offered you a bit of extra info about the device.