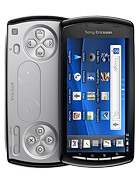 I do believe I've mentioned this phone on all too many occasions when talking about games. I realized there wasn't actually an article written about this phone on this website. So why not write an article about it now ? Here you have it, the Xperia PLAY.
It's pretty unique since it sort of resembles a PSP ( sort of … ) with its slide-in controls. And apparently, the creators of this phone knew what they were doing since it wasn't made for gaming in particular, rather, the games were made particularly for it.
Processor : 1GHz Scorpion processor, Adreno 205 GPU, Qualcomm MSM8255 Snapdragon
RAM : 512 MB
Android OS : 2.3 Gingerbread
Camera : 5 MP
Display : 480 x 854 pixels, 4.0 inches (~245 ppi pixel density)
On the display side, this phone has an LED-BackLit LCD capacitive touchscreen with about 16 million colors. The screen itself is 4.0 inches big and reaches a resolution of around 480 x 854 pixels. The display has a pixel density of around 245 ppi.
On the memory side, my sources say it has 400 MB of internal storage. It also has 512 MB of RAM. Not the best at RAM, but the age of the phone makes it forgivable. The storage itself isn't a problem since it has a MicroSD card slot that uses any MicroSD card of up to 32 GB.
On the camera side, it has a 5 MP camera that can photograph at resolutions as high as 2592 х 1944 pixels. Some features of the camera include : autofocus, LED flash and also geo-tagging and image stabilization. The video recorder is capable of recording at 720p. This device also has a secondary camera but I'm not sure how good it is.
On the hardware side, this phone has a 1GHz Scorpion processor. To add to that, it also has an Adreno 205 GPU and a Qualcomm MSM8255 Snapdragon. That's a pretty powerful configuration for a phone. Considering its age, it's pretty good. Still, one can't help but wonder what this phone could have done with a Dual Core processor.
On the software side, it has Android OS v2.3 Gingerbread. Normally I frown upon new phones having older Android OS versions. This isn't a new phone, so it's excused. Soon I'll start laying off of the new phones without the latest version of Android on them. I mean, can you imagine how they feel ? An older phone like this one having 2.3 and being fully upgrade-able to 4.0 and their incapable phones come out way after this one without even having the final version of Android ( some aren't even upgrade-able to the final version ).
A good phone altogether. Certainly worth its buck. For more information and details about purchases, click HERE.