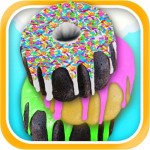 Today we'll be taking a look at a game that is interesting for all ages. This game is very similar to that older game you used to play before the birth of Android. Do you remember? I believe it was called Building Tower or something similar – it was a game in which you dropped floor after floor and tried to build the biggest possible tower ( straight, too ) without it collapsing. If you're having trouble finding it or would like to try a sweeter approach, why not try using this game? It is basically the same thing with a few minor modifications, minor changes and a re-skin for the buildings ( now you're dropping cakes and doughnuts and such things ).
It is a bit too early to talk about the reception this game received, as it doesn't have all that much of an impact yet. Not too many people have bothered to comment. I believe just 1 out of 3 of all comments is legit, the rest are automatically generated ones made through bots. Still, even the few ones there are enough to draw a conclusion ( a vague one, but somewhat believe-able ) – this app is pretty good, and I believe it is well worth the 99 cents the makers are asking for it.
FEATURES:
One of the game modes of this app is Upside Down Stacker ( the first time it was ever implemented in a game, actually )
You can even make Bonus Points
You can choose Endless Play and have Veggie enemies
You are to stack Cakes and Doughnut Ticket Orders
You have Timed and Goal Challenges
There are Over 20 Cakes, Doughnuts and Ingredients to use
The interface is Easy to Use
There are 3 gorgeous background with scrolling layers
The game has some really nice Music and Sound Effects
The graphics are quite mouth watering
DESCRIPTION:
Cake Collapse is a casual and fast-paced stacking game which features 3 different modes of play: Endless Play with Enemies, Upside Down Stacker with Timer and Goals and Cafe Orders with unlimited Cake and Donut creations. You can build an umlimited Cake and Donut tower and orders in this little puzzler. Tap to catch all the mouth-watering cakes, donuts and ingredients on the plate while avoiding the enemies. Use your skills wisely to balance, steer clear and catch the delicious desserts in this fast-paced puzzler. The higher you stack, the more topsy-turvy your tower gets. This is a game fun for all ages.
You can get this interesting game from Amazon.