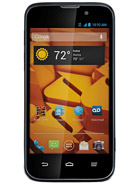 Today I'll be showing you a nifty little smartphone known as the ZTE Warp 4G. The mere fact that it's a 4G phone means it's restrictive, as 4G isn't exactly something available EVERYWHERE ( while it may be in a couple of years since more and more markets are getting it every month, it isn't all-around available at the moment ). Also, this phone is only available from one provider, as far as I know: Boost Mobile. Therefore, if you live in a country in which Boost Mobile isn't available and unless you're extremely curious about the ZTE Warp 4G, I recommend just ignoring this article as you may end up liking the phone and wanting with no option of getting it.
Firstly, before we get this little show on the road, I think it's important to mention that, even if you already used said provider before, this phone won't work with a regular GSM card. The ZTE Warp 4G actually uses those special CDMA networks that only certain providers can offer ( and LTE, of course, for the 4G ). Also, it would be wise if you don't have overly large expectations for this device, as it is a relatively low-budget phone ( it costs a mere 200 dollars tops ).
SUMMARY
As far as networks are concerned, I just told you that this phone uses those non-standard CDMA networks for 2G and 3G, and LTE for 4G. The ZTE Warp 4G is currently available, having been announced and released during the same month – September.
BODY
As far as size is concerned, the ZTE Warp 4G is a pretty small phone, especially compared to the newer, larger ones ( I noticed a tendency to add 5.0 inches of screen or more in the newer devices ). The exact size of the device is as follows: 132.1 x 66 x 10.4 mm ( or approximately 5.20 x 2.60 x 0.41 in ) and it weighs approximately 127.6 g ( or 4.48 oz ). All and all, this phone is just large enough to handle its screen, and not much useless space left.
DISPLAY
The screen size of this device is 4.5 inches. The ZTE Warp 4G's screen is also quite a strong one: an IPS LCD that uses a resolution of approximately 720 x 1280 pixels and has a pixel density of approximately 326 pixels per inch. What this means that, for the size that this screen has, all things on that display will look as perfect as perfect can be. The pixel density is larger than the human eye can perceive, so you should notice no abnormalities about the quality of the screen. Also, since the screen is so good, it would only make sense to protect it: hence the scratch-resistant glass covering it ( it will protect it from minor scratches, but I wouldn't necessarily force my hand if I were you ).
SOUND
As far as audio goes, there are no particular advantages to this phone to set it apart from the rest. It has no enhancements whatsoever, be them on the hardware side or on the software side ( which isn't to say that the sound of this device is bad, but a bit of extra quality never hurts ).
MEMORY
As far as memory is concerned, this phone is doing well. It has its fair share of advantages and disadvantages. You can actually judge for yourself based on the following: an internal storage of 8 GB, but a card slot that uses MicroSD cards of up to 64 GB and 1 GB of RAM. While the RAM may seem like not that much, it's still plenty enough to run just about most games and apps on the market right now.
DATA CONNECTION
This being a device that doesn't use standard GSM networks, it's only natural that it doesn't have any GPRS or EDGE installed on it. The internet speed that can be found on this phone is the standard for LTE networks. It also has Bluetooth v4.0 with A2DP and LE, and also it has NFC enabled on it. The Wi-Fi of this device is 802.11 b/g/n with Wi-Fi hotspot support. The ZTE Warp 4G also has a Micro-USB v2.0 port on it, but this port has no MHL support.
CAMERA
The camera of this device is both kind of impressive, but it also disappoints ( only a bit, however ). The main camera is an 8 MP one, but the ZTE Warp 4G also has a secondary frontal 1 MP camera. What disappoints me is the fact that the camera can't record in 1080p full HD, but merely in 720p ( and it seems weird considering most 8 MP cameras use 1080p, but what can you do ). Some of the features of the camera include: autofocus, LED flash, geo-tagging, touch focus, face detection, panorama and HDR.
BATTERY LIFE
The battery of the ZTE Warp 4G is a pretty strong one: this phone has a standard Li-Ion 2070 mAh battery installed on it. Since this phone is relatively new, I can't really tell you an estimate of how many hours of usage this battery can endure, but usually the time is pretty similar for all devices.
HARDWARE
The hardware strength of the ZTE Warp 4G is fairly okay ( not that much, but it's certainly enough to handle most games and apps out there, provided you don't expect 100% performance from the newest of games ). The components that are note-able here are: a Qualcomm MSM8930 Snapdragon 400 chipset and a Dual-Core 1.2 GHz processor. These two put together can offer you a decent amount of performance, regardless of the task you may have.
SOFTWARE
Unfortunately, the ZTE Warp 4G doesn't have the latest version of Android installed on it, but the version that you can find on this phone is a pretty okay one. You can find Android OS v4.1 Jelly Bean on this device, a version that is both stable and reliable. Sure, the newer ones sort of feel like they provide you with more features, but when you get down to it, you can do your work with either one of them.
FEATURES
This phone has its fair share of features, all in a tiny measure since adding more will undoubtedly increase the pricing by a couple of hundreds of dollars. There are a couple of sensors ( Accelerometer and Proximity ), the browser uses HTML ( with no apparent support for Adobe Flash ), the GPS has built-in support for A-GPS and the phone emulates Java through MIDP. Unfortunately, the ZTE Warp 4G has no radio, so for those of you that use it, it's a piece of bad news. This phone is also available in one color: Black.
Here I'll provide you with a short list of a couple of the things the ZTE Warp 4G can do:
SNS integration
MP4/H.264/H.263 player
MP3/WAV/eAAC+ player
Google Search, Maps, Gmail
YouTube, Google Talk
Organizer
Document viewer
Photo viewer/editor
Voice memo/dial
Predictive text input (Swype)
This concludes our little review of the ZTE Warp 4G. Hope it has helped you see the phone in a different light and, at the very least, provided you with a couple of useful pieces of information.