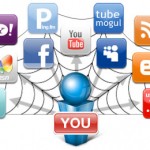 Only dinosaurs have not heard of social media; the rest of us are fully acquainted with its various aspects which include blogs, micro-blogs, social networking, virtual worlds, collaborations, and so on. The problem is keeping on top of them all the time, but with a few of the best social media apps downloaded to our mobile phones that can be a breeze, so check out some of the following. They should make your social life run a little smoother.
The most downloaded app of all is Facebook, so despite various rumours regarding its diminishing popularity, it seems that its potential demise has been overstated. Not only is it the most downloaded app, it the most used one. Social networking on the move without Facebook is possible – after all there are many alternative social networks – but most people wouldn't contemplate trying to. Currently there are 800 million active Facebook accounts and the number will soon hit a billion.
The fourth most popular app is Skype, whilst the 12th most downloaded is Twitter. There is no diminishing in Twitter's popularity; there are now over 500 million people with Twitter accounts though only 100 million of these are active. Every day over 140 million tweets are posted. Twitter is the ideal mobile app, as it affords much more spontaneity to the micro-blog than waiting to get to your desk before tweeting; of course there are dangers in too much spontaneity too.
Some social networking apps can only be used on mobile devices. One of these is Path which is a personal social network. The objective is to create networks of close friends with whom you can interact on a more intimate basis that you would with a huge network such as on Facebook. You can check in with friends, upload pictures, and tweet to your special circle without any possibility of being overheard.