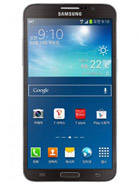 I have recently showed you the LG device with a flexible screen and have made a few passing notions at Samsung's smartphone with a flexible screen – well, here it is: the Samsung Galaxy Round G910S. This phone is slightly limited to a specific area, as it has been made specifically for South Korea. Rest assured, for you will still be able to purchase it worldwide through one mean or another, although you may have to pay a small delivery fee – which brings us to a disadvantage of the phone I will discuss a bit later.
First off, while I understood the shape of LG's flexed phone, I don't much get the shape for this one. While it is somewhat smaller, does that shape not cause a bit of inconvenience for a phone? Personally I don't see myself holding such a device with ease. I understand that the purpose of the curved screen on this device was to prove that they CAN implement flexible screens, despite rigid inflexible bodies, but the shape leaves something to be wanted.
SUMMARY
Ignoring the fact that the Samsung Galaxy Round has a somewhat unorthodox form to it, this smartphone is one of the best out there at the current time. However, its main disadvantage is that it offers way too much, and since the concept of flexible screen is very new and very costly, the price of the phone increases substantially – to such a degree that the Samsung Galaxy Round can get you anywhere between 800 and 1000 dollars. I'm not sure how many people are willing to pay such a price for a single device, when all that cash could be used for more useful things. On another notion, Apple users have been paying that price without thinking twice, so maybe I'm just rambling nonsense here. If you stop and consider the Samsung Galaxy Round as a regular smartphone, you'll find it has so few disadvantages they are hardly worth mentioning, but I will mention them when I see them just for the heck of it.
GENERAL
Network-wise, the Samsung Galaxy Round uses the standard 2G and 3G GSM networks, and it also has some really fast LTE form for 4G. It is available as of October, which is the month in which it was announced as well.
BODY
As far as size is concerned, saying something like "This phone is big" would be an understatement. The phone is quite massive, sporting a 5.7 inch screen. Of course, it seems a bit smaller due to it being slightly curved, but the size still remains way above average. The body is as curved as the display and is bound in black leather on the back, thus gaining a somewhat more professional and stylish look. The specifics about the size of the Samsung Galaxy Round are: 151.1 x 79.6 x 7.9 mm ( or circa 5.95 x 3.13 x 0.31 in ) and it weighs approximately 154 g ( or 5.43 oz ).
DISPLAY
The display of this device is certainly a piece of work. It's a Super Flexible AMOLED 5.7 inch screen which uses a resolution of 1080 x 1920 pixels and is equipped with a pixel density of circa 386 pixels per inch. Now if that's not high-quality, then I don't know what is. On such a screen with this resolution and pixel density, you will hardly ever see any flaws with the naked eye.
SOUND
Nothing unusual to report in as far as sound is concerned: there is an equal lack of both hardware-based and software-based sound enhancements. When I say this, I don't necessarily mean the sound quality is bad, but I have yet to see a mobile device with an audio enhancement that sounded worse than one without said enhancement.
MEMORY
The memory of the Samsung Galaxy Round is great. This phone is equipped with a whopping 3 GB of RAM and an internal storage of 32 GB. If by some reason you require even more space, the MicroSD card slot of this device can take cards of up to 64 GB. Therefore, the only true problems you might have with memory on this phone will be caused by poor data management.
DATA CONNECTION
The connectivity of the Samsung Galaxy Round is pretty interesting: this device has both GPRS and EDGE, LTE internet speeds, it is equipped with both NFC and an Infrared Port and it also has Bluetooth V4.0 with A2DP, LE and EDR. The phone's Wi-Fi is also great, being 802.11 a/b/g/n/ac with Dual-Band, DLNA, Wi-Fi Direct and Wi-Fi hotspot. This phone is also one of those rarer devices with Micro-USB v3.0 ports, the port itself having USB Host support and MHL 2 on it.
CAMERA
Both cameras, the main one and the secondary one are something to be amazed by. First off, the frontal camera, since we'll take them in order of strength, is a 2 MP camera that can record video in 1080p full HD quality at an easy 30 frames per second. The main camera is an incredibly powerful 13 MP one that can record video in 2160p format at 30 frames per second and in 1080p format at 60 frames per second. Some of the many features of this main camera include: autofocus, led flash, dual-shot, simultaneous video and image recording, geo-tagging, touch focus, face and smile detection, image stabilization, panorama and even HDR.
BATTERY LIFE
The battery of the Samsung Galaxy Round is truly a wonderful thing – a powerful Li-Ion 2800 mAh battery that can sustain the phone for hours of heavy usage. Estimates claim that it can keep it alive for the following numbers, under the following conditions: 370 hours of stand-by in 2G and 330 hours in 3G, up to 16 hours of talk time and a whopping 74 hours of continuous music play. Personally, I think some of those numbers may be a tad exaggerated, but even if they are at least 75% accurate, it's still worth it for me.
HARDWARE
The components found on the Samsung Galaxy Round are some of the best on the market. This phone comes equipped with a Qualcomm Snapdragon 800 chipset, a Quad-Core 2.3 GHz Krait 400 processor and an Adreno 330 graphics card. Taken into any context you'd like, this hardware spec combined with the 3 GB of RAM on this device are enough to run just about anything on the market now and for the next couple of years to come, at least.
SOFTWARE
The Android OS version on this device is v4.3 Jelly Bean, which considering the size of the screen, will really spark a few interesting ideas. With this version and the size of the device, you can really profit more than others from the advanced multitasking method implemented in that version of Android. I strongly recommend trying it out for yourself.
FEATURES
The Samsung Galaxy Round is one of those newer phones that's absolutely LOADED with all sorts of features. It has a tone of sensors ( Accelerometer, Gyro, Proximity, Compass, Barometer, Temperature, Humidity and Gesture ), it has HTML5 for the browser, its GPS has A-GPS support and GLONASS support and it also has Java through MIDP emulation. Unfortunately, it doesn't have support for radio and it is somewhat limited as far as colors are concerned: it's only available in Luxury Brown.
Below I'll post a small list which contains what this phone is capable of:
ANT+ support
S-Voice natural language commands and dictation
Air gestures
SNS integration
Active noise cancellation with dedicated mic
Dropbox (50 GB storage)
TV-out (via MHL A/V link)
MP4/DivX/XviD/WMV/H.264/H.263 player
MP3/WAV/eAAC+/AC3/FLAC player
Organizer
Image/video editor
Document editor (Word, Excel, PowerPoint, PDF)
Google Search, Maps, Gmail, YouTube, Calendar, Google Talk, Picasa
Voice memo/dial/commands
Predictive text input (Swype)
This concludes our little review of the Samsung Galaxy Round. I hope it has at the very least helped answer a couple of the questions you migh have had about the device and offered you the tiniest bit of extra information.