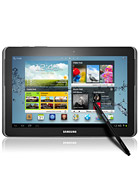 Today we shall be taking a look at the new Samsung Galaxy Note 10.1. Ever since the Galaxy Note came out, as I've probably said before, most phones have been tending to turn into a hybrid between a tablet and a phone. I find that pretty interesting and used to think it was awesome. What I can't really comprehend is why Samsung would release ANOTHER Galaxy Note and name it Samsung Galaxy Note 10.1. That eludes me. Unless, the only possible explanation I could find is that Samsung wants to turn the Galaxy Note into a series of phones ( which wouldn't actually be such a bad idea ). What this phone, if you can call it a phone, has different from the Galaxy Note is the fact that it isn't in the normal format for a phone. Actually, it looks more like a smaller tablet, making it be more functional in writing scenarios ( which was generally the main idea of creating such a phone ).
Also, something that amazes me still is the creation of a stylus for capacitive screens. As you may very well know by now, there are major differences in the way a capacitive and a rezistive screen work. While the rezistive one can be touched with any object whatsoever, the capacitive one can only be used by touching it with your fingers, or something with body heat or finger prints or whatever, I'm not that sure myself. Creating a stylus for a rezistive screen is easy : any object will do. But what kind of substances are needed to lace the stylus with in order for it to work with a capacitive screen, that is what I want to know. Still, I know it can't be that impossible. I once saw a video with someone creating a method to use the iPhone's screen while wearing gloves ( since the iPhone also has a capacitive screen ). Apparently, the person came up with a way for the phone to be used without a stylus during cold winters and stuff like that when you are required to wear gloves. By adding thermic gel to the tip of the finger of the glove and rubbing it in ( the gel you buy for the Processor of your PC so it doesn't over-heat … just go to any store and ask for thermic gel and you'll get it ) to the glove, he successfully managed to send bodily heat through the glove to be able to use the screen. Do a good job and you won't leave marks on the screen either.
But enough with science and stuff like that, let's get down to the review / preview of this phone.
Processor : Dual-core 1.4 GHz
RAM : 1 GB
Android OS : 4.0 Ice Cream Sandwich
Camera : 3.15 MP
Display : 800 x 1280 pixels, 10.1 inches (~149 ppi pixel density)
We shall begin by looking at the size of the Samsung Galaxy Note 10.1. The phone is 256.7 x 175.3 x 8.9 mm big and weighs about 583 grams. That's quite a lot for a phone, but I already said that this device is much more than that. Also, the Samsung Galaxy Note 10.1 has touch-sensitive controls and doesn't have buttons.
Let's take a look at the display of this phone or tablet or whatever you want to call it. The screen type is a PLS TFT capacitive touchscreen with around 16 million colors. The resolution reached by this screen is about 800 x 1280 pixels. The screen size is about 10.1 inches ( hence the name Samsung Galaxy Note 10.1 ). The pixel density of this screen is around 149 ppi. The Samsung Galaxy Note 10.1 also has Multitouch, but there isn't enough solid data from which to tell how many fingers can be used simultaneously on this screen.
Let us move on to the sound part of the Samsung Galaxy Note 10.1. The Alert Types of this phone are : vibration and MP3 ringtones. The Loudspeaker of this phone has stereo speakers. Also, this device ( since I probably can't call it a phone or a tablet ) has a 3.5 mm jack.
The memory of this pad phone or tablet phone or tab phone or tablet phone hybrid or whatever you choose to call it varies. There are 3 available version to this device : a 16 GB one, a 32 GB one and a 64 GB one. If for some reason you require even more space you can always use the MicroSD card slot which can use any MicroSD card of up to 32 GB. So, if you do the maths, that's 64 GB plus 32 GB and it equals a whole lot of space. As if all that humongous storage space wasn't enough, the Samsung Galaxy Note 10.1 also has 1 GB of RAM.
Now let us take a look at the data connectivity of this device. The Samsung Galaxy Note 10.1 has a GPRS Class 12 ( 4+1/3+2/2+3/1+4 slots ) which works at about 32 ~ 48 KB/s. Also, this phone has EDGE Class 12. The speed of the Samsung Galaxy Note 10.1 is : HSDPA at about 21 MB/s and HSUPA at about 5.76 MB/s. The WLAN of the Samsung Galaxy Note 10.1 is a Wi-Fi 802.11 a/b/g/n with Wi-Fi Direct, Dual-Band and Wi-Fi hotspot. The Samsung Galaxy Note 10.1 has a Bluetooth version 3.0 with A2DP. The USB connectivity of this device is done through a USB v2.0. Enough about the boring data connection, so let us move on.
Now we shall take a look at the camera of the Samsung Galaxy Note 10.1. The primary camera is a 3.15 MP camera capable of photographing at a resolution as big as 2048 x 1536 pixels. The main camera also has the following features : autofocus, LED flash and geo-tagging. The video recorder of this device is capable of recording at 1080p full HD with a steady 30 fps. This comes as much of a surprise to me as it comes to you. It's quite interesting how a simple 3.15 MP camera is capable of recording in full HD 1080p. As if that wasn't enough, the Samsung Galaxy Note 10.1 also has a secondary 2 MP frontal camera.
Now let us take a gander at the hardware performance of this device. There seems to be no notable chipset or GPU and I refuse to believe that it doesn't have any of them. The only adequate explanation to be had here is that they are both too weak or aren't created by popular brands to be mentioned. Still, we shall work with what we have. At least the processor is powerful, it being a Dual-Core 1.4 GHz processor. Imagine of the possibilities of having such a powerful processor on this device, considering that this device was created to be as practical as humanly possible.
Now let us take a brief look at the Operating System of this device. I'm quite pleased to say that this device will come out with the already installed Android OS v4.0 Ice Cream Sandwich. Before you stop to think this may not be the biggest of deals, I urge you to remember that many new phones still aren't equipped with this version of Android and that even fewer of those phones will actually receive an update to Android OS v4.0.
Now let us move on to the final part of this little review / preview of the Samsung Galaxy Note 10.1, the features. The sensors that this phone has are : accelerometer, gyroscope and compass. The messaging on this phone is done via SMS ( through threaded view ), MMS, E-Mail and Push Mail, and even IM. The browser of the Samsung Galaxy Note 10.1 supports HTML and Adobe Flash. Sadly, this device doesn't have a radio, although that's hardly a loss considering that nowadays you can listen to any radio station from their websites and there are also hundreds of apps that serve as a radio for your device. Still, in spite of not having a radio, the GPS of this unit seems to be overcompensating. By that I mean that besides the A-GPS support it also has something known as S-GPS Support ( which is something similar but with Wi-Fi … I don't really know how that works ). This phone also has Java via Java MIDP Emulation and the only color it will come out in is black.
Now that we are at the end, feel free to gaze upon this short list of what the phone can do :
SNS integration
MP4/DivX/Xvid/FLV/MKV/H.264/H.263 player
MP3/WAV/eAAC+/Flac player
Organizer
Image/video editor
Photoshop Touch app
Document editor/viewer
Google Search, Maps, Gmail,
YouTube, Calendar, Google Talk, Picasa integration
Voice memo/dial
Predictive text input (Swype)
Well, this has been the review / preview of the Samsung Galaxy Note 10.1. I hope it has proved educational and eye-opening and that you have enjoyed reading it as much as I enjoyed writing it. If you feel that any important details has been left out of this review / preview fell free to leave your suggestion in the comments section below and I shall be sure to take it into consideration when writing my future projects.