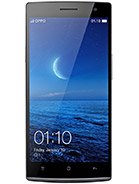 Today we'll be taking a look at the Oppo Find 7a. To avoid any confusion, this is the 7a model, not the Oppo Find 7 ( which will come out around next month and will cost about 100 euros more than this one ). In the process of listing all the good and the bad things about the phone ( mostly they're good, so don't worry ), I'll also try and point out the main differences between this model and the Find 7 that will come out later.
Off the bat, the biggest difference between the two is the resolution of the screen. This phone can be referred to as the Oppo Find 7 FHD, where as the one that'll come out later is the QHD one. While this one has a 1080p screen resolution, the other has a larger 1440p resolution on its screen. Also, the pixel density is quite different between the two. The rest of the differences are pretty minor but with a relatively large impact – I'm talking about differences in RAM and the amount of clocking that the processor endured. We'll get to talking more about those in a minute, though.
SUMMARY
The Oppo Find 7a is one of the best flagships you could buy right now – and the best part about it is that it won't cost you an arm and a leg. While Oppo may not be a company that many have heard of, they do seem to be working hard in making the best devices available ( or if not the best, at the very least they're the strongest you're going to get for that particular price range ). I've noticed that the large manufacturers that have akreadt reacged tge tio oisutuibs gave started taking it somewhat slower in their progress, and in their absence rise companies that were somewhat unheard of in the past with products that are net superior to their own and much cheaper, to boot. And if the fact that the Oppo Find 7a is better and cheaper than most of the flagships of this year hasn't convinced you yet, perhaps you'll be glad to hear that it has some neat features that aren't present in any other smartphone. One of the most impressive ones is its Rapid Charging functionality enabling the user to charge the phone at a much greater speed. There are also a few neat features regarding the camera, like the Super Zoom that can be interpolated to 50 MP or its 5 MP frontal camera. Perhaps the most impressive feature of this phone is its price – which is circa 400 euros ( and the Oppo Find 7 will be worth about 100 euros more ).
GENERAL
The phone is doing great as far as its connectivity is concerned – it can use all of your standard 2G and 3G networks, and it also has 4G LTE support, no matter the model ( there are slight differences in network names and codes, depending on where you got it from, but those are quite irrelevant to the user ). The same can be said about the connectivity of the Oppo Find 7. The Oppo Find 7a is also available right now, leaving it's counterpart, the Oppo Find 7 QHD, to be released somewhere during the next month.
BODY
As far as size is concerned, both the 7 and the 7a are the same size ( basically, they're the same phone aside for their very few yet significant differences ). They both have a 5.5 inch screen and they both weigh around 170 g ( circa 6.00 oz ). The exact size of these two is 152.6 x 75 x 9.2 mm ( or circa 6.01 x 2.95 x 0.36 in ). Aside from that, there's nothing really out of the ordinary with the body of the phone – the size design is simple yet elegant, leaving nothing for wanting. The phone has touch-sensitive buttons below the screen and its pretty symmetrical in its design, leaving little to no wasted space.
DISPLAY
Now this is a part where the difference between the Find 7 and Find 7a are being felt. While both phones have an IPS LCD, they're in QHD and FHD format, respectively. The FHD screen on this phone reaches resolutions of 1080 x 1920 pixels and comes with a pixel density of around 401 pixels per inch. The QHD version on the Find 7, however, has a resolution of 1440 x 2560 pixels and a pixel density of around 534 pixels per inch ( which is one of the finest screens I've seen to date ). What they both have in common, however, is the presence of the original ColorOS UI ( which is based on, and heavily resembles, Android OS v4.3 Jelly Bean – but it's a welcome change from all the other UIs out there ) and the fact that the display is protected by a sheen of Corning Gorilla Glass 3, which should ensure some protection against minor falls and scratches.
SOUND
This phone is quite phenomenal as far as sound is concerned – it has both hardware-based and software-based audio enhancements installed on it. Firstly, there's a pair of Stereo Speakers instead of the one Loudspeaker, and secondly there's the Oppo MaxxAudio sound enhancement, which happens to be installed on this phone. That should make the phone a bit interesting for those of you who fancy occasionally listening to music on your phone.
MEMORY
Another area where there are differences between the two devices is the memory – both storage and RAM. The Internal Storage on this phone is 16 GB, where as on the regular Find 7 is 32 GB. Also, the Oppo Find 7a has 2 GB of RAM instead of 3 GB which you can find on the Find 7. What they have in common here is that both versions of the phone have a MicroSD card slot that can use any card of up to 128 GB.
DATA CONNECTION
The speeds with which this device surfs the internet are quite large, as you can imagine, especially if you choose to use the LTE connection. Otherwise, the phone also has NFC support and Bluetooth v4.0 with A2DP for your file-transferring needs. The Wi-Fi found on this device is 802.11 b/g/n with Wi-Fi Direct, DLNA and Wi-Fi Hotspot. What truly disappointed me about the connectivity of the Oppo Find 7a is its USB port – it's a MicroUSB v2.0 one with USB On-the-Go support. As you can probably tell, it lacks MHL support, and since the phone has no HDMI port you can kiss connecting it to your TV goodbye.
CAMERA
The camera of the device is quite potent ( main and secondary, as well ). The secondary camera is a 5 MP one and the main one is a 13 MP one. The resolutions at which the main camera can snap photos are 4128 x 3096 pixels. What's truly impressive though, is its ability to record video: it can record 2160p quality at 30 frames per second, 1080p quality at 60 frames per second and 720p at 120 frames per second. The features of the main camera are: Autofocus, Dual-LED Flash, Geo-Tagging, Touch Focus, Face Detection, Panorama and HDR.
BATTERY LIFE
The battery, while not exceptionally large, it's more than enough for the phone ( and with that neat Rapid Charge feature, it doesn't make it that much of an inconvenience ). The battery in the Oppo Find 7a is a Li-Po 2800 mAh battery capable of guaranteeing somewhere around 60 hours of battery-life with what it's equipped. The Oppo Find 7 has a larger battery, but not by much – its battery is one of 3000 mAh.
HARDWARE
The hardware found on the Oppo Find 7a is quite powerful, and it's not very different from that found on the more powerful Find 7. They both have the same chipset and GPU – Qualcomm Snapdragon 801 and Adreno 330, respectively – and by that logic the same processor, although there's a difference in the frequency at which it's clocked for each device. The processor is a Quad-Core Krait 400 with 2.3 GHz for the Find 7a and with 2.5 GHz for the Find 7.
SOFTWARE
There might be a problem here for the v4.4 KitKat fans, as both the Find 7 and Find 7a lack that version – to be specific, they both have v4.3 Jelly Bean installed. There's no news yet when or if ever they'll receive the update to KitKat, but I'm sure individual developers will be have a go at it and make it happen rather soon ( if they haven't already ), however, it's up to you whether you want to use a non-standard version or not.
FEATURES
There's a decent number of features on the Oppo Find 7a. It has a good deal of sensors ( Accelerometer, Gyro, Proximity and Compass ), it has a browser that uses HTML5, Java through MIDP Emulation and a GPS that offers support for A-GPS. It doesn't, however, have a Radio. The messaging on this phone is done via your standard methods – SMS ( with Threaded View ), MMS, E-Mail, Push E-Mail and IM. The colors in which this device is available are limited to only two – White and Black.
Below is a small list of the things the Oppo Find 7a is capable of doing:
SNS integration
Active noise cancellation with dedicated mic
MP4/H.263/H.264/WMV player
MP3/eAAC+/WMA/WAV player
Google Search, Maps, Gmail, YouTube, Calendar, Google Talk
Organizer
Document viewer
Photo viewer/editor
Voice memo/dial/commands
Predictive text input
This concludes our little review of the Oppo Find 7a. I hope you've enjoyed reading it as much as I did writing it and that you've learned a few thing about this phone. I tried keeping it as short as possible so as not to go into too many unnecessary or boring details, yet still cover everything there was to cover.