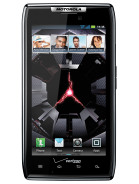 Today we'll be reviewing the Motorola DROID RAZR XT912. This is a fairly powerful phone. This phone is similar to the Motrola DROID RAZR XT910. The only difference is the fact that this one uses normal SIMs and not micro SIMs as the XT910 uses. Also, this phone has support for both normal GSM networks and CDMA networks equally. Taking everything into consideration, I'd say that the XT912 is better than the XT910. Granted, it doesn't overtake it by much, but it still is a better one and I would choose it over the X910 any day.
This phone is also known under many names : the DROID HD, the Motorola DROID RAZR XT912 for Verizon and the Motorola RAZR for Rogers. The networks of this phone are good, the hardware is good, the screen is more than good, the hardware is good, the camera is great and not to mention that this is also a 4G phone. 4G phones rarely are powerful enough to be able to stand their own ground in direct comparison with the other Android phones, but this one does.
With all that it has, even with its few little flaws, it is more than worth its price of around 390 euros. That's only 40 euros more compared to the XT910, and this one is a 4G phone. So basically, you're better off getting this one instead of the XT910. I won't do a specific review of the XT910 in the near future. If you truly want to see how it is, just look at this phone and take away the 4G networks from it.
SUMMARY
As I promised a long time ago in a galaxy far, far away, but most likely this one, I would start off my reviews with a brief sighting of the good points and the bad ones of the device. Also, I think it's worth mentioning that I won't be posting any useful information or any specifics here, so if you truly desire to know more you can just skip this part and go right to the review per say.
The Motorola DROID RAZR XT912's almost every aspect is a good one. The only bad part of this phone may be the Android OS being an older version and having no visible update in sight. Of course, if that bothers you, you can always install an update for yourself. Hell, there are v4.0 updates even for a Galaxy Mini phone, but they're unofficial and may damage your device if you add them. I strongly advise avoiding unofficial updates as much as possible. Unless the phone itself says it need the update, don't go looking for it yourself.
This is such an expensive device either, so its price may consist one of its best attributes. How often can you say you've found a 4G phone that can use regular networks as well, with a decent hardware and a ton of features for around 390 euros. Roughly approximated that's around 450 dollars. While the price will vary from shop to shop, you now know the price towards which it should be oriented. This is a very good phone and it's more than worth that price.
GENERAL
As I already mentioned, this phone uses not only 2G and 3G networks, but 4G ones as well. Also, not only does it use regular GSM networks, but those CDMA ones too. Those networks are as following : 2G ( GSM 850, GSM 900, GSM 1800, GSM 1900 and CDMA 800, CDMA 1900 ), 3G ( HSDPA 850, HSDPA 900, HSDPA 1900, HSDPA 2100 and CDMA 2000 1xEV-DO ) and 4G ( LTE 700 MHz Class 13 – for Verizon only ).  A major difference between this phone and the XT910 is that the XT910 uses micro SIM cards only, where as this one uses regular SIM cards. The Motorola DROID RAZR XT912 was announced in October 2011 and was released a bit later in November 2011.
BODY
I don't know if it applies for this one or not, but the DROID RAZR phones were made out of a special material. Their back wasn't a normal plastic or a thin layer of painted metal. Their back was made of none other than Kevlar, or that material people use to make bulletproof vests and place them inside the doors of cars to make them bulletproof. The back of the phone has the aspect of woven material and when the first RAZR came out, that material was actually a very flexible Kevlar weave which could pretty much absorb most shocks. It may even stop a bullet, but that all depends on the caliber.
Now, back to the matter at hand. Apart from the awesome look of the phone ( I like phones that have their own design, not just flat, square and with a large screen and 2-3 buttons on them ), the Motorola DROID RAZR XT912 is pretty standard as far as size and weight is concerned. The phone is around 130.7 x 68.9 x 7.1 mm big and it weighs somewhere around 127 grams. See, the phone isn't too big and too small either. It's just the optimal size for an Android phone.
DISPLAY
The display type of this device is a Super AMOLED capacitive touchscreen with around 16 million colors. This is one of the best screen types available. I am reluctant to say that this is the BEST screen available since I haven't really been paying too much attention to see if anything better has come out since then. It may or it may not, but fact remains that this screen is awesome. A direct comparison between an AMOLED and a TFT reveals that the AMOLED is visibly superior in terms that it brightens colors and cancels out a lot of reflections. The Super AMOLED just takes the AMOLED to a next level by fixing all of its flaws and improving its good points.
The screen size of the Motorola DROID RAZR XT912 is also optimal for such a screen, the optimal screen size for a phone if I dare say so myself – 4.3 inches. This screen can house a resolution of approximately 540 x 960 pixels. The pixel density of this device is around 256 ppi. While some people may say that this is a bad pixel density, I do beg to differ since it takes a highly trained eye to spot the difference between 300 and 250 ppi. The difference may be more noticeable for large screens and for tablets and such, but for such a phone, it's a dreadful business to try and spot the differences.
The Motorola DROID RAZR XT912 also has Multitouch on it, however, it isn't the advanced sorts of multitouch that can support more than two simultaneous fingers on the screen ( personally, I never really understood the need for so many fingers on the screen, but I guess someone had to see the light of logic, else it would not have been invented ). This phone also has a very effective means of screen protection. Not only is the body of the device protected, but so is the screen, itself having a Corning Gorilla Glass surface that absorbs most shocks without getting damaged too easily.
SOUND
The audio output capabilities of the Motorola DROID RAZR XT912 are pretty basic / default / standard and there's not much point in talking about this part. The alert types of this phone are the default ones considering that any Android device can use any sound whatsoever as their alert types. Same thing goes for the Loudspeaker and 3.5 mm jack – they're both as standard as it gets.
MEMORY
The memory of the Motorola DROID RAZR XT912 is a real blast. While my sources claim you can do a certain thing, I am not sure of that – I think it depends quite a bit on the person selling you the phone. What I'm saying is that you are supposed to get a 16 GB Micro SD upon purchasing this device, card which may be very useful for those of you that require a large storage space. I'm saying this since the internal storage space of the device isn't all that much compared to other Android phones – only 16 GB. Still, it's more than I would ever need for a phone. And if you require even more, know that this phone's card slot can use any Micro SD card of up to 32 GB. The RAM of this phone is pretty good as well – 1 GB. While some folks may wonder why it doesn't have 2 GB, know that the amount of 2 GB of RAM was still in a theoretical form back when this phone was announced / released.
DATA CONNECTION
The connectivity of this phone is also really good. Not only does it load things with great speed, but it also has a ton of features which act as both Speed Booster and Performance Booster. The GPRS and EDGE of this device are both Class 12 ones. While we don't know how fast the EDGE can go, we do know that the GPRS has : 4+1, 3+2, 2+3, 1+4 slots and can reach a speed of around 32 ~ 48 KB/s. The speed of this phone is a Rev. A of up to 3.1 MB/s which also has LTE, HSDPA and HSUPA speed. The WLAN of this device is a Wi-Fi 802.11 b/g/n with DLNA and Wi-Fi hotspot. The Bluetooth of this phone is a v4.0 one with LE+EDR. This phone also has a Micro USB v2.0 port on it.
CAMERA
The main camera of the Motorola DROID RAZR XT912 is an 8 MP snapper that cab photograph at resolutions of approximayely 3264 x 2448 pixels and record in 1080p HD at around 30 frames per second and in 480p at around 120 frames per second. The features of this camera are as following : autofocus, LED flash, touch focus, geo-tagging, face detection and image stabilization.This phone also has a 2 MP frontal camera that can create 720p HD  videos.
BATTERY LIFE
The battery of this phone is a pretty powerful one. It needs to be a powerful one in order to sustain such a powerful hardware and all of these features. This battery is a Standard Li-Ion 1780 mAh battery which can run for approximately 204 hours of stand-by and of up to 12 hours and 30 minutes of talk tine. To be honest, however, the stand-by time is a tad irrelevant since you will most likely ALWAYS have something that will be consuming some battery.
HARDWARE
As I already said, the hardware of this device isn't the most powerful of all, but it still is powerful enough to beat most phones out there. The Motorola DROID RAZR XT912 has a pretty powerful processor, motherboard and graphics card. Those three are : Dual-Core 1.2 GHz Cortex-A9 processor, TI OMAP 4430 chipset and PowerVR SGX540 GPU. All and all that's a regular powerhouse right there.
SOFTWARE
The OS of this device is probably the most disappointing part about it. Unfortunately, the Motorola DROID RAZR XT912 only ha Android OS v2.3.5 Gingerbread on it. Worse, even, there's no news of any official update to v4.0 Ice Cream Sandwich or v4.1 Jelly Bean. Frankly, I don't quite understand why not since the phone obviously has the strength to support the update, but apparently the OS update is unavailable now and for the rest of time.
FEATURES
The Motorola DROID RAZR XT912 has a ton of features and is capable of quite a bit. The sensors of this device are : Accelerometer, Proximity and Compass. This phone's messaging is done via : SMS ( with Threaded View ), MMS, E-Mail, Push Mail and IM. The browser of this phone uses HTML and has built-in support for Adobe Flash. Unfortunately, this device has no radio, however, that can always be fixed with a brief download / install of a radio app. The GPS of this phone also has built-in support for A-GPS. This device is also equipped with Java which it gains through Java MIDP emulation. The colors the Motorola DROID RAZR XT912 is available in are : Black, White and Purple.
Here is a brief list of what the Motorola DROID RAZR XT912 can do :
Active noise cancellation with dedicated mic
Splash resistant
HDMI port
SNS integration
Google Search, Maps, Gmail
YouTube, Google Talk, Picasa integration
MP3/AAC+/WAV/WMA player
MP4/H.263/H.264/WMV player
Organizer
Document viewer/editor
Voice memo/dial/commands
Predictive text input
This concludes our little review of the Motorola DROID RAZR XT912.  If you feel that anything is lacking from this review feel free to leave your suggestions in the comment section below for things which should be added and I will be sure to take them into consideration when writing my future projects. In the meantime, I sincerely hope you had as much fun reading my little review as I had writing it.