Kindle Fire is an all powerful all purpose E-Reader. Sort of like a tablet with much, much more content made especially for it.
Haven't heard of it yet ? Don't worry, you will soon enough.
Movies, apps, games, music, reading and more, plus Amazon's revolutionary, cloud-accelerated web browser
18 million movies, TV shows, songs, magazines, and books
Amazon Appstore – thousands of popular apps and games
Ultra-fast web browsing – Amazon Silk
Free cloud storage for all your Amazon content
Vibrant color touchscreen with extra-wide viewing angle
Fast, powerful dual-core processor
Amazon Prime members enjoy unlimited, instant streaming of over 10,000 popular movies and TV shows
The 7″ screen allows for perfect and non-eyestressing reading or viewing of your favorite videos,movies or comics and e-books. Its IPS technology, similar to the one used in the iPad, allows for an extra wide viewing angle and split screen sharing.
The highly powerful screen allows for reading of your favorite comics or e-
books in glossy, illustrated and highly-colorful modes. The Kindle Fire also has a built in mode that allows for interactive sequences, sounds and much, much more.
Speaking of content, take a gander at this. Over 100,000 movies and TV shows are available to stream or download, purchase or rent – all just one tap away. Also, you have access to over 800,000 books and comics and all of your favorite Apps and Games.
Kindle Fire's simple, intuitive interface puts the content you love at your fingertips – spin effortlessly through your recent titles and websites straight from the home screen. Whether you are in the mood to watch, read, listen, play or browse, you can get to all your favorite content with a single touch. It's that simple.
Kindle Fire features a state-of-the-art dual-core processor for fast, powerful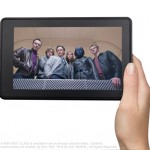 performance. Stream music while browsing the web or read books while downloading videos, all of those actions are possible at once.
Its light weight allows for perfect maneuverability with just one hand. Now don't take this the wrong way, just because it is light in weight doesn't mean it's a lightweight.
You may think something this complex is hard to use. It's not harder to use than you Android Phone or any other Tablet, but just as useful or even more.
But don't take my word for granted … Check it out for yourself.
FOR MORE INFO : CLICK HERE .