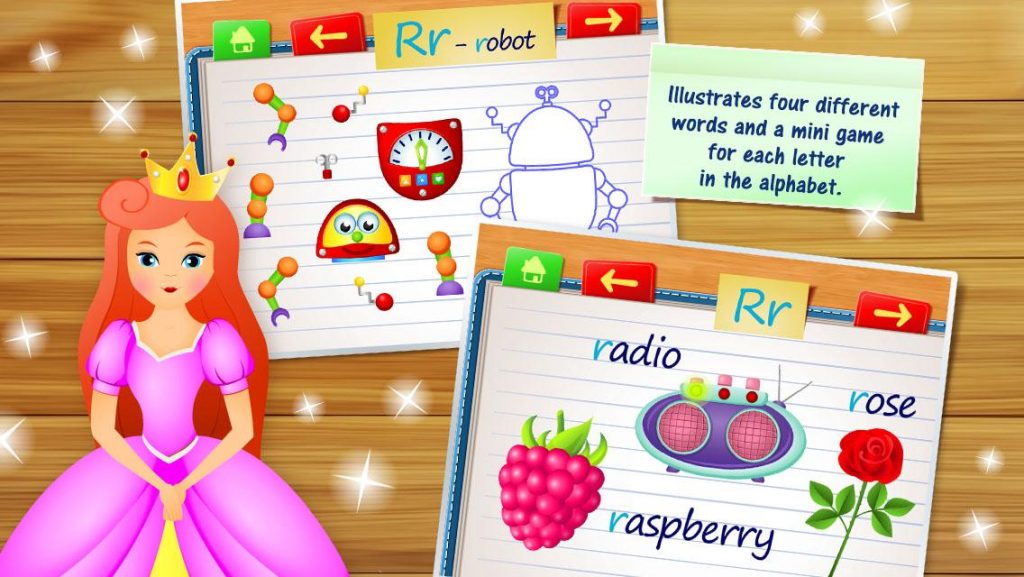 Every parent knows how difficult it is to get their kids to concentrate on one topic for longer than 5-10 minutes. Kids have overactive minds, which tend to switch from one subject to another. This makes it a huge challenge to help them learn something. The Alphabet game: Learn Alphabet is an Android and iPad game that could address that challenge especially for busy parents. Whether you use the Learning Mode or the Practice Mode, this app offers several features that help kids with their alphabet learning.
Learning Mode – The Learning Mode helps kids catch up with how each letter of the alphabet can be used to form words, how those letters sound, and how those words are pronounced. As soon as you start the game, you'll get a display of the alphabet and then you can choose which letter to interact with. When you select one letter, you start a mini game for that letter.
There are four words for each letter and you'll hear an audio playback for each of those words along with an example of how the letter would sound. The audio playback is clear and easy to understand without sounding robotic, so that gives Alphabet Games: Learn Alphabet a huge leverage. In addition, the app also gives an example of how you can use a certain word in a sentence.
Practice Mode – The Practice Mode is a little more advanced than the Learning Mode, giving kids a chance to fully interact with different letters of the alphabet. It has a Letter Identification feature in which the app gives you an audio playback of a letter. You have to choose from three options to select the right letter corresponding with the audio playback.
There's a Spelling feature, where letters are scrambled and players have to put them together to form a meaningful word. There are hint letters provided in each word to make it easier for beginners to know where to put which letter. This feature has three difficulty levels where kids can practice how to spell some of the most commonly-used words.
The Practice Mode also has a Writing feature that helps kids understand how to form each letter of the alphabet. This feature is perhaps one of the most useful amongst the rest of the in-app features of Alphabet Games: Learn Alphabet. You'll get an outline of the letter along with a number sequence that will guide you on how to form the letter.
To make it more fun for kids, you get different vehicles like a car, airplane, helicopter, or ship to trace this number sequence as if your fingers are helping these vehicles travel from one place to another. Within the Practice Mode, each feature comes with a sticker reward system after completion. Kids can then collect these stickers in their digital sticker book.
Bottom Line
Alphabet Games: Learn Alphabet offers a comprehensive learning experience for kids – whether they're just starting to learn how to talk or they're in kindergarten. The Learning Mode is ideal for toddlers who are learning new words and how to speak them correctly. The Practice Mode, being a little more advanced, can be used by kindergarteners and preschoolers in catching up with their spelling and letter formation. It's also a handy educational app for special needs kids who need to practice their words and spellings.
Offering a fun reward system with stickers, the app also gives motivation for kids to further their learning. The main setback of this app is the pop-up ads, but you have the option to upgrade to a no-ad version by paying a small fee. Overall, the app is comprehensive in providing basic alphabet learning and spelling lessons with fun and colorful interface that creates enthusiasm in kids.