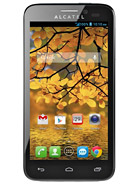 Today I'll be telling you a few things about the Alcatel One Touch Fierce, a pretty new phone from Alcatel that's quite affordable. First off, I guess it's important to mention that while this phone is a good one, it is slightly limited in its availability, limited as in you can only get it from T-Mobile as it was built especially for that providers. Therefore, if you live in a country that doesn't have T-Mobile, you're out of luck with this device.
Now when I said this phone was affordable, I meant it – you can get it for a mere 200 or less dollars. Of course, starting off the bat with such a low price, you shouldn't really have overly large expectations about the strength of the phone, but you shouldn't really underestimate it either. The Alcatel One Touch Fierce is the kind of device that can end up surprising you more than you'd think, in the right circumstances.
SUMMARY
This isn't a phone for those who've always used strong smartphones. This is a budget smartphone and should be considered as such – a phone that can do a certain amount of tasks, but won't cater to the highest of demands. It has a lot of good features, but it cannot compare to the high-end phones out there, so don't even try to do that. Even so, it will surprise you to see some of its better hardware features there. The hardware won't disappoint you, yet it is somewhat limited in certain areas. The real thing to keep in mind is this: if you consider the price of this device, you will realize that the phone offers more than what you're paying ( therefore, I think the Alcatel One Touch Fierce is one of the best devices out there as I calculate it this way: amount of strength offered compared to the price you're paying, and in this particular case the result is a positive one ).
GENERAL
The GSM connectivity of this device is pretty okay, the Alcatel One Touch Fierce using the standard 2G and 3G networks ( the phone doesn't have 4G connectivity ). The SIM card type used in this smartphone is Micro-SIM. This phone is currently available for purchase and is relatively new, having been released in October and announced in September.
BODY
The Alcatel One Touch Fierce is a standard-sized phone, sporting a 4.5 inch screen and having not much space wasted ( close to none ). The exact specifications regarding the size are: 130.3 x 67 x 9 mm ( or approximately 5.13 x 2.64 x 0.35 in ) and it weighs approximately 130 g ( or circa 4.59 oz ).
DISPLAY
The type of screen found on this device is TFT with 16 million colors. This 4.5 inch screen uses a resolution of 540 x 960 and has a pretty decent pixel density of circa 245 pixels per inch ( which, let's be honest here, is a great ppi for screens of this size – sure it will be notice-able with the bare eye at some points, but in the end it's a good addition to this phone ).
SOUND
There's nothing really out of the ordinary with the sound of the Alcatel One Touch Fierce. The phone doesn't have any audio enhancements whatsoever on it, be them on the hardware side or the software side. And in this day and age, it's not like you have to suffer with their lack, but you will benefit greatly from them being there.
MEMORY
As far as memory goes, the Alcatel One Touch Fierce is doing pretty well, considering this is a smartphone for the lower budget. The storage of this phone ( the internal one ) is limited at 4 GB, and if you need more the phone also has a card slot that can use any MicroSD card of up to 32 GB. The RAM of the Alcatel One Touch Fierce, now this one isn't so dandy. The phone has just 1 GB of RAM, which should prove enough for general use and sometimes adding a couple of apps as well, but if you try and loading the phone up with too many processes all at once, the limitation the RAM department will become felt.
DATA CONNECTION
The data connectivity of the Alcatel One Touch Fierce is pretty good. The phone has GPRS, it has EDGE and a pretty good internet connection on it to boot. The phone also has Bluetooth v4.0 on it with A2DP too. The Wi-Fi of this phone is 802.11 b/g/n with Wi-Fi Hotspot support and the USB port of this device is of MicroUSB v2.0 format with no SlimPort or MHL on it.
CAMERA
The camera of this phone is a pretty good one. The Alcatel One Touch Fierce has a frontal VGA camera and a main 5.0 MP snapper that can also record video in 720p quality at 30 frames per second. The features of this main camera include: autofocus, LED flash, geo-tagging, touch focus and face and smile detection.
BATTERY LIFE
The battery life of the Alcatel One Touch Fierce is pretty good. The phone has a standard Li-Ion 1800 mAh battery on it ( the remove-able kind, fact which I adore ). This battery can allegedly sustain the phone for up to 450 hours of stand-by and 8 hours of talk-time. As for how long it can keep the device alive during heavy usage, I have yet to test that, but here's hoping that it won't fall due to pressure.
HARDWARE
The hardware of the Alcatel One Touch Fierce is pretty okay, but not all components are very note-able. For instance, I have yet to see what type of graphics card this phone has. However, for the rest: we're looking at an MTK MT6589M chipset and a Quad-Core 1.2 GHz processor. Those two should prove sufficient enough to run a large majority of apps out there.
SOFTWARE
The software version found on the Alcatel One Touch Fierce is Android OS v4.2 Jelly Bean. There's no news about whether or not it will be able to get an update anytime soon.
FEATURES
The Alcatel One Touch Fierce does have a fair number of features on it. It has a couple of sensors ( accelerometer and proximity ), HTML for the browser, FM radio with RDS, GPS with A-GPS support and Java through MIDP Emulation. The messaging on this phone can be done via SMS ( with Threaded View ), E-Mail, MMS, Push E-Mail and IM. This phone is available in two colors: Slate and Silver ( I much prefer the Silver one, personally ).
Below I'll post a brief list of what this phone can do:
SNS integration
Active noise cancellation with dedicated mic
MP3/AAC+/WAV player
MP4/H.264/H.263 player
Document viewer
Photo viewer/editor
Organizer
Voice memo
Predictive text input
This concludes our little review of the Alcatel One Touch Fierce. I tried touching most important parts here and talking about everything as briefly as I could, without going into too many technical or boring details. I do hope it has proven somewhat enlightening to you all and that at the very least it offered you a bit of extra info about the device.