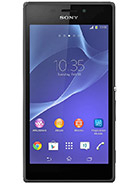 Today we'll be taking a look at the Sony Xperia M2, one of the latest low-to-mid-range phones that Sony has released. First off, let me point it out that it has a Dual-SIM version available too ( that actually came out some time before this one ), however, it's basically identical to this phone aside from the fact that it can use two SIM cards in Dual-Stand-By mode.
The Sony Xperia M2 is one of those phones that's hard to put in either one category or the other. It has some pretty decent hardware specs, although it comes with tons of limitations in different areas. The way this phone was received seems to be mixed as most people seem to love certain aspects about it, but don't care so much for others. The phone is not easy to put in either category, as many of its features can define it as an either low mid-range phone or strong low-end phone ( kind of ironic, don't you think? ). Also, keep in mind that Sony have their own way of pricing things ( not entirely for the better, it would seem ) and the sum of around 300 dollars ( or there-about ) can probably guarantee you some solid alternative from not-so-well-known manufacturers.
SUMMARY
There are both good and bad aspects about the phone, however, the good ones slightly outweigh the bad ones ( although, the difference is slim, so you won't really feel you're the one with the upper hand in this deal ). Unfortunately, in some places, the phone doesn't feel like it's vastly superior to the original Xperia M. While it does improve most bits, the RAM for instance is the same ( 1 GB ). That will undoubtedly cause a bit of bottlenecking in the performance of the device, although not that much if proper optimization has been done on the software ( it all seems to hinge on one thing or another, which isn't necessarily a good thing ). Part of why popular belief seems to be that this is a bad phone is the fact that specifications, and thus standards, have increased overall – now people seem to treat phones that lack an HD resolution-capable phone as inferior to others and so forth. It's important to keep in mind the price tag with which this phone comes before making further affirmations about it.
GENERAL
The Sony Xperia M2 is one of the few mid-rangers that actually has 4G LTE support ( apart from the standard 2G and 3G networks ). Both this one and the M2 Dual use Micro-SIM cards ( although I believe the Dual version may not have 4G support ). As far as availability goes, both the Xperia M2 and the M2 Dual are fully available worldwide ( if I remember correctly, the M2 Dual came out first in April, where as this one came out in May ).
BODY
The size of the phone seems to be pretty standard ( by the standards of now – it would've been large by the standards of two years ago ), having a 4.8 inch screen on a body large enough to fully accommodate it. The exact specifications of the body are: 139.7 x 71.1 x 8.6 mm ( or circa 5.5 x 2.8 x 0.34 in ). The  weight of the device is around 148 g ( or 5.22 oz ). There are those who argue that the phone seems to be too thick, but I find its size to be perfect, personally.
DISPLAY
The type of screen present on this device doesn't seem to be of an exceptional quality. In fact, the Sony Xperia M2 has a TFT capacitive screen with 16 million colors capable of reaching a resolution of 540 x 960 pixels. This 4.8 inch screen also has a pixel density of approximately 229 pixels per inch. The Multitouch of the device supports up to 4 fingers ( as is the habit of Sony ). Also, for a bit of extra-security regarding your screen, the Sony Xperia M2's display is covered by a sheen of Scratch-Resistant Glass ( so it will escape the occasional encounter with keys in the same pocket ).
SOUND
Allegedly, there's not much to be impressed about the audio output of the device. There are no hardware or software audio enhancements to improve the quality, yet, the specifications insist that the battery can sustain around 58 and a half hours of music-play on this phone, which means that it probably has a few minor ( sometimes unnoticeable ) improvements regarding its Music Play ability.
MEMORY
If you were expecting something mind-blowing here, you'll be in for a bit of a disappointment. The RAM of the phone, as I've already said, is limited to 1 GB ( similarly to the original Xperia M ).  The internal storage seems to have been increased, but not by too much. Where as the original Xperia M had 4 GB of internal storage, this one has 8 GB and it can be expanded by 32 GB more via the Micro-SD card slot. Altogether, the memory isn't that impressive, and unless some serious optimization has been put into the software of the phone, you may experience minor speed-drops in performance from time-to-time ( especially if you've overloaded the phone with all sorts of apps ).
DATA CONNECTION
The Sony Xperia M2 has both GPRS and EDGE on it and it can also reach decent internet speeds ( first off, the massive LTE speeds, but it's not bad on the 3G side either – 21 MB/s Down and 5.76 MB/s Up ). This phone also has NFC and Bluetooth v4.0 with A2DP. The Wi-Fi on this phone is 802.11 a/b/g/n with Dual-Band, Wi-Fi Direct, DLNA and Wi-Fi Hotspot. Also, the USB port of this device is a Micro-USB v2.0 one, and while it doesn't have MHL support, it does support USb On-the-Go and USB Host.
CAMERA
The camera of this phone is pretty decent, although it's nothing too special. We're talking about a main 8 MP camera that is only known to record in 1080p HD ( although, the framerate isn't mentioned – presumably it's 30 or there-about ). The features of this main camera are quite numerous, however, and they include: LED Flash, Geo-Tagging, Touch Focus, Face and Smile Detection, Image Stabilization, HDR and Panorama. This phone also has a frontal camera, although there's not much info about its type.
BATTERY LIFE
There's something I find very bothersome about the battery of this device, and that's the fact that it's a Non-Removable Li-Ion 2300 mAh battery. The battery-life promised by this type of device is limited to around 588 hours of stand-by, up to 13 hours and 25 minutes of talk-time and around 58 hours and a half of music-play ( as previously mentioned ). However, proper endurance tests have yet to be carried out in order to see the exact REAL time provided by this type of battery.
HARDWARE
The Sony Xperia M2 seems to have a pretty decent hardware-spec, and given more memory it might have even been able to run almost anything on the app market ( except those more demanding games out there ). As it is, its Qualcomm Snapdragon 400 chipset, Quad-Core 1.2 GHz Cortex-A7 CPU and Adreno 305 GPU are still quite potent, but there may be slight lag-spikes at certain points due to the limitation of the RAM.
SOFTWARE
The version with which the Sony Xperia M2 comes equipped isn't the very best or the latest one, but there is a planned upgrade to the latest one somewhere in the future. When you buy this phone, it will actually have Android OS v4.3 Jelly Bean installed on it. As I've said, while the thing with the planned upgrade is certain, the date for when this update will take place is not.
FEATURES
The Sony Xperia M2, while not the best of phones, is still equipped with its fair share of features ( granted, not too numerous or advanced, but at least they're there ). The sensors of this phone are limited to three – Accelerometer, Proximity and Compass. The messaging on this device is done via SMS ( with Threaded View ), MMS, E-Mail, IM and Push E-Mail. The browser of this phone uses HTML5 and also the device has FM Radio with RDS. The GPS of this device also has support for both A-GPS and GLONASS alike. The colors in which you can get the Sony Xperia M2 are Black, White and Purple.
Below is a brief list of what the Sony Xperia M2 is capable of:
ANT+ support
SNS integration
Active noise cancellation with dedicated mic
MP4/H.263/H.264 player
MP3/eAAC+/WAV player
Document viewer
Photo viewer/editor
Voice memo/dial
Predictive text input
This has been it for the Sony Xperia M2. It's a very neat little device and feels good as a mid-range smartphone, although I'm confident that there are somewhat better alternatives for this same price. I hope you've enjoyed reading it as much as I did writing it and that you've learned a few thing about this phone. I tried keeping it as short as possible so as not to go into too many unnecessary or boring details, yet still cover everything there was to cover.