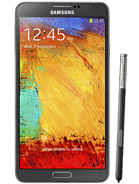 Today we'll be taking a look at the Samsung Galaxy Note 3 and see exactly what makes it tick. First off, the Samsung Galaxy Note 3 is the next in line for the great series of phones that was the Galaxy Note. Little did anyone know that the "behemoth" that came out not so long ago known as the Samsung Galaxy Note would later spawn a sequel and even fewer people could have forseen that that a third phone would join the series. I believe that the Galaxy Note series was on of the first to join the "phoneblet" or "phablet" genre of devices ( a name which was given by critics to this noble hybrid between a phone and a tablet ).
Being the third and largest of the Galaxy Notes, the Samsung Galaxy Note 3 brings a lot of cool new things to the table. There are incredible improvements to the Multi-Tasking, to the hardware and software alike as well as the feel of the phone itself. If you don't believe me, I suggest looking up the trailer for this phone on YouTube ( you won't be disappointed ).
SUMMARY
The Samsung Galaxy Note 3 is one of the few new and highly priced smartphone that I can honestly say, hands down, that it is worth every penny. Not only does it look great and do a whole bunch of things, but it's also one of the few phones out there that can be used in close to all fields of activity. Heck, you can even use it as an improve Notebook at school, college or whatnot. Among its many advantages, vast improvements have been made to the performance, speed and storage space in particular ( all parts were improved, to be more precise, but these are the most impressive to gaze upon ). Perhaps the only disadvantages of this device are its size ( which many will find annoying, yet it's quite extremely useful for multitasking ) and its price ( perhaps ). If you want to know the details about this magnificent device, please, keep on reading.
GENERAL
First off, this phone is known under a few different names with a few differences between the versions ( fret not for I shall tell them to you ). We have the Samsung Galaxy Note 3 as its default name, and it is sometimes referred to as the Samsung Galaxy Note III ( those versions are identical apart from the "3" in the name ). The versions that differ are the following: Samsung Galaxy Note 3 N9000 ( this one has 3G connectivity ), the Samsung Galaxy Note 3 N9002 ( this one has support for Dual-SIM ) and the Samsung Galaxy Note 3 N9005 ( this one has support for both 3G and LTE ). As for the general connectivity of this device, it's pretty much the standard depending on the version you get. The SIM card of this device is a Micro-SIM format, for those of you curious. Currently it is not out, but should be in a couple of days or so ( Announced in September and supposedly Coming Soon in the same month ).
BODY
The exact dimensions of this phone are: 151.2 x 79.2 x 8.3 mm ( or 5.95 x 3.12 x 0.33 in ) and it weighs around 168 g ( or 5.93 oz ). Of course, the phone or phablet of phoneblet has an S Pen Stylus in the back. Also, while on the topic of the phone's back, it has quite a unique design as it is coated in Leather ( which makes it look quite distinct and gives it a business-like aspect, as well as making it comfortable to feel in day-to-day life ).
DISPLAY
The display of this device is a pretty darn strong one. The Samsung Galaxy Note 3 has a Super AMOLED Capacitive Touchscreen of 16 million colors. Despite being stretched out at 5.7 inches, this display houses a resolution of 1080 x 1920 pixels and it has a pixel density to die for of around 386 pixels per inch ( and considering that 300 is the maximum perceived by the human eye, everything that happens on that 5.7 inch screen should seem incredibly smooth ). As of yet there isn't much word about the screen protection of this device, if it has any. Hopefully it does because accidentally dropping a phone this big can have some pretty large consequences.
SOUND
As far as the sound part goes, there's not much to tell. There aren't any obvious improvements done here or any visible audio enhancements, be them hardware-based or otherwise software-based. This phone behaves as well as any other phone as far as sound is concerned.
MEMORY
Now there's something to be said about the memory of the Samsung Galaxy Note 3. If you're willing to dish out a bit of dough, this phone can be one of the largest storage-mediums available in phone form to date. The Samsung Galaxy Note 3 is available in 32 and 64 GB storage space variants, and both of which have a MicroSD card slot which can use cards of up to 64 GB. Leaving the tons of storage space aside, the most impressive thing about it BY FAR is the RAM memory of this device. The Samsung Galaxy Note 3 is equipped with 3 GB of RAM, a feat rarely seen among phones or tablets ( heck, it has more RAM than the cheapest of laptops out there ).
DATA CONNECTION
First off, the Samsung Galaxy Note 3 is equipped with a few things such as: GPRS, EDGE, NFC and an Infrared Port. Regarding the speed per say, all we know up until now is: HSDPA of 42 MB/s, HSUPA of 5.76 MB/s ( maybe ), LTE Cat 4 of 150 MB/s DL and 50 MB/s UL. The WLAN of this device is a Wi-Fi 802.11 a/b/g/n/ac with Dual-Band, DLNA, Wi-Fi Direct and Wi-Fi Hotspot. The Bluetooth of this device is a v4.0 one with A2DP, LE and EDR. The USB port of the Samsung Galaxy Note 3 is also something marvelous to behold as this device is one of the few to be equipped with a Micro-USB v3.0 ( with MHL 2 ) and USB Host port.
CAMERA
There's quite a mouth-full to be said about the cameras of this device as well. Firstly, we have a 13 MP camera as the main one ( it can photograph at resolutions of 4128 x 3096 pixels ) and a secondary 2 MP camera ( that can record in 1080p full HD at 30 frames per second ). Secondly, the main camera of this device is quite unique as far as video recording goes: it can record in 2160p HD at 30 frames per second and, depending on the version you got, 1080p at 60 frames ( for the N9005 ) and 1080p at 30 frames ( for the N9000 ). Other features of the camera include: autofocus, LED flash, Dual-Shot, Simultaneous HD Video and Image Recording, Geo-Tagging, Tocuh Focus, Face and Smile Detection, Image Stabilization, Panorama and HDR.
BATTERY LIFE
The battery of this device is a pretty powerful one, however, little is known about how long the phone can last. If it helps, know that the Samsung Galaxy Note 3 has a Li-Ion 3200 mAh battery on it.
HARDWARE
The hardware on the Samsung Galaxy Note 3 differs according to the version that you got. The N9005 is slightly better than the other one, although they are kind of the same more-or-less. The N9005 has the following configuration: a Qualcomm Snapdragon 800 chipset with an Adreno 330 GPU and a Quad-Core 2.3 GHz Krait 400 processor. The N9000, on the other hand, has the following configuration: an Exynos 5 Octa 5420 chipset with a Quad-Core 1.9 GHz Cortex-A15 processor with ANOTHER Quad-Core 1.3 GHz Cortex-A7 processor ( they work sort of like the Turbo Boost for Intel processors, switching back and forth from them when the need arises ) and with a Mali-T628 MP6 GPU.
SOFTWARE
There isn't much to be said about the software version of this device, only that it comes with the latest Android OS v4.3 Jelly Bean on it ( no word yet whether it will be upgrade-able to 4.4 when it comes out ).
FEATURES
The Samsung Galaxy Note 3 is capable of quite a list of things. First off, the amount of sensors on this device is astronomical: Accelerometer, Gyroscope, Proximity, Compass, Barometer, Temperature, Humidity and Gesture. The messaging is done via SMS ( Threaded View ), MMS, E-Mail, Push Mail, IM and RSS. The browser uses HTML5 and the GPS of this device has support for both A-GPS and GLONASS alike. This phablet also has Java through Java MIDP Emulation. The Samsung Galaxy Note 3 is available in 3 colors: White, Black and Pink ( personally I think the black one looks best, but to each his own ).
Here's a brief list of things that this phone can do:
ANT+ support
S-Voice natural language commands and dictation
Air gestures
SNS integration
Active noise cancellation with dedicated mic
Dropbox (50 GB storage)
TV-out (via MHL A/V link)
MP4/DivX/XviD/WMV/H.264/H.263 player
MP3/WAV/eAAC+/AC3/FLAC player
Organizer
Image/video editor
Document editor (Word, Excel, PowerPoint, PDF)
Google Search, Maps, Gmail, YouTube, Calendar, Google Talk, Picasa
Voice memo/dial/commands
Predictive text input (Swype)
This concludes our little review of the Samsung Galaxy Note 3. Hope you've found it somewhat illuminating and it has provided you with a bit of info here and there.