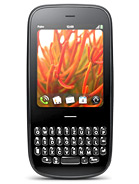 Today we shall be taking a look at the Palm Pixi Plus. For those of you who are familiar with this phone you may already know that it doesn't have Android. Then you may ask the question : why put it on a website dedicated to Android ? Well I figured we should start adding a bit of diversity and create some reviews of some phones that don't have Android but similar Operating Systems. Now the software of the Palm Pixi Plus is called Palm Web OS. I can't say I'm too familiar with it but at first sight it seems to resemble Android in quite a few ways ( and of course the die-hard Apple fans will say that it resembles iOS and every other OS on this planet resembles iOS because they copied the idea of iOS and stuff like that ). And also, without actually taking into consideration the fact that this device doesn't actually have Android, you can still classify it as a wonderful smartphone. To top it all off, it looks and functions in one of the most superb of manners. Those people who love phones which have both QWERTY and touchscreen should be impressed with this one. Personally I don't really enjoy a phone which has both for the pure reason that I have large fingers and the screen is usually too small. I have problems sometimes with phones which have only touchscreen, but when the screen is two times smaller nothing good can come out of it. I'm sure I'm not the only person with this problem, but what can you do.
Well without dilly dallying further, let us commence with this little review of the Palm Pixi Plus.
GENERAL
We shall begin by taking a look at the more general facts about the Palm Pixi Plus, more exactly : the supported networks and the release date. The networks supported by the Palm Pixi Plus are as following : GSM 850 / 900 / 1800 / 1900 as 2G networks and HSDPA 2100 as a 3G network. It does support more 3G networks, such as HDPA 850 / 1900 but it only supports those in AT&T, so if you live in a country where that network doesn't exist, you can pretty much kiss it goodbye. The release date of this phone was in June 2010, which is quite far from the announcement date, that being in March 2010.
BODY
We shall now take a look at the practical dimensions of this device, those consisting of : the main dimensions, the weight and whether or not the phone has any distinguishing features as far as aspect goes. The dimensions of this phone are : 111 x 55 x 10.9 mm, which isn't that big for a phone, probably "average" if you are to consider it by my standards. I never really understood why they started making phones bigger and bigger. Buy something with a 6 inch HD screen and you'll need a special purse just for the phone. Well, moving on to the weight of the Palm Pixi Plus. This device weighs about 92.5 grams, which again isn't that much. Also, if you haven't already noticed, the Palm Pixi Plus has a QWERTY keyboard on it.
DISPLAY
In this part of the review we shall be looking at the quality and the capabilities of the screen, such as size, resolution, pixel density and so on. Well, the Palm Pixi Plus has a TFT capacitive touchscreen with 256 thousand colors. I know it's not 16 million, but making a screen the size of 2.63 inches with 16 million colors is much harder than it may seem. The resolution reached by this screen is around 320 x 400 pixels. Also, the pixel density of the Palm Pixi Plus's display varies around 192 ppi, which is a pretty good number to have as far pixel density is concerned.
SOUND
In this part of the review we shall be taking a look at the audio output capabilities of this device. This concerns things such as : alert types, loudspeakers and any other jacks, as well as the existence of any means of advanced sound enhancement. Well, the alert types of the Palm Pixi Plus are as following : vibration and MP3 ringtones. Also, the Palm Pixi Plus has a loudspeaker as well as a 3.5 mm jack. What it doesn't have, however, are any means of sound enhancement whatsoever.
MEMORY
We shall now take a look at the memory of this device. In this part we shall  be looking at all of the aspects connected with memory : internal storage space, RAM and so on. The internal storage space of the Palm Pixi Plus is quite large, reaching around 8 GB of space. However, this phone has no RAM so one can only ask how good can it function under stress. Also, for all of the space fanatics who always say they need more but don't actually do, with the Palm Pixi Plus you must stick with what you get. It doesn't have a card slot which means you can't upgrade the storage space further.
DATA CONNECTION
In this part of the review we shall be looking at the data connectivity of the device. Aspects concerned here are : the speed of the device, any means of connectivity and data transfer and so on. The Palm Pixi Plus has both GPRS and EDGE, both of them being Class 10 : the GPRS having 4+1 / 3+2 slots and running at 32 ~ 48 KB/s and the EDGE being able to run at 236.8 KB/s. The speeds per say of the Palm Pixi Plus are : HSDPA at around 7.2 MB/s and HSUPA at around 5.76 MB/s. The WLAN of the Palm Pixi Plus is a Wi-Fi 802.11 b/g and the Bluetooth of the Palm Pixi Plus is a Bluetooth v2.1 with A2DP. The connection between this device and the computer can be done through this device's MicroUSB v2.0 port.
CAMERA
In this part of the review we shall be taking a look at the strength of the camera and at everything that the camera of this device can do. Let us see, the Palm Pixi Plus has a main 2 MP camera capable of photographing at resolutions as high as 1600 x 1200 pixels. The features of the camera are as follows : LED flash and geo-tagging. Also, the main camera is capable of recording video as well, but no idea of the quality. Probably VGA or something. The Palm Pixi Plus doesn't have a secondary frontal camera, however.
BATTERY LIFE
In this part of the review we shall be looking at the power of the battery of this device. Aspects which will be emphasized upon are : the type of battery and the time in which this battery can operate. The battery is a standard Li-Ion 1150 mAh battery. The time that this battery can run is as following ; up to 350 hours of stand-by time and up to 5 hours and 30 minutes in 2G mode and 4 hours in 3G mode of talk time.
HARDWARE
On this part of the review we shall be concentrating upon the hardware aspects of the device. Things which shall be emphasized upon are the inner components that make the device tick. This phone may not have Android, but it's as strong as some Android phones, having a full set of hardware configuration parts : processor, graphics card and mother board. The processor is a 600 MHz ARM 11 accompanied by a Qualcomm MSM7627 mother board and an Adreno 200 graphics card. All and all, a decent configuration. Low by today's standards but pretty high by the standards of 2010.
SOFTWARE
In this part of the review we shall be focusing more on the software of the device, mainly what Operating System it has and if it's an older version, whether or not it can be upgraded to the current one. The Palm Pixi Plus has the Palm Web OS installed on it, as I've previously mentioned. I am not so sure about this system, I find it similar to Android on some parts and believe that Android users will have no difficulty adapting to this OS should they consider trying it out.
FEATURES
In this part of the review we shall be concentrating more on the more general aspects of the device, which will be covering most of the things it can do. The Palm Pixi Plus's sensors are as following : accelerometer and proximity. THe messaging on this device can be done via : SMS ( with threaded view ), MMS, E-Mail, Push Mail and even IM. The browser of the Palm Pixi Plus supports and uses WAP 2.0 or HTML. This device doesn't have a radio, but I already said in previous article that it isn't that much of a problem. The GPS of this device has A-GPS support and also has AT&T Navigator. The Palm Pixi Plus also has Java via MIDP 2.0. The only color that this device is available in is : black.
Here is a brief list of what the Palm Pixi Plus can do :
MP3/WAV/eAAC+ player
MP4/H.264/H.263 player
Organizer
Document viewer
Voice memo/dial
This concludes our little review of the Palm Pixi Plus. If you feel that anything is lacking from this review feel free to leave your suggestion for things which should be added in the comment section below and I shall be sure to take them into consideration when writing my future projects. Until next time, I hope you enjoyed reading this as much as I enjoyed writing it.
If this little review has sparked your interest in this device and you are considering purchasing it, I can provide you with a link with a very good price ( almost retail ). Just click HERE.